SMC ELECTRONICS

AUTOMOTIVE ACCESSORIES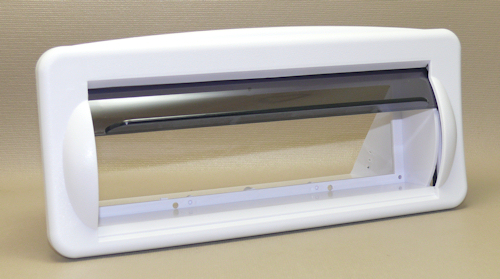 Universal Marine Radio Cover.

Protects automotive radios from the harsh enviroments of boating.

For Single-DIN size automotive radios.

Features UV Resistant Plastic, White Base Color, Support Shelf in
rear of housing, and Spring Activated Tinted Flip-Up Front Cover.

Overall Size: 9 1/2" x 4 1/2" X 4".

With Mounting Gasket.

This Item is NEW in factory box.




Digital FM Stereo Transmitter.
Jensen Model JP4211.

FM Stereo Transmitter connects to the earphone jack
of a MP3 player, portable CD/DVD player, or any other
audio device with an 1/8" / 3.5mm stereo earphone jack
and broadcasts the stereo audio to a nearby FM Stereo
radio. Perfect for home or automotive use.

Features include:
Transmits on any FM channel from 88.1 MHz-107.9 MHz.
Illuminated LCD display shows selected FM frequency.
Frequency Memory.
Battery-Strength indicator.
large easy-to-use Pushbuttons.
8 inch long Audio Connecting Cable.
10-30 foot operating range.

Size (less cable): 3" x 1 3/4" x 1".
With Instructions.

This unit is NEW in factory box.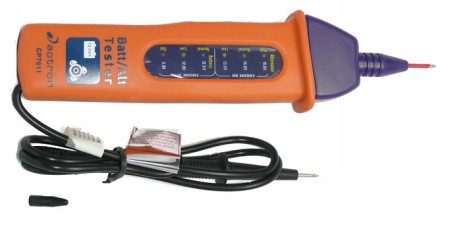 Professional Automotive Battery & Alternator Tester.
Heavy-Duty unit quickly checks the condition of a
car's electrical system. Color-coded LEDs indicate
battery charge and alternator output status.

Features break-resistant case, 3 foot ground probe lead,
and insulation-piercing probe tips.

Size: 9 1/4" x 2 1/4" x 1 1/4".

With instructions.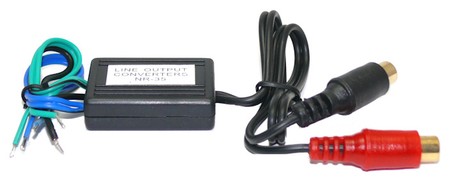 Automotive Stereo Line Output Adapter.
2-Channel Stereo Line Output Adapter allows factory
radios to be connected to aftermarket power amplifiers.
Also allows radios to be connected to home stereo equipment.

30 Watts maximum input.

With instructions.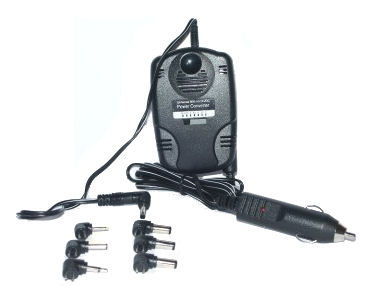 Universal Regulated DC Car Power Adapter.
Powers many automotive accessories from a
12 Volt cigarette lighter socket. Rated at 800 Ma.
Adapter features 6 switch selectable voltages of
1.5V, 3V, 4.5V, 6V, 7.5V, and 9V, power-on LED,
and replaceable fuse protection. Includes 7 power
plugs and a 6 foot cigarette lighter input cord.

Perfect for radar detectors, portable radios,
CD/MP3 players; almost any item that has
an external DC power jack.

(Stock #: DCADAPT3)






Click below for an additional picture:


GPS/Pocket Electronics Case.
Zippered Vinyl GPS Case holds almost any GPS, MP3 Player,
or Mini Computer Tablet with screen sizes of up to 4.5" and
thicknesses of up to 3/4". Inside case measurements are 6" x 4".

Slate color. Unit is firmly held by adhesive Velcro® strips.
Top of case has a large pocket, inside case has 3 pockets.

Overall Size: 6 3/8" x 4 1/4" x 1".

Note: Top of case may have a small discoloration spot
from removal of a price sticker.

This Item is NEW.





Automotive Cassette & 8-Track Tape Player Belts.
Many are hard to find.

Clarion Square Belt.

IC = 3.200".
THK = 0.048".

Used in Clarion models: PN-9100U-A/PN-9101U-A.

Used in Kenwood models: KRC-626/KRC-3100/
KRC-4000/KRC-6000.

Used in Mitsubishi model: RX-123.

Used in Nissan models: PN-9100U-A/PN-9101U-A.

Used in Sansui models: CX-700/RX-500L/RX-510/
RX-510L/RX-610/RX-610F/RX-610L/RX-700/
RX-700L/RX-710/RX-710L.

Used in Sony models: EXR-10/EXR-12/EXR-14/EXR-15/
XR-2100/XR-2300/XR-2500/XR-2600/XR-2900/
XR-3320/XR-3500/XR-3501/XR-3502/XR-4400/
XR-4401/XR-4402/XR-4420/XR-5600/XR-5620/
XR-7040/XR-7041/XR-7042/XR-U220/XR-U330/
XR-U331/XR-U440/XR-U441.

Replaces Clarion part number: 602-0069-00.

(Stock #: PMBELT02)





Clarion Square Belt.

IC = 13.750".
THK = 0.048".

Used in Clarion models: PE-954A/PE-955A/PE-958A/
PH-001/PT-632C.

Used in Fujitsu model: 10.

Used in Jenson model: CS-4000.

Replaces Clarion part number: 602-0041-00.

(Stock #: PMBELT03)





Clarion Square Belt.

IC = 15.400".
THK = 0.048".

Used in Clarion models: PN-9100U-A/PN-9101U-A/
PU-9078A/PU-9079A.

Used in Hitachi models: CSK-291A/CSK-331A.

Used in Honda models: 39100-A300M1/39100-SEQ/
CQLH-136A/CQLH-137A/CQLH-221A.

Used in Jenson models: ATZ-100/ATZ-200/ATZ-300/
JXL-55/RE-960/RE-980/XK-962.

Used in Kenwood models: KRC-810/KRC-830/KRC-910/
KRC-922/KRC-930/KRC-940/KRC-950/KRC-9940.

Used in Nissan models: PN-9100U-A/PN-9101U-A.

Used in Panasonic models: CQ-506EC/CQ-506EU/
CQ-B510EC/CQ-B510EU/CQ-B520AEUC/CQ-B522EUC/
CQ-E01EUC/CQ-E03EUC/CQ-E05EUC/CQ-E300A/
CQ-E300B/CQ-E321EC/CQ-E321EU/CQ-H07EU/
CQ-H15EU/CQ-H16EU/CQ-H17EU/CQ-H18EU/
CQ-J05EU/CQ-J05EC/CQ-J05EU/CQ-J11EC/
CQ-J11EU/CQ-J50EU/CQ-W225EU/CR-W125EU.

Used in Proton models: 201/203/214.

Used in Sansui models: CX-700/RX-500/RX-500L/
RX-510/RX-510L/RX-610/RX-610F/RX-610L/RX-700/
RX-700L/RX-710/RX-710L/RX-2000.

Used in Sanyo models: ER-250/ER-505/ER-506/
MAC-3030/MAC-4000/MAC-4080/MAR-1080/
MAR-1100/MAR-1200/MAR-1280/MAR-1280A/
MAR-1980/MAR-2000A/MAR-2100A/MAR-2200A/
MAR-2280.

Used in Sears model: 280.50560.

Used in Sony models: XR-130/XR-150/XR-U220/
XR-U330/XR-U331/XR-U440/XR-U441.

Replaces Clarion part numbers:
602-0068-00
602-0091-02
602-0113-01.

(Stock #: PMBELT01)





Clarion Square Belt.

IC = 15.500".
THK = 0.048".

Used in Clarion models: PN-9300U-A/PN-9403C/
PN-9403M/PS-9263D/PS-9360D/PU-9206A/
PU-9312A/PU-9312B.

Used in Denon models: DCR-5220/DCR-5320/
DCR-5370/DCR-5470/KR-5425/KR-5520.

Used in JVC models: KS-R12/KS-R17/KS-R18/KS-R22/
KS-R25/KS-R27/KS-R28/KS-R38/KS-R48/KS-R67/
KS-R127/KS-R135/KS-R140C/KS-R140J/KS-R160C/
KS-R160J/KS-R470/KS-R500/KS-RT30/KS-RT35/
KS-RT45/KS-RT50/KS-RT55/KS-RT60/KS-RT60C/
KS-RT60J/KS-RT70/KS-RT75/KS-RT505/KS-RT600/
KS-RT606/KS-RT707/KS-RX111/KS-RX115/KS-RX147/
KS-RX165/KS-RX208/KS-RX222/KS-RX250/KS-RX305/
KS-RX308/KS-RX315/KS-RX415/KS-RX418/KS-RX450/
KS-RX460/KS-RX770.

Used in Kenwood models: KRC-7/KRC-101/KRC-111/
KRC-160/KRC-170/KRC-221/KRC-240/KRC-250/
KRC-260/KRC-270/KRC-280/KRC-290/KRC-301/
KRC-331/KRC-340/KRC-350/KRC-353/KRC-360/
KRC-380/KRC-390/KRC-401/KRC-440/KRC-441/
KRC-450/KRC-460/KRC-470/KRC-480/KRC-490/
KRC-501/KRC-510/KRC-551/KRC-555/KRC-580/
KRC-590/KRC-610/KRC-730/KRC-1005/KRC-1006/
KRC-2005/KRC-2006/KRC-2100/KRC-3006.

Used in Panasonic models: CQ-320EC/CQ-320EU/
CQ-A361EC/CQ-A361EU/CQ-A391EU/CQ-E300EU/
CQ-E302EU/CQ-E303EC/CQ-E303EU/CQ-E303EUA/
CQ-E340EC/CQ-E340EU/CQ-E352EC/CQ-E352EU/
CQ-E353EC/CQ-E353EU/CQ-E360EC/CQ-E360EU/
CQ-E380EC/CQ-E380EU/CQ-E390EC/CQ-E390EU/
CQ-E401EC/CQ-E401EU/CQ-E402EC/CQ-E402EU/
CQ-E410EC/CQ-E410EU/CQ-E430EC/CQ-E430EU/
CQ-E452EU/CQ-G23EU/CQ-G27EU/CQ-H210FKU/
CQ-H230FKU/CQ-H9310EC/CQ-H9310EU/
CQ-H9320EC/CQ-H9320EU/CQ-R200ED/
CQ-R205EU/CQ-R210EU/CQ-R220EU/CQ-R700EC/
CQ-R700EU/CQ-R720EC/CQ-R720EU/CQ-R900EC/
CQ-R900EU/CQ-R905EC/CQ-R905EU/CQ-R910EC/
CQ-R910EU/CQ-R920EC/CQ-R920EU/CQ-R7300EC/
CQ-R7300EU/CQ-S505BEC/CQ-S505CEU/CQ-S505EC/
CQ-S505EU/CQ-S550EU.

Used in Pioneer models: KEH-490/KEH-1250/
KEH-22500R/KEH-2403/KEH-2600/KEH-2626/
KEH-2650/KEH-2929/KEH-3200QR/KEH-3250QR/
KEH-3600/KEH-3650/KEH-3939/KEH-M550/
KEH-M580/KEH-M680/KEH-M4500/KEH-M5200/
KEH-M5500/KEH-M6200/KEH-M6500/KEH-M7200/
KEH-M7500/KEH-P10/KEH-P20/KEH-P4110/
KEH-P4200/KEH-P4250.

Used in Sansui models: GT-X7000/GT-X7000F/
GT-X7000L/RE-5/RE-6/RE-7/RX-255/RX-350/
RX-355/RX-455/RX-550/RX-1700/RX-4100/
RX-5100/RX-5100L/RX-7100/RX-7100L.

Used in Sanyo models: ER-200/ER-300/
ER-500/ER-520.

Used in Sherwood models: XR-1301/XR-1303/
XR-1304/XR-1401/XR-1403/XR-1404/XR-1601/
XR-1603/XR-1604.

Used in Sony models: EXR-18/XR-3050/XR-3052/
XR-3200/XR-3201/XR-3202/XR-4240/XR-4250/
XR-4252/XR-4257.

Used in Toshiba models: TX-301/TX-303/TX-322/
TX-411/TX-501/TX-511.

Used in Yamaha models: YCR-420/YCR-440.

Replaces Clarion part number: 602-0082-00.
Replaces JVC part number: 18400417T.

(Stock #: PMBELT04)





Clarion Square Belt.

IC = 16.500".
THK = 0.045".

Replaces Clarion part number: 602-0118-00.

(Stock #: PMBELT07)





Kenwood Square Belt.

IC = 2.500".
THK = 0.048".

Used in Clarion models: PU-9078A/PU-9079A.

Used in JVC models: KS-RX115/KS-RX250/KS-RX450.

Used in Medallion model: Auto Cassette.

Used in Proton models: 201/203/214.

Used in Sansui models: GT-X7000/
GT-X7000F/GT-X7000L.

Replaces Kenwood part number: D16-0108-08.

(Stock #: PMBELT09)





Sony Square Belt.

IC = 9.375".
THK = 0.042".

Used in Sony models: XR-25/XR-35/XR-55.

Replaces Sony part number: 3-590-707-00.

(Stock #: PMBELT13)







Square Belt.

IC = 1.900".
THK = 0.047".

Replaces PRB part number: SCX1.9.
Replaces EVG part numbers: 1427-14/1427-15.

Replaces Sony part numbers: 3-561-596/3-564-613/
3-686-546-01.

Used in Pioneer Automotive CD Player models: CDX-7406/
CDX-7506/CDX-FM4061/CDX-M30/CDX-M33/DEH-47/DEH-213/
DEH-215/DEH-313/DEH-400/DEH-413/DEH-500/DEH-515.

(Stock #: VCRBLT330)





Square Belt.

IC = 2.450".
THK = 0.060".

Replaces PRB part number: SCQ2.5.

Used in Hitachi Automotive Cassette Tape Player model S-204.

Used in Medallion Automotive Tape Player model 65-486A.

Used in Panasonic Automotive Cassette Tape Player models
CX-121EU/CX-131EU/CX-141EU.

(Stock #: VCRBLT313)





Square Belt.

IC = 3.062".
THK = 0.047".

Replaces PRB part number: SCQ3.0.
Replaces Pfantone part number: 55610.
Replaces EVG part number: 1407-157.
Replaces RCA/Thomson part numbers: 174759/212475.
Replaces Sony part number: 3-924-818-01.

Used in Sanyo Automotive Tape Player models: ER-250/ER-300/
ER-505/ER-506/MAC-3030/MAC-4000/MAC-4080/MAR-1080/
MAR-1280/MAR-1980/MAR-2000A/MAR-2100A/MAR-2200A/
MAR2280.

(Stock #: VCRB55610)





Square Belt.

IC = 3.200".
THK = 0.039".

Replaces PRB part number: SCY3.2.
Replaces EVG part number: 1425-86.
Replaces Sony part numbers: 3-507-116/3-594-331-01.

Used in Kenwood Automotive Tape Player models: KRC-1004/
KRC-2004/KRC-3004.

Used in Panasonic Automotive Tape Player model: RQ-A170.

Used in Sansui Automotive Tape Player models: RX-3000/RX-4000.

Used in Sony Automotive Tape Player models: ES-R5/ES-R7/
ES-R10/XR-30/XR-33/XR-40/XR-44/XR-47/XR-3220/XR-4550.

(Stock #: VCRBLT121)





Square Belt.

IC = 3.341".
THK = 0.047".

Replaces PRB part number: SCX3.2.
Replaces Pfantone part number: 55614.
Replaces EVG part number: 1407-158.

Used in Aiwa Automotive Tape Player model: CT-X15.

Used in Clarion Automotive Tape Player models: 3500R/
3550/4500/4700/5100R/5150R/5300R/5500R/5550R/5900R/
6150R/6700RT/6900RT/6950RT/7500R/8100R/8200R/8300R/
8550R/8600RT/8625RT/8725RT/9300T5/CH-CS1/
PE-894A-01/PE-894A-02/PE-895A-01/PE-895A-02/
PN-9100U-A/PN-9101U-A/PP-9028/PT-97SC/
PU-894A-01/PU-895A-01/RN-9008/TRX-10.

Used in Kenwood Automotive Tape Player models: KRC-626/
KRC-3100/KRC-4000/KRC-6000.

Used in Mitsubishi Automotive Tape Player model: RX-123.

Used in Nissan Automotive Tape Player models: PN-9100/PN-9101.

Used in Pioneer Automotive Tape Player models: KP-300/
KP-310/KP-334/KP-345.

Used in Roadster Automotive Tape Player model: RS-1000.

Used in Sansui Automotive Tape Player models: CX-700/
RX-500/RX-510/RX-610/RX-700/RX-710.

Used in Sony Automotive Tape Player models: ESR-400/EXR-10/
EXR-12/EXR-14/EXR-15/EXR-20/ESR-200/XR-130/XR-150/
XR-1790/XR-2100/XR-2300/XR-2500/XR-2600/XR-2900/
XR-3320/XR-3500/XR-3501/XR-3502/XR-4350/XR-4357/
XR-4400/XR-4401/XR-4402/XR-4420/XR-5450/XR-5550/
XR-5600/XR-5620/XR-6077/XR-7040/XR-7041/XR-7042/
XR-7070/XR-7077/XRA-55/XR-U220/XR-U330/XR-U331/
XR-U440/XR-U441.

(Stock #: VCRB55614)





Square Belt.

IC = 3.500".
THK = 0.042".

Replaces PRB part number: SCX3.5.

Used in Automatic Radio Automotive Cassette Tape Player models:
ASC-6000/CAB-1512/CRS-9440/CRS-9934/CSA-9440.

Used in Clarion Automotive Cassette Tape Player model:
PU-9080A.

Used in Craig Automotive Tape Player models: T617/T689.

Used in Jenson Automotive Cassette Tape Player model:
ATZ-500.

Used in Kenwood Automotive Cassette Tape Player models:
KRC-939/KRC-959/KRC-999.

Used in Pioneer Automotive Cassette Tape Player model:
KE-2000.

(Stock #: VCRBLT300)





Square Belt.

IC = 4.000".
THK = 0.047".

Replaces PRB part number: SCX4.0.

Used in Auto Sound Automotive Cassette Tape Player model:
CCR-302AF.

Used in Audiovox Automotive Cassette Tape Player models:
C-984/DGC-5/ID-725/ID-400C/ID-6000.

Used in Automatic Radio Automotive Cassette Tape Player models:
5-3/IDC-3225/UC-10.

Used in Boman /Astrosonix Automotive Cassette Tape Player models:
BM-130/BM-1330/BM-1331/BM-1332/CJ-30.

Used in Clarion Automotive Cassette Tape Player model:
PE-840A-02.

Used in Craig Automotive Cassette Tape Player models:
80-BFCT1/80-BFCT2.

Used in Denon Automotive Cassette Tape Player models:
DCR-5500/DCR-5600.

Used in Honda Automotive Cassette Tape Player models:
CQLH-136A/CQLH-137A.

Used in Jensen Automotive Cassette Tape Player model: RE9530.

Used in JVC Automotive Cassette Tape Player models: KS-D1.

Used in Jet Sounds Automotive Tape Player model: JS-900.

Used in Kraco Automotive Cassette Tape Player model: KS-940.

Used in Matsushita Automotive Cassette Tape Player model:
CQ-LM691A.

Used in Medallion Automotive Cassette Tape Player models:
65-494/65-534/65-564.

Used in Mitsubishi Automotive Cassette Tape Player models:
RX-73EM/RX-711EM/RX-722/RX-723EM/RX-724/RX-731.

Used in Panasonic Automotive Cassette Tape Player models:
CQ-841/CQ-6700/ CQ-S958EU/CX-232EU.

Used in Pioneer Automotive Cassette Tape Player models:
KE-2002/KE-2100/KE-3000/KE-5000/KE-X20/KE-X65/
KEH-P4250/KP-66G/KP-88G/KP-2500/KP-3500/KP-3800/
KP-4500/KP-4502/KP-5005/KP-6500/KP-8005/KP-8500/
KPH-838/KPH-9000/KPX-600/KPX-9900.

Used in Radio Shack/Realistic Automotive Cassette Tape Player models:
12-1911/12-1984.

Used in Roadster Automotive Cassette Tape Player models:
RS-850/RS-900/RS-2050.

Used in Sanyo Automotive Cassette Tape Player models:
FT-325/FT-351/FT-400/FT-401/FT-402/FT-403/FT-407/
FT-412/FT-417/FT-478/FT-479/FT-480/FT-501/FT-601/
PK-4000.

Used in Sherwood Automotive Cassette Tape Player models: CRQ-301.

Used in Toshiba Automotive Cassette Tape Player models:
TX-401/TX-590.

(Stock #: VCRBLT137)





Square Belt.

IC = 4.000".
THK = 0.057".

Replaces PRB part number: SCQ4.0.

Used in Mitsubishi Automotive Cassette Player models:
GX-60EM/GX-101EM/RX-65KEM/RX-103EM.

Used in Panasonic Automotive Cassette Player models:
CQ-LZ251A/CQ-S774/CQ-S804/CQ-S934.

Used in Sanyo Automotive Cassette Player model: FT-414.

(Stock #: VCRBLT310)





Square Belt.

IC = 4.200".
THK = 0.035".

Replaces PRB part number: SCY4.2.

Replaces Sony part numbers: 3-352-727-01/3-576-062/
3-596-931-01/3-598-848-01/3-598-883-01.

Used in JVC Automotive Cassette Player model: KS-Q8.

(Stock #: VCRBLT102)





Square Belt.

IC = 4.343".
THK = 0.047".

Replaces PRB part number: SCX4.3.
Replaces Pfantone part number: 55625.
Replaces EVG part number: 1425-08.

Replaces Sony part numbers: 3-371-868-01/3-371-868-01/
3-434-103-00/3-509-107/3-533-361/3-592-604-00/
3-618-125-03/3-646-130-00.

Used in Craig Automotive Tape Player models: 2607/5611/
T-740/T-741/T-742/T-760/T-780/T-860.

Used in Crown Automotive Tape Player model: CSC-1000.

Used in Sony Automotive Tape Player model: XR-85.

(Stock #: VCRBLT14)





Square Belt.

IC = 4.600".
THK = 0.046".

Replaces PRB part number: SCX4.6.

Replaces Sony part numbers: 3-302-392-00/3-306-366-00/
3-307-366-00/3-319-030-01/3-325-651-01/3-371-868-01/
3-453-040/3-453-180/3-454-004/3-480-136-00/3-561-595/
3-576-919-00/3-646-1300-00/3-671-078-00/4-928-974-01.

Used in Craig Automotive Tape Player models: 2606/2607.

(Stock #: VCRBLT306)





Square Belt.

IC = 4.800".
THK = 0.060".

Replaces PRB part number: SCQ4.8.

Replaces Sony part numbers: 3-391-457-01/3-576-919-00/
3-668-946-00/3-725-562-01.

Used in Mitsubishi Automotive Tape Player models: GX-61.

(Stock #: VCRBLT73)





Square Belt.

IC = 4.900".
THK = 0.047".

Replaces PRB part number: SCX4.9.
Replaces Pfantone part number: 55630.
Replaces EVG part number: 1407-478.

Replaces Sony part numbers: 3-383-448-01/3-385-829-01/
3-434-044-01/3-454-040/3-454-103/3-513-066/
3-593-609-00/3-596-010-01.

Used in Sony Automotive Tape Player model: XRM-10.

(Stock #: VCRB55630)





Square Belt.

IC = 5.200".
THK = 0.039".

Replaces PRB part number: SCY5.2.
Replaces Pfantone part number: 55728.
Replaces EVG part number: 1425-88.

Replaces Sony part numbers: 3-305-524-01/3-306-803-11/
3-356-345-01/3-362-989-01/3-462-133/3-499-042/
3-533-362/3-535-427/3-545-602-00/3-547-760/
3-554-106/3-564-866-00/3-570-096/3-570-904/
3-571-154/3-578-222.

Used in Bowman/Astrosonix Automotive Tape Player model: BM-133.

Used in Panasonic Automotive Tape Player models: RC-X160/
RC-X260.

(Stock #: VCRB55728)





Square Belt.

IC = 5.406".
THK = 0.048".

Replaces PRB part number: SCQ5.3.
Replaces Sony part numbers: 3-671-120-00/4-964-477-01.

Used in Mitsubishi Automotive Tape Player models: GX-60EM/
GX-101EM/RX-65EM/RX-103EM.

(Stock #: VCRBLT87)





Square Belt.

IC = 5.500".
THK = 0.042".

Replaces PRB part number: SCX5.5.

Replaces Sony part numbers: 3-305-524-00/
3-539-223-00/4-964-476-01.

Used in Kenwood Automotive Tape Player model: KRC-512.

Used in Sansui Automotive Tape Player models: CX-900/
CX-910/CX-990.

(Stock #: VCRBLT15)





Square Belt.

IC = 5.621".
THK = 0.047".

Replaces PRB part number: SCQ5.6.
Replaces Pfantone part number: 55639.
Replaces EVG part number: 1407-159.

Replaces Sony part numbers: 3-303-122-00/3-344-059-01/
3-534-779-00/3-536-448/3-539-223/3-590-708/3-949-030-01.

Used in Kenwood Automotive Tape Player model: KRC-411.

Used in Mitsubishi Automotive Tape Player models: 3238861/
5762661/8936000189/8936000225/8936000556/8936000717/
8936000776/8956000746/8982000130/CZ-692EM/CZ-741/
CZ-747EM/RX-123/RX-735/RX-737EM/RX-740/RX-750/
RX-752EM/RX-755/RX-791EM/RX-909/RX-190.

Used in Sears Automotive Tape Player model: 202.505700.

(Stock #: VCRB55639)





Square Belt.

IC = 6.000".
THK = 0.050".

Replaces PRB part number: SCQ6.0.
Replaces Hitachi part numbers: 4688713/4973361.
Replaces JVC part number: PU41945.

Replaces Sanyo/Fisher part numbers: 141-2-5649-07000/
141-2-5649-08500/141-2-5649-13600/141-2-5641-17200/
141-2-5641-20200/141-2-5641-34100/614-247-9209/
620-212-2632.

Replaces Sharp part numbers: NBLTK0010AWZZ/
NBLTK0032GE00/NBLTK0041GE00/NBLTK0128AFZZ/
NBLTK0184AFZZ/NBLTK0205AFZZ/NBLTK0514AFZZ.

Replaces Sony part numbers: 3-358-230-01/3-453-112-00/
3-500-118/3-558-707-00/3-571-815/3-597-104-01/
3-681-447-00/4-928-951-01.

Replaces Toshiba part numbers: 257482/25759023/25759047.

Used in Jensen Automotive Cassette Tape Player models:
RE-508/RE-512/RE-518/RE-520/RE-708.

Used in Sanyo Automotive Cassette Tape Player models:
FT-415/FT-433/FT-435.

(Stock #: VCRBLT318)





Square Belt.

IC = 6.200".
THK = 0.050".

Replaces PRB part number: SCX6.2.

Replaces Sony part numbers: 3-358-272-01/3-382-860-02/
3-595-998-01/3-596-183-01/3-913-846-01.

Used in Automatic Radio Automotive Tape Player model: CAB-1512.

Used in Bowman/Astrosonix Automotive Tape Player models: BM-590/
BM-595/BM-1490/BM-4000/CE-10/CF-10.

Used in Clarion Automotive Tape Player models: MC-9300/PE-826A.

Used in Crown Automotive Tape Player model: CSC-1000.

Used in Kraco Automotive Tape Player models: KS-900/KS-999.

Used in Lear Jet Automotive Tape Player model: A-72.

Used in Roberts Automotive Tape Player model: CC-10FM.

Used in Sanyo Automotive Tape Player models: FT-431/
FT-690/FT-1670/FT-6130/FT-6181.

Used in Western Auto Automotive Tape Player models: GPE-6042A-08/
LLD-7475A-41/QF-00556.

(Stock #: VCRBLT88)





Square Belt.

IC = 6.500".
THK = 0.062".

Replaces PRB part number: SCQ6.5.

Replaces Sony part numbers: 3-491-225/3-531-845-00/
3-533-721-00/3-582-390.

Used in Mitsubishi Automotive Tape Player models: 5762661/
8939000189/8936000225/8936000717/8936000779/CX-96/
CS-100/CZ-692/CZ-74/RX-691/RX-735/RX-750/RX-752/
RX-909.

Used in Sears Automotive Tape Player model: 280.505700.

(Stock #: VCRBLT11)





Square Belt.

IC = 6.531".
THK = 0.041".

Replaces PRB part number: SCY6.5.
Replaces Pfantone part number: 55646.
Replaces EVG part number: 1407-462.

Used in Panasonic Automotive Tape Player model: CQ-506.

Used in Panasonic Automotive CD Player model: CQ-5958.

Used in Radio Shack/Realistic Automotive Tape Player models:
12-1814/12-1815.

Used in Sony Automotive Tape Player models: CFS-1040/WM-FX12.

(Stock #: VCRB55646)





Square Belt.

IC = 6.700".
THK = 0.055".

Replaces PRB part number: SCQ6.7.

Replaces Sony part numbers: 3-412-264-02/3-382-859-02/
3-465-182/3-536-684/3-536-705/3-582-118.

Used in Sanyo Automotive Cassette Tape Player models: FT-412/
FT-418/FT-690/FT-1670/FT-C22/FT-C45/FT-V77.

(Stock #: VCRBLT319)





Square Belt.

IC = 6.700".
THK = 0.075".

Replaces PRB part number: SCA6.7.

Replaces Sony part numbers: 3-735-691-01/
4-908-591-01/9-996-674-01.

Used in Blaupunkt Automotive Cassette Tape Player models:
CR-4075.

(Stock #: VCRBLT304)





Square Belt.

IC = 7.078".
THK = 0.047".

Replaces PRB part number: SCX7.0.
Replaces Pfantone part number: 55648.
Replaces EVG part number: 1407-47.

Replaces Sony part numbers: 3-313-335-00/3-491-363/
3-527-150/3-536-704-00/3-654-501-00/3-672-602-00/
3-679-171-00/4-934-520-01.

Used in Audiovox Automotive Tape Player models: C-970/
C-984/C-988/CHT-74.

Used in Automatic Radio Automotive Tape Player models:
ACS-6000/MCX-2585.

Used in Bowman/Astrosonix Automotive Tape Player models:
BM-T335/BM-1337.

Used in Clarion Automotive Tape Player models: 90/CH-CS1.

Used in Delco Automotive Tape Player model: 41-FHCB2.

Used in Hitachi Automotive Tape Player model: CS-203.

Used in Medallion Automotive Tape Player model: 65-486.

Used in Mitsubishi Automotive Tape Player models: 8936000556/
8956000746/8982400130/CZ-741/RX-123/RX-190/
RX-737EM/RX-737EX/RX-740.

Used in Pioneer Automotive Tape Player model: KP-8000.

Used in Sony Automotive Tape Recorder model: TC-20.

(Stock #: VCRB55648)





Square Belt.

IC = 7.134".
THK = 0.069".

Replaces PRB part number: SCQ7.2.
Replaces Sony part number: 3-671-098-00.

Used in Sanyo Automotive Tape Player model: FT-C1.

(Stock #: VCRBLT89)





Square Belt.

IC = 7.432".
THK = 0.047".

Replaces PRB part number: SCX7.4.
Replaces Pfantone part number: 55654.
Replaces EVG part number: 1407-161.

Replaces Sony part numbers: 3-364-777-01/3-465-149/
3-513-059/3-645-098-00.

Used in Automatic Radio Automotive Tape Player models: C-988/
C-992/CP-650/CAB-1512/HMX-4000.

Used in Bowman/Astrosonix Automotive Tape Player models:
BM-130/BM-1331/BM-1332.

Used in Buick Automotive Tape Player model: 38510-183.

Used in Craig Automotive Tape Player models: 7609/7610/
7611/7665/7668/7700/W160/W260.

Used in Chrysler Automotive Tape Player model: 38510-183.

Used in JIL Automotive Tape Player models: 608/615-CB/JN-631.

Used in Oldsmobile Automotive Tape Player models: 38510-183/
OL-75CXP/OLF-75CXP.

Used in Panasonic Automotive Tape Player model: CQ-1711.

Used in Pioneer Automotive Tape Player models: KP-292/KP-6500.

Used in Pontiac Automotive Tape Player models: OL-75-CXP/
OLF-75-CXP/PCP-75-CXP.

Used in Radio Shack/Realistic Automotive Tape Player model: 12-1825.

Used in Sanyo Automotive Tape Player models: FT-50/FT-400/
FT-401/FT-402/FT-601.

Used in Sony Automotive Tape Recorder model: TC-20.

Used in Sony Automotive Tape Recorder models: TC-24/TC-U20/TC-U40.

(Stock #: VCRB55654)





Square Belt.

IC = 7.500".
THK = 0.038".

Replaces PRB part number: SCY7.5.
Replaces Pfantone part number: 55656.
Replaces EVG part numbers: 1407-482/1427-96.
Replaces Sony part numbers: 3-341-267-01/3-908-638-01.

Used in Blaupunkt Automotive Tape Player model: CX-4962.

(Stock #: VCRB55656)





Square Belt.

IC = 7.500".
THK = 0.079".

Replaces PRB part number: SCA7.5.
Replaces Sony part numbers: 3-536-732-00/3-537-185/9-996-651-01.

Used in Pioneer Automotive Tape Player models: KP-212/KP-250/
KP-272/KP-4000.

(Stock #: VCRBLT140)





Square Belt.

IC = 8.000".
THK = 0.046".

Replaces RCA part numbers: 123312/144598.
Replaces PRB part number: SCX8.0.

Used in Audiovox Automotive Cassette Tape Player models:
C-992/CM-4000.

Used in Boman/Astrosonix Automotive Cassette Tape Player models:
BM-130/BM-1339/BM-1490.

Used in Clarion Automotive Cassette Tape Player models:
PE-840A-02/PN-839/PN-848.

Used in Delco Automotive Tape Player model: 3061326.
Used in Kraco Automotive Tape Player models: 2000-B/KID-588.

Used in Mitsubishi Automotive Tape Player models: GX-60EM/
GX-101EM/RX-65KEM/RX-103EM/RX-731.

Used in Panasonic Automotive Tape Player model: CQ-5220.

Used in Pioneer Automotive Tape Player models:
2400/KE-2000/KE-5000/KP-373/KP-5500/KP-8000/
KP-8005/KP-8500/TP-222/TP-232/TP-233/TP-252.

Used in Sanyo Automotive Tape Player models: FT-403/
FT-407/FT-412/FT-414/FT-V98/FT-C40/FT-C45/FT-C46/
FT-C68/FT-C70/FT-U12/FT-V98.

(Stock #: VCRBLT301)





Square Belt.

IC = 8.000".
THK = 0.065".

Replaces PRB part number: SCQ8.0.
Replaces Electro Sound part number: SBM8.0.
Replaces Sony part numbers: 3-372-514-01/4-931-470-01.

Used in Sony Automotive Tape Player models: TC-05/TC-0521.

(Stock #: VCRBLT44)





Square Belt.

IC = 8.400".
THK = 0.048".

Replaces PRB part number: SCX8.4.
Replaces Pfantone part number: 55664.
Replaces EVG part number: 1407-163.

Replaces Sony part numbers: 3-434-110-00/3-453-113-00/
3-642-544-00/3-643-470-00.

Used in Clarion Automotive Tape Player models: GZ-CS1/
PF-880A/PF-8761/PP-9063V/PT-880C/PT-8006C.

Used in Panasonic Automotive Tape Player model: CQ-1711.

Used in Pioneer Automotive Tape Player models: KE-2002/
KE-2100/KE-X20/KEX-20/KP-66G/KP-88G/KP-373/
KP-2500/KP-3500/KP-3800/KPH-838/KPH-9000/
KPX-600/KPX-9000/KPX-9900.

Used in Sanyo Automotive Tape Player model: FT-C15.

(Stock #: VCRB55664)





Square Belt.

IC = 8.500".
THK = 0.093".

Replaces PRB part number: SCB8.6.

Used in Ford Automotive Tape Player model: 1FQ4302.

Used in Lincoln Automotive Tape Player model: 1LN4306.

Used in Chrysler Automotive Tape Player model: 2CH45Q8.

(Stock #: VCRBLT60)





Square Belt.

IC = 8.600".
THK = 0.039".

Replaces PRB part number: SCY8.6.

Used in JVC Automotive Cassette Tape Player model: KS-Q8.

Used in Lear Jet Automotive Tape Player model: A-245.

Used in Toshiba Automotive Cassette Tape Player models:
TX-10/TX-104.

(Stock #: VCRBLT314)





Square Belt.

IC = 8.625".
THK = 0.046".

Replaces PRB part number: SCX8.6.
Replaces Pfantone part number: 55669.
Replaces EVG part number: 1425-07.

Replaces Sony part numbers: 3-369-931-01/3-369-931-01/ 3-444-110/
3-462-162/3-513-062/3-533-943-00/3-580-807-00/3-600-929/
3-657-035/3-913-845-01.

Used in Automatic Radio Automotive Tape Player models:
5-2/IDC-3225/UC-10.

Used in Bowman/Astrosonix Automotive Tape Player models: BM-130.

Used in Chrylser Automotive Tape Player models: 35014-57/35014-58.

Used in Clarion Automotive Tape Player models: 80-BFCT1/
80-BFCT2/PE-450A/PE-624A.

Used in Jensen Automotive Tape Player models: R-200/R-210/
R-402/R-405/R-410/R-420/R-430.

Used in Lear Jet Automotive Tape Player model: A-12.

Used in Matsushiba Automotive Tape Player models: CQ-L30/CQ-YT491A.

Used in Panasonic Automotive Tape Player models: CQ-1720/
CQ-8520/CQ-8530/CQ-8700/CX-888/CX-7100.

Used in Pioneer Automotive Tape Player models: KEH-M650/
KEH-M8200.

Used in Radio Shack/Realistic Automotive Tape Player model: 12-1836.

Used in Toshiba Automotive Tape Player models: TX-103/TX-104/
TX-203/TX-401A/TX-403/TX-502.

Used in Toyota Automotive Tape Player model: 86120-60110.

(Stock #: VCRB55669)





Square Belt.

IC = 8.625".
THK = 0.078".

Replaces PRB part number: SCA8.6.
Replaces Pfantone part number: 55668.
Replaces EVG part number: 1407-469.

Used in Kraco Automotive Tape Player models: KOB-2390/
KS-690/KS-9690.

Used in Lear Jet Automotive Tape Player model: A-20.

Used in Sanyo Automotive Tape Player models: FT-870/FT-888.

(Stock #: VCRB55668)





Square Belt.

IC = 8.745".
THK = 0.060".

Replaces PRB part number: SCQ8.8.
Replaces Pfantone part number: 55670.
Replaces EVG part number: 1407-48.

Used in Pioneer Automotive Cassette Tape Player models:
KEN-9261/KEX-910/KEX-M9161.

(Stock #: VCRBLT59)





Square Belt.

IC = 8.800".
THK = 0.046".

Replaces PRB part number: SCX8.9.

Used in Craig Automotive Tape Player model: W350.

Used in Mitsubishi Automotive Cassette Tape Player model:
RX-723EM.

Used in Panasonic Automotive Tape Player models:
CQ-4600EU/CQ-7979EU.

Used in Philips Automotive Tape Player model: Mark 4.

Used in Sanyo Automotive Cassette Tape Player models:
ER-110/FT-528/FT-C2/FT-E3/FT-E4/FT-E6/PK-5700/
PK-6900.

(Stock #: VCRBLT240)





Square Belt.

IC = 8.875".
THK = 0.078".

Replaces PRB part number: SCA8.9.
Replaces EVG part number: 1407-466.
Replaces Sony part numbers: 3-509-105/3-549-739.

Used in Auto Radio Automotive Tape Player models: R-44804A/
TPB-4000.

Used in Clarion Automotive Tape Player models: PE-423C/PE-906A.

Used in Lear Jet Automotive Tape Player model: A-83.

Used in Sanyo Automotive Tape Player models: FT-482/FT-E50/
FT-U52/FT-U55UR-50/UR-60/UR-70.

(Stock #: VCRBLT91)





Square Belt.

IC = 9.000".
THK = 0.040".

Replaces PRB part number: SCY9.0.

Used in Audiovox Automotive Cassette Tape Player models:
C-965/CAS-450/CAS-600A.

Used in Automatic Radio Automotive Tape Player model: PCP-8402.

Used in Bowman/Astrosonix Automotive Tape Player models: 94-8PB/
BM-926/BM-1100/BM-1110.

Used in Craig Automotive Tape Player models: T531/T740/
T741/T742/T760/T780/T860E.

Used in Channel Master Automotive Tape Player model: 6318.

Used in Jenson Automotive Cassette Tape Player models: RE-508/
RE-512/RE-518/RE-520.

Used in Kraco Radio Automotive Tape Player model: KID-550.

Used in Panasonic Automotive Tape Player models: CQ-7979/
CQ-8700.

Used in Radio Shack/Realistic Automotive Tape Player model: 12-1836.

Used in Sanyo Automotive Tape Player models: FT-417/
FT-478/FT-489/FT-606/FT-1400/FT-1405/FT-1490/
FT-1876/FT-1877/FT-2200/FT-2400/FT-V76/FT-V90/
FT-C1/FT-C2/FT-C4/FT-C6/FT-C8FT-C10/FT-C14/
FT-C16.

Used in Sears Automotive Tape Player model: 280.505700.

Used in Sony Automotive Tape Player models: TC-10/TC-34/
TC-65/TC-153D/TC-177SD/TC-179/TC-1185/XR-25/XR-35/
XR-85/XR-100.

(Stock #: VCRBLT84)





Square Belt.

IC = 9.100".
THK = 0.046".

Replaces PRB part number: SCX9.2.

Used in Boman (Astrosonix) Automotive Tape Player models:
BM-1150/BM-1330/CJ-30.

Used in Clarion Automotive Cassette Tape Player models:
2100R/PU-657A/PU-659A.

Used in Delco Automotive Tape Player models: 16008040/
16051921.

Used in Jensen Automotive Cassette Tape Player models:
JR-105/JR-110.

Used in JVC Automotive Cassette Tape Player models:
KS-R3/KS-R05/KS-R07/KS-R10/KS-R20/KS-RX100/
KS-RX105.

Used in Kenwood Automotive Cassette Tape Player models:
KRC-939/KRC-959/KRC-999.

Used in Proton Automotive Cassette Tape Player model: 202.

Used in Radio Shack/Realistic Automotive Tape Player models:
12-1821/12-1822.

Used in Sanyo Automotive Tape Player models: FT-644/FT-1490.

Used in Sherwood Automotive Tape Player model: XR-2240.

Used in Sony Automotive Cassette Tape Player models:
EXR-21/EXR-400/EXR-500/XKR-100/XR-55/XR-6450/XR-6700/
XR-C11/XR-C190/XR-C210/XR-C410/XR-C520/XR-C610/
XR-C620/XR-C720.

(Stock #: VCRBLT92)





Square Belt.

IC = 9.200".
THK = 0.035".

Replaces PRB part number: SCY9.2.
Replaces Pfantone part number: 55672.
Replaces EVG part number: 1425-54.

Used in Jensen Automotive Cassette Tape Player model:
RE-708.

Used in Kenwood Automotive Cassette Tape Player models:
KRC-411/KRC-512.

Used in Mitsubishi Automotive Cassette Tape Player models:
3238861/8936000189/8936000225/8936000556/
8936000717/8936000776/8956000746/8982400130/
CZ-692EM/CZ-741/CZ-747EM/RX-123/RX-190SY/
RX-735/RX-737/RX-740/RX-750/RX-752/RX-755/
RX-791/RX-909.

Used in Proton Automotive Cassette Tape Player models:
204U/205/212U.

(Stock #: VCRB55672)





Square Belt.

IC = 9.200".
THK = 0.075".

Replaces PRB part number: SCA9.2.

Used in Clarion Automotive Cassette Tape Player model: PU-657A1.

Used in Sanyo Automotive Tape Player models: FT-7/FT-9/
FT-482/FT-604.

(Stock #: VCRBLT93)





Square Belt.

IC = 9.500".
THK = 0.046".

Replaces PRB part number: SCX9.5.

Used in Alpine Automotive Tape Player model: 7110.

Used in Clarion Automotive Cassette Tape Player models:
4100R/PE-5776-01/PE-578B-01.

Used in Craig Automotive Tape Player models: 2606/2607.

Used in Mitsubishi Automotive Cassette Tape Player model: RX-724.

Used in Sanyo Automotive Tape Player models: FT-453/
FT-481/FT-607/FT-862/FT-1100/FT-1130/FT-1132/
FT-47000S/FT-C1.

Used in Sony Automotive Tape Player model: TC-28.

(Stock #: VCRBLT260)





Square Belt.

IC = 9.813".
THK = 0.062".

Replaces PRB part number: SCA9.6.
Replaces RCA/Thomson part numbers: 147883/202146.
Replaces Pfantone part number: 55678.
Replaces EVG part number: 1407-437.

Used in Automatic Radio Automotive Tape Player model: CSA-9985.

Used in Lear Jet Automotive Tape Player model: A-25.

Used in Mitsubishi Automotive Tape Player models: CX-96/
CX-100/GX-61EM.

(Stock #: VCRB55678)





Square Belt.

IC = 9.995".
THK = 0.055".

Replaces PRB part number: SCQ10.0.
Replaces Pfantone part number: 55679.
Replaces EVG part number: 1425-12.

Used in Blaupunkt Automotive Tape Player model: MR-182.

Used in Clarion Automotive Cassette Tape Player model: DTX-1000.

Used in Panasonic Automotive Tape Player model: CX-141.

Used in Sanyo Automotive Cassette Tape Player models:
FT-403M/FT-413/FT-416/FT-479/FT-480/FT-C4/FT-C45.

(Stock #: VCRB55679)





Square Belt.

IC = 10.500".
THK = 0.047".

Replaces PRB part number: SCX10.5.
Replaces Pfantone part number: 55680.
Replaces EVG part number: 1407-164.

Used in Craig Automotive Tape Players models: T617/
T689/T720/T721.

Used in Ford Automotive Tape Players model: 8001.

Used in Jensen Automotive Cassette Tape Player models:
R-220/R-408.

Used in Radio Shack/Realistic Automotive Tape Players models:
12-1814/12-1815.

Used in Sanyo Automotive Cassette Tape Player models:
FT-607/FT-U22/FT-U32/FT-U42/FT-U45.

(Stock #: VCRB55680)





Square Belt.

IC = 10.688".
THK = 0.079".

Replaces PRB part number: SCA10.5.
Replaces Pfantone part number: 55681.
Replaces EVG part number: 1407-443.
Replaces RCA/Thomson part numbers: 166796/167796.
Replaces Sony part numbers: 3-541-169/3-659-471-00/3-662-347-00.

Used in Automatic Radio Automotive Tape Player model: CSA-9950.

Used in Craig Automotive Tape Player models: 72-BFMT1/
91-BT411/92-BT411/92-B7412/92-B7421/92-B7422/
96-CETT2/T400/T412/T421/T422.

Used in Lear Jet Automotive Tape Player model: P-519.

Used in Radio Shack/Realistic Automotive Tape Player model: 12-1813.

(Stock #: VCRB55681)





Square Belt.

IC = 10.700".
THK = 0.040".

Replaces PRB part number: SCX10.7.
Replaces Pfantone part number: 55682.
Replaces EVG part number: 1427-71.
Replaces RCA/Thomson part numbers: 138672/167362/
168875/170667/170909.

Replaces Sony part numbers: 3-454-043/3-462-132/3-507-088.

Used in Philips Automotive Tape Player model: Mark 4.

Used in Sanyo Automotive Tape Player model: FT-E15/FT-E20/
FT-E25/FT-E30/FT-E40/FT-ED6/FT-ED6/FT-ED7.

(Stock #: VCRB55682)





Square Belt.

IC = 11.625".
THK = 0.046".

Replaces PRB part number: SCX11.8.
Replaces EVG part numbers: 1425-35/1427-75/
1427-76/1427-77.

Replaces Pfantone part number: 55685.

Replaces Sony part numbers: 3-582-389/3-642-545-00/
3-659-397-00/4-954-635-01.

Used in Sony Automotive Tape Player model: TC-25F.

(Stock #: VCRB55685)





Square Belt.

IC = 11.700".
THK = 0.039".

Replaces PRB part number: SCY11.7.
Replaces EVG part numbers: 1427-74.
Replaces Sony part numbers: 3-307-919-00/3-661-565-00.

Used in Sanyo Automotive Tape Player model: FT-1132.

(Stock #: VCRBLT311)





Square Belt.

IC = 12.200".
THK = 0.045".

Replaces PRB part number: SCX12.2.
Replaces Pfantone part number: 55731.
Replaces EVG part number: 1407-201.

Used in Webcor Tape Player model: 252.

Used in Automatic Radio Automotive Tape Player model: F-4986.

Used in Bowman/Astrosonix Automotive Tape Player models:
BM-595/BM-T335.

Used in Buick Automotive Tape Player model: 7312439.

Used in Clarion Automotive Tape Player model: W-692.

Used in Delco Automotive Tape Player models: 80-BFMT1/
80-15FMT2/81-YFMT1/81-YFMT2.

Used in Hitachi Automotive Cassette Tape Player models:
CS-103/CS-113/CS-1828.

Used in JIL Automotive Tape Player model: 612.

Used in JVC Automotive Cassette Tape Player model: KS-RT80.

Used in Oldsmobile Automotive Tape Player models: 51XFMT1/
51XFMT2/53BFMT3/53PBT3/7931636.

Used in Panasonic Automotive Cassette Tape Player models:
CQ-40/CQ-80/CQ-92/CQ-900/CQ-5710/CQ-7720/CQ-E330/CQ-E370/
CQ-E400/CQ-H110/CQ-H120/CQ-K350/CQ-K440/CQ-K450/CQ-S500/
CQ-S520/CQ-S530/CQ-S535/CQ-S540/CQ-S707/CQ-S710/CQ-S717/
CQ-S737/CQ-S740/CQ-S742/CQ-S750/CQ-S761/CQ-S763/CQ-S780/
CQ-S791/CQ-S793/CQ-S903.

Used in Sony Automotive Tape Player model: TC-30.

(Stock #: VCRB55731)





Square Belt.

IC = 12.500".
THK = 0.064".

Replaces PRB part number: SCA12.5.
Replaces Pfantone part number: 55692.
Replaces EVG part number: 1425-20.
Replaces RCA/Thomson part number: 167260.

Used in Craig Automotive Tape Player models: 60-BPT2/60-XBP1/
61-BPBTS/62-APBT2/62-BPBT2/70-AFMT1.

Used in Radio Shack/Realistic Automotive Tape Player model: 12-1811.

(Stock #: VCRB55692)





Square Belt.

IC = 13.200".
THK = 0.077".

Replaces PRB part number: SCA13.2.
Replaces EVG part numbers: 1425-62/1425-63/1425-68.
Replaces RCA/Thomson part numbers: 148665/152412.
Replaces Sony part number: 3-491-224.

Used in Sanyo Automotive Tape Player models: FT-0120/
FT-X140/FT-X160/FT-X180.

(Stock #: VCRBLT123)





Square Belt.

IC = 13.500".
THK = 0.048".

Replaces PRB part number: SCX13.6.
Replaces Pfantone part number: 55697.
Replaces EVG part number: 1407-227.

Used in Blaupunkt Automotive Cassette Tape Player model:
SNOB-100.

Used in Boman (Astrosonix) Automotive Cassette Tape Player model:
BM-4000.

Used in Buick Automotive Tape Player model: 1223674.

Used in Clarion Automotive Cassette Tape Player models:
PE-550/PE-954/PE-955/PE-958/PH-001/PN-522/PT-632.

Used in Fujitsu Automotive Tape Player model: 10.

Used in Jensen Automotive Cassette Tape Player models:
CS-4000/R-406.

Used in Oldsmobile Automotive Tape Player models: 50HPBT1/
60HFMT1/60HFMT2/60HPBT1/60HPBT2/1223674.

Used in Pontiac Automotive Tape Player model: 60.

(Stock #: VCRB55697)





Square Belt.

IC = 14.000".
THK = 0.094".

Replaces PRB part number: SCB14.0.
Replaces EVG part numbers: 1401-66/1425-47/1425-64.
Replaces RCA/Thomson part numbers: 144258/147916.

Used in Clarion Automotive Tape Player model: MC-119.

(Stock #: VCRBLT18)





Square Belt.

IC = 14.500".
THK = 0.050".

Replaces PRB part number: SCX14.7.
Replaces Pfantone part number: 55704.
Replaces EVG part number: 1425-36.

Used in Alpine Automotive Cassette Tape Player model:
CK-8000.

Used in Boman (Astrosonix) Automotive Cassette Tape Player model:
BM-4000.

Used in Clarion Automotive Cassette Tape Player models:
4750R/8500R.

Used in Craig Automotive Cassette Tape Player model: T687.

Used in Hitachi Automotive Cassette Tape Player models:
CSK-251/CSK-261A/CSK-361A/CSK-431A.

Used in Honda Automotive Tape Player model: AE-CM3300.

Used in Jensen Automotive Cassette Tape Player models:
ATZ-100/ATZ-500/XK-962.

Used in Kenwood Automotive Cassette Tape Player models:
KRC-626/KRC-2001/KRC-3100/KRC-4000/KRC-6000.

Used in Pioneer Automotive Cassette Tape Player models:
KD-333/KP-333.

Used in Radio Shack/Realistic Automotive Tape Player model: 12-1918.

Used in Sansui Automotive Cassette Tape Player models:
RX-3000/RX-4000.

Used in Sanyo Automotive Cassette Tape Player models: FT-028/
FT-222/FT-C28.

Used in Sharp Automotive Cassette Tape Player model: RG-3400.

Used in Sparkomatic Automotive Tape Player model: SR-36.

(Stock #: VCRB55704)





Square Belt.

IC = 15.000".
THK = 0.048".

Replaces PRB part number: SCX15.0.
Replaces Pfantone part number: 55723.
Replaces EVG part number: 1425-91.

Used in American Motors Automotive Tape Player model:
008956002786.

Used in Clarion Automotive Cassette Tape Player models:
3500R/3550/5100R/5150R/5500R/5550R/5900R/8600RT/
8725RT/CH-CS1/PE-894A/PE-895A/PN-9100U/PN-9101U/
PT-975C/PU-894A/PU-895A/PU-9079A.

Used in Ford Automotive Tape Player models: 7L6-0495-53/
D7AF-19A168.

Used in Hitachi Automotive Cassette Tape Player models:
CSK-291A/CSK-331A.

Used in Honda Automotive Tape Player models: 39100-A300M1/
39100-SEQ/CQLH-136A/CQLH-137A/CQLH-221A.

Used in Jensen Automotive Cassette Tape Player models:
ATZ-100/ATZ-200/ATZ-300/JXL-55/RE-960/RE-970/XK-962.

Used in Kenwood Automotive Cassette Tape Player models:
KRC-810/KRC-830/KRC-910/KRC-922/KRC-930/KRC-940/
KRC-950/KRC-9940.

Used in Kraco Automotive Tape Player model: KIDA-588A.

Used in Nissan Automotive Tape Player models: PN-9100U-A/PN-9101U-A.

Used in Panasonic Automotive Cassette Tape Player models:
CQ-506/CQ-B510/CQ-B520/CQ-B522/CQ-E01/CQ-E03/
CQ-E05/CQ-E300/CQ-E321/CQ-H07EU/CQ-H15EU/
CQ-H16EU/CQ-H17EU/CQ-H18EU/CQ-J05/CQ-J11/
CQ-J50/CQ-W225EU/CR-W125EU/.

Used in Proton Automotive Tape Player models: 201/203/214.

Used in Radio Shack/Realistic/Optimus
Automotive Cassette Tape Player models:
12-1814/12-1935/12-1948A/12-1997/12-2003/12-2004.

Used in Sansui Automotive Cassette Tape Player models:
CX-700/RX-500/RX-510/RX-610/RX-700/RX-710/RX-2000.

Used in Sanyo Automotive Cassette Tape Player models:
ER-250/ER-505/ER-506/ERD-810/FT-642/MAC-3030/
MAC-4000/MAC-4080/MAR-1080/MAR-1100/MAR-1200/
MAR-1280/MAR-1980/MAR-2000A/MAR-2100A/
MAR-2200A/MAR-2280.

Used in Sears Automotive Tape Player model: 280.50560.

Used in Sony Automotive Cassette Tape Player models:
ESR-5/ESR-7/ESR-10/ESR-12/XR-130/XR-150/XR-7070/
XR-7077/XR-U220/XR-U300/XR-U330/XR-U331/XR-U440/
XR-U441.

(Stock #: VCRB55723)





Square Belt.

IC = 15.250".
THK = 0.041".

Replaces PRB part number: SCY15.2.
Replaces Pfantone part number: 55743.
Replaces EVG part number: 1425-90.

Used in Hitachi Automotive Cassette Tape Player models:
CSK-261A/CSK-281/CSK-321/CSK-451A/CSK-461A/
CSK-491A/CSK-492E.

Used in Mitsubishi Automotive Cassette Tape Player models:
LT-50/LT-70.

Used in Panasonic Automotive Cassette Tape Player models:
CQ-2500/CQ-D50/CQ-D55/CQ-D70/CQ-R30/CQ-R35/
CQ-R40/CQ-R45/CQ-R65/CQ-R75/CQ-R230/CQ-R240/
CQ-R245/CQ-R535/CQ-RX50.

Used in Radio Shack/Realistic/Optimus
Automotive Cassette Tape Player models:
12-1925/12-1929/12-1931.

(Stock #: VCRB55743)





Square Belt.

IC = 15.500".
THK = 0.046".

Replaces PRB part number: SCX15.5.

Used in Clarion Automotive Cassette Tape Player models:
PN-9378/PU-9034A/PU-9080A.

Used in Denon Automotive Cassette Tape Player models:
DCR-4170/DCR-4270/DCR-5170/DCR-5270/DCR-5490/
DCR-7270/DCR-7290/DCR-7870.

Used in Kenwood Automotive Cassette Tape Player models:
KRC-140/KRC-210/KRC-220/KRC-430/KRC-530/
KRC-540/KRC-550/KRC-560/KRC-570/KRC-640/
KRC-650/KRC-660/KRC-670/KRC-740/KRC-750/
KRC-860/KRC-870.

Used in Sanyo Automotive Cassette Tape Player models:
ER-200/ER-300/ER-500/ER-520/FT-928/FT-E10/FT-U50/
FT-U80/FT-U100.

Used in Sony Automotive Cassette Tape Player models:
XR-7080/XR-7190/XR-7191/XR-7200/XR-7201/XR-7202/
XR-7280/XR-7307/XR-7400/XR-7500/XR-U550/XR-U551/
XR-U660/XR-U661.

(Stock #: VCRBLT1000)





Square Belt.

IC = 15.900".
THK = 0.056".

Replaces PRB part number: SCQ15.9.
Replaces Pfantone part number: 55708.
Replaces EVG part number: 1407-166.

Used in Delco Automotive Tape Player models: 36-CFMT2/
44-BFMT2/60-BFMT4/72-AFTM22.

Used in Isuzu Automotive Tape Player models: 8-944676961/
CQ-YZ291A.

Used in Matsushita Automotive Tape Player models:
CQ-LS191A/CQ-LS896A.

Used in Panasonic Automotive Cassette Tape Player models:
CQ-R9350/CQ-R9400/CQ-R9500.

(Stock #: VCRB55708)





Square Belt.

IC = 16.000".
THK = 0.048".

Replaces PRB part number: SCX16.0.
Replaces Pfantone part number: 55709.
Replaces EVG part number: 1407-459.

Used in Alpine Automotive Cassette Tape Player models:
7400/7401/7502.

Used in Bendix Automotive Tape Player model: 32A-BPT1.

Used in Clarion Automotive Cassette Tape Player models:
PN-781U/PN-8013.

Used in Denon Automotive Cassette Tape Player models:
DCR-5500/DCR-7600.

Used in Honda Automotive Tape Player models: CQLH-231A/
CQLH-256A.

Used in Jensen Automotive Cassette Tape Player models:
JR-115/R-401/R-415/R-425/RE-920/RE-940.

Used in Kenwood Automotive Cassette Tape Player models:
KRC-112/KRC-311/KRC-511/KRC-711/KRC-721/KRC-722/
KRC-7100/KRC-8000/KRC-9900/KXC-757.

Used in Marantz Automotive Cassette Tape Player model: CAR360.

Used in Mitsubishi Automotive Tape Player models: CZ-725/
CZ-727/RX-726.

Used in Pioneer Automotive Tape Player models: CX-152/KE-X65.

Used in Sanyo Automotive Cassette Tape Player models: FT-60/FT-E60.

Used in Sony Automotive Cassette Tape Player model: XR-75.

(Stock #: VCRB55709)





Square Belt.

IC = 16.375".
THK = 0.031".

Replaces PRB part number: SCY16.3.
Replaces Pfantone part number: 55734.

Used in Motorola Tape Player model: PER-1000.

Used in Panasonic Automotive Cassette Tape Player model: CQ-5958.

(Stock #: VCRB55734)





Square Belt.

IC = 16.500".
THK = 0.046".

Replaces PRB part number: SCY16.8.

Used in Motorola Tape Player model: TEC-1.

Used in JVC Automotive Tape Player models: KS-CG10/KS-G8/
KS-G10/KS-RG8/KS-RG9/KS-RX518.

(Stock #: VCRBLT114)





Flat Belt.

IC = 8.700".
THK = 0.060".
WTH = 0.187".

Replaces PRB part number: FR8.8.
Replaces EVG part number: 1424-50.

Used in Bowman /Astrosonix Automotive Tape Player models:
BM-1120/BM-1125/BM-1129/BM-1145.

Used in Cartape Automotive Tape Player model: CTI-3882.

Used in Inland Automotive Tape Player model: AXT-885.

Used in Lear Jet Automotive Tape Player model: A-146.

Used in Tenna Automotive Tape Player models: 54T/77T/86T/
2Q7-MPX/GAR-868/RC-2003MPX/RP-77T/RR-54T/RR-86T/
TC-68.

(Stock #: VCRBLT423)





Flat Belt.

IC = 9.000".
THK = 0.031".
WTH = 0.210".

Replaces PRB part number: FRM9.0.
Replaces EVG part number: 1407-517.

Used in Automatic Radio Automotive
8-Track Tape Player model: SPA-5000.

Used in Cartape Automotive Tape Player model: CT-4355.

Used in Metro Sound Automotive Tape Player model: MS-818.

Used in Muntz Automotive Cassette Tape Player model:
M-940.

Used in Panasonic Automotive 8-Track Tape Player model:
CX-567EU.

Used in many 8-Track and Cassette tape players.

(Stock #: VCRBLT129)





Flat Belt.

IC = 9.200".
THK = 0.031".
WTH = 0.140".

Replaces PRB part number: FRX9.2.

Used in Bowman / Astrosonix Automotive Tape Player models:
BM-294/BM-298.

(Stock #: VCRBLT412)





Flat Belt.

IC = 9.200".
THK = 0.031".
WTH = 0.210".

Replaces PRB part number: FRM9.2.
Replaces Pfantone part number: 55419.
Replaces EVG part number: 1407-88.

Used in Automatic Radio Automotive 8-Track Tape Player model:
SPB-5001.

Used in Bowman/Astrosonix Automotive Tape Player models:
BM-1115/BM-1123/CT-25/CT-2200.

Used in Kraco Automotive 8-Track Tape Player models:
KID-560A/KS-409.

Used in Lear Jet Automotive Tape Player models: A-226/P-590.

Used in Orrtronic Automotive 8-Track Tape Player models:
682.100/682.101/682.110/682.120.

Used in Panasonic Automotive Tape Player models: CX-326/CX-375.

Used in Radio Shack/Realistic Tape Player models: 12-1831/12-1834.

Used in Sanyo Automotive 8-Track Tape Player models:
FT-867/FT-883.

Used in many 8-Track and Cassette tape players.

(Stock #: VCRB55419)





Flat Belt.

IC = 9.400".
THK = 0.031".
WTH = 0.140".

Replaces PRB part number: FRX9.4.
Replaces EVG part number: 1426-42.

Used in Craig Automotive Tape Player model: 5611.

(Stock #: VCRBLT118)





Flat Belt.

IC = 9.600".
THK = 0.035".
WTH = 0.139".

Replaces PRB part number: FRM9.6.
Replaces PRB part number: FRX9.6.
Replaces Pfantone part number: 55423.
Replaces EVG part number: 1407-65.

Used in Automatic Radio Automotive Tape Player model: RAL-500.

Used in Clarion Automotive Tape Player model: PU-651C.

Used in Jensen Automotive Cassette Tape Player models: JR-100/R-200.

Used in Kraco Automotive Tape Player model: 2000-B.

Used in Lear Jet Automotive Tape Player models: A-52/A-152.

Used in Radio Shack/Realistic Automotive Tape Player model: 12-1832.

(Stock #: VCRB55423)





Flat Belt.

IC = 9.700".
THK = 0.031".
WTH = 0.120".

Replaces PRB part number: FRX9.7.

Used in Bowman / Astrosonix Automotive Tape Player model:
BM-1130.

Used in Craig Automotive Tape Player model: 7639.

Used in Inland Automotive Tape Player model: S-85.

Used in Jensen Automotive Tape Player models: JR-100/R-200.

Used in Lear Jet Automotive Tape Player models: A-81/
AE6811/HE-6811.

Used in Mitsubishi Automotive Tape Player model: RX-722.

Used in Sanyo Automotive Tape Player model: PK-4000.

Used in Sparkomatic Automotive Tape Player model: SR-305.

(Stock #: VCRBLT413)





Flat Belt.

IC = 9.772".
THK = 0.036".
WTH = 0.250".

Replaces PRB part number: FR9.7.

Used in Inland Automotive 8-Track Tape Player model: S-900A.

Used in Toyo Automotive 8-Track Tape Player model: CS-300.

Used in many 8-Track tape players.

(Stock #: VCRBLT51)





Flat Belt.

IC = 10.000".
THK = 0.023".
WTH = 0.120".

Replaces PRB part number: FRW10.1.
Replaces EVG part numbers: 1426-47/1426-48/1426-50/1426-51.
Replaces RCA/Thomson part numbers: 257430/257525.

Replaces Sony part numbers: 3-563-031/3-565-523/
3-924-817-01/9-981-099-00.

Used in Realistic/Radio Shack Automotive Tape Player model: 12-1802A.

Used in Sanyo Automotive Tape Player models: FT-816/FT-819/FT-1001.

(Stock #: VCRBLT53)





Flat Belt.

IC = 10.2".
THK = 0.031".
WTH = 0.210".

Replaces PRB part number: FRM10.2.

Used in Automatic Radio Automotive Tape Player models: MNI-1410/
NPX-2390/SPE-5004/UPX-2354/XME-1443.

Used in Blaupunkt Automotive Tape Player model: 9404-230-018.

Used in Clarion Automotive Tape Player models: M-430/
M-431/M-607/M-608/M-651/M-860/M-880/M-881/
M-884/M-886/PU-434A/R-310/R-320/R-330.

Used in Jensen Automotive Tape Player models: R-310/R-320/R-330.

Used in Kraco Automotive Tape Player models: KID-550/
KS-400/KS-450/KST-679.

Used in Lear Jet Automotive Tape Player models: A-40/A-75.

Used in Panasonic Automotive Tape Player models: CQ-969/CX-830.

Used in Sanyo Automotive Tape Player model: FT-86.

Used in many 8-Track tape players.

(Stock #: VCRBLT101)





Flat Belt.

IC = 10.500".
THK = 0.025".
WTH = 0.125".

Replaces PRB part number: FRX10.5.
Replaces EVG part number: 1426-54.
Replaces Sony part numbers: 3-543-978-00/3-578-328/3-578-511-00.

Used in Toyota Automotive Tape Player models: YAFR-01018/
YAFR-01023.

(Stock #: VCRBLT110)





Flat Belt.

IC = 10.500".
THK = 0.035".
WTH = 0.200".

Replaces PRB part number: FRM10.5.
Replaces Pfantone part number: 55434.
Replaces EVG part number: 1407-71.

Used in Bowman (Astrosonix)
Automotive Tape Player models: BM-900/BM-910/BM-911/
BM-922/BM-926/BM-950/BM-1100/BM-1110/BM-8415/
SP-90/SP-191.

Used in American Motors Automotive Tape Player model: H075-TPX.

Used in Automatic Radio Automotive Tape Player models: 23/
E-10001/HLX-2534/MDD-2560/PED-2512/PSM-2456/SPA-5000B/
SPA-5001B/SPB-5000/SPC-5002/SPF-5005/SST-1179.

Used in Bowman/Astrosonix Automotive Tape Player models:
BM-900/BM-910/BM-911/BM-922/BM-926/BM-950/BM-1100/
BM-1110/BM-8415/SP-90/SP-191.

Used in Buick Automotive Tape Player model: 26810-173.

Used in Cartape Automotive Tape Player models: 8999-093/
CT-3700/CT-3800/CT-3900/CT-4800/X-8010.

Used in Clarion Automotive Tape Player model: PE-423.

Used in Chrysler Automotive Tape Player model: 26810-173.

Used in GMC Automotive Tape Player models: 26810-17/CHT-75-TPX.

Used in Kraco Automotive Tape Player models: KS-600/KS-666B/KS-770.

Used in Lear Jet Automotive Tape Player models: A-10/
A-109/A-110/A-119/H-310.

Used in Oldsmobile Automotive Tape Player models: 26810-173/
CNO-75-TPX/QL-75-TPX/QLF-75-TPX/VE-75-7PX.

Used in Opel Automotive Tape Player models: 26810-17/OPL-75-TRX.

Used in Panasonic Automotive Tape Player models: CQ-999/CQ-2289/
CQ-2988/CQ-2989/CQ-B4989/CX-175/CX-176.

Used in Pontiac Automotive Tape Player models: CHT-75-TPX/
OLF-75-TPX/PF-75-CX/PGP-75-CXP/VE-75-CXP.

Used in Radio Shack/Realistic Automotive Tape Player models:
12-1390/12-1401/12-1402/12-1816/12-1818.

Used in Sanyo Automotive Tape Player model: FT-863.

Used in Toyota Automotive Tape Player models: 86260-20030/
86260-20040/86260-22021/86260-22031/CX-361/YAFR-01023.

Used in Western Auto Automotive Tape Player models: GPE-6005A-08/
GPE-6042A-08/GPE-6805A-08/LLD-8113A/MAE-8505A-77.

Used in many 8-Track tape players.

(Stock #: VCRB55434)





Flat Belt.

IC = 10.700".
THK = 0.031".
WTH = 0.203".

Replaces PRB part number: FRM10.7.
Replaces PRB part number: FRW10.7.
Replaces EVG part number: 1426-57.
Replaces RCA/Thomson part number: 123061.
Replaces Pfantone part number: 55436.

Used in Ford Automotive Tape Player model: C9AA.

Used in Lear Jet Automotive Tape Player model: A-250.

Used in Panasonic Automotive Tape Player models: CX-777CX-888.

Used in Sanyo Automotive Tape Player model: FT-862.

Used in Western Auto Automotive Tape Player model: FK-05007.

(Stock #: VCRB55436)





Flat Belt.

IC = 11.000".
THK = 0.031".
WTH = 0.154".

Replaces PRB part number: FRX11.0.
Replaces Sony part number: 3-371-571-01.

Used in Cartape Automotive Tape Player models: PT8-100/PT9A-D19.

(Stock #: VCRBLT407)





Flat Belt.

IC = 11.000".
THK = 0.027".
WTH = 0.219".

Replaces PRB part number: FRM11.0.

Used in Automatic Radio Automotive Tape Player models: CAH-2000/
CHP-4710/CPE-3714/CRP-4741/CSP-4726/CUP-4714/EMS-2121/
FOP-4704/FPE-3726/FPP-3704/HMX-4000/HRP-1256/HSX-7000/
MES-1454/R-1051/R-4644/SEL-9606/SFB-6802.

Used in Bowman/Astrosonix Automotive Tape Player models:
BM-960/BM-1000/CT-20/SPORT-92.

Used in Clarion Automotive Tape Player model: 850.

Used in Kraco Automotive Tape Player models: KS-700/KS-890.

Used in Panasonic Automotive Tape Player models: CQ-251/CQ-252/
CX-161.

Used in Sanyo Automotive Tape Player models: FT-842/FT-866.

Used in Toshiba Automotive Tape Player model: CT-812.

(Stock #: VCRBLT41)





Flat Belt.

IC = 11.000".
THK = 0.037".
WTH = 0.236".

Replaces PRB part number: FRM11.2.

Used in Automatic Automotive Radio Tape Player model: SHG-1010.

Used in Clarion Automotive Tape Player model: 33-200.

Used in Ford Automotive Tape Player model: T7SMF.

Used in Inland Automotive Tape Player models: MPT-80/S-75/S-80.

Used in Kraco Automotive Tape Player models: KS-408/KS-660/
KS-666/KS-888.

Used in Lear Jet Automotive Tape Player models: H-430/H-440.

Used in Panasonic Automotive Tape Player models: CQ-959/
CX-351/CX-557/CX-807/CX-811/CX-877.

Used in Toyota Automotive Tape Player models: 86260-14010/
86260-20011/CX-161/YAFR-01003.

Used in Western Auto Automotive Tape Player models: CEI-5470A-57/
CIE-5470A-57.

(Stock #: VCRBLT57)





Flat Belt.

IC = 11.200".
THK = 0.031".
WTH = 0.120".

Replaces PRB part number: FRX11.2.
Replaces Sony part number: 3-558-706-00.

Used in Panasonic Automotive Tape Player model: CX-601EU.

(Stock #: VCRBLT408)





Flat Belt.

IC = 11.484".
THK = 0.022".
WTH = 0.234".

Replaces PRB part number: FRQ11.2.
Replaces Pfantone part number: 55441.
Replaces EVG part number: 1407-242.
Replaces Sony part numbers: 3-551-006/3-661-708-00.

Used in Clarion Automotive Tape Player models: MR-97/MR-4728-1000.

Used in Panasonic Automotive Tape Player model: CX-355.

Used in Western Auto Automotive Tape Player models: GPE-6805A-08/
101-7002A-17/101-7015A-27/101-7105A-27/101-7140A-27.

(Stock #: VCRB55441)





Flat Belt.

IC = 11.500".
THK = 0.027".
WTH = 0.187".

Replaces PRB part number: FRX11.5.
Replaces EVG part number: 1426-60.
Replaces Sony part number: 3-558-349.

Used in Teac Automotive Tape Player model: AC-5.


(Stock #: VCRBLT42)





Flat Belt.

IC = 11.500".
THK = 0.030".
WTH = 0.250".

Replaces PRB part number: FRY11.5.
Replaces EVG part number: 1426-59.
Replaces Sony part number: 3-599-137.

Used in Automatic Radio Automotive Tape Player model: GES-6394.

(Stock #: VCRBLT30)





Flat Belt.

IC = 11.700".
THK = 0.031".
WTH = 0.150".

Replaces PRB part number: FRX11.7.

Used in Teac Automotive Tape Player models: AC-7/AC-9.

(Stock #: VCRBLT422)





Flat Belt.

IC = 12.100".
THK = 0.031".
WTH = 0.118".

Replaces PRB part number: FRX12.1.

Used in Cartape Automotive Tape Player models: 8200/8900/ CT-8800.

(Stock #: VCRBLT410)





Flat Belt.

IC = 12.562".
THK = 0.027".
WTH = 0.265".

Replaces PRB part number: FR12.5.
Replaces Pfantone part number: 55455.

Used in Automatic Radio Automotive Tape Player models:
MEL-6740/MNE-6725.

Used in Cartape Automotive Tape Player model: 8900-111.

Used in Chrysler Automotive Tape Player model: CH-4007.

Used in Clarion Automotive Tape Player model: 480.

Used in Ford Automotive Tape Player models: 1FD-4103/1MT-4002/
1MY-4106/1TB-4008/2CR-4107/2FD-4103/2LN-4110/2MR-4111/
2MT-4108/2MY-4106/2MZ-410/27B-4109.

Used in Lear Jet Automotive Tape Player models: M-410/M-460.

Used in Medallion Automotive Tape Player model: 65-481.

Used in Metro Sound Automotive Tape Player model: MS-800.

(Stock #: VCRB55455)





Flat Belt.

IC = 12.792".
THK = 0.035".
WTH = 0.210".

Replaces PRB part number: FRM12.7.
Replaces Pfantone part number: 55458.
Replaces EVG part number: 1407-30.
Replaces Sony part number: 3-536-713.

Used in Automatic Radio Automotive Tape Player models: CFE-8001/
OMX-9843.

Used in Western Auto Automotive Tape Player models: A109586/
IST-5470A-37/IST-5490A-37.

(Stock #: VCRB55458)





-Click Here To Return To Parts Index-

-Click Here To Return To Main Page-
Copyright ©1998-2018
Surplus Material Components
SMC ELECTRONICS
Surplus Automotive Accessories
All Rights Reserved