SMC ELECTRONICS

COMPUTER MODEMS
Click on a picture for a larger view.
Wait a few seconds.
Another browser window will open.
Close that window when done.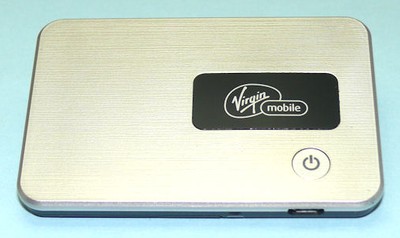 Virgin Mobile 3G Mobile Hotspot/Wireless Router.
Model MiFi2200.

Credit card size 3G Mobile Hotspot/Wireless Router supplies
high speed mobile broadband service to up to 5 WiFi devices
such as computers and tablets.

Unit operates on an internal, replaceable, Lithium-Ion Battery
which may be recharged through any USB port or included
AC Charger.

Size: 3 3/8" x 2 1/4" x 1/4".

Note: Unit must be activated through the Virgin Mobile Website
or using a toll-free telephone number. A Prepaid service plan must
be chosen and paid for in order to use this device.

With Owner's Manual on CDROM, Protective Pouch,
USB Cable, and AC Adapter/Charger.

This Item is in Excellent Condition.








Modem Saver/Telephone Line Tester.

Pen-Size Deluxe Telephone Line Tester will check whether a
telephone line is live and with correct polarity and SAFE for
use with a computer Modem.

Unlike the analog telephone line in your home, most new telephone
systems in hotels, motels, and offices are digital. These digital
telephone jacks are identical in appearance to a standard telephone
jack, however, as most computer modems are only designed to be
used with a standard analog telephone line, plugging in the computer
modem into these digital lines may damage the computer modem.

Digital telephone lines often carry over-current which can
damage modem circuitry. This Modem Line Tester will detect
these dangerous line conditions.

Simply plug the tester into any standard 4 or 6 pin
modular telephone jack and observe the LED's.

Telephone Line Tester will check LINE 1 of 2 or 3 line circuits.
Tester can also be used on DSL lines.

Tester is completely self-powered and requires no batteries
as all power is obtained from the telephone line.

A must for traveling and testing telephone lines in hotels and motels,
airports, offices, anywhere, BEFORE you plug in a computer modem.

Also many older fax machines, telephone answers, and other equipment
meant to be connected to a Standard telephone line can be damaged if
connected to a Digital telephone line. This tester is also ideal before
connecting this type of equipment.

Size: 5 3/8" x 11/16" x 1/2".

With Instructions and Cable Coupler.

This Item is NEW in factory package.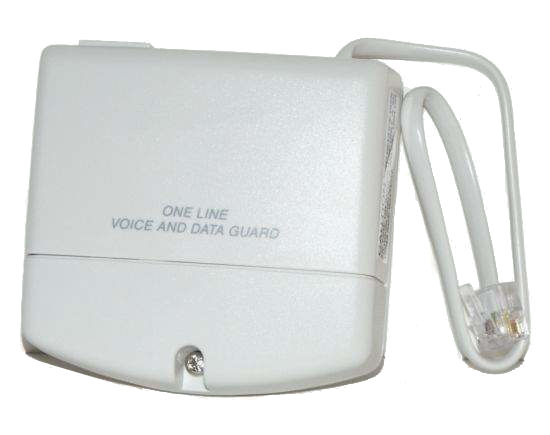 Telephone Line Restrictor.
Unit prevents an extension phone from picking up a line and
interrupting a telephone call, modem or Fax connecton. For
use with single or 2-line systems. Caller ID compatible.
Operates on a 9V battery. With instructions.

This unit is NEW in factory package. Original cost $13.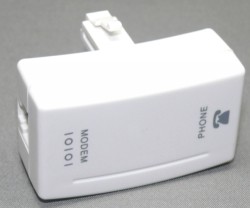 DSL Filter.
DSL Filter filters out unwanted interference when using a
telephone, telephone answerer, or other telephone device
on a DSL data line. Two jacks split the DSL line to allow
the use of a telephone device and a DSL modem on a
single telephone jack.

This item is NEW.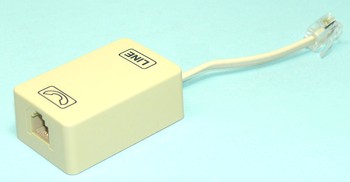 Inline DSL Filter.
DSL Filter filters out unwanted interference when using a
telephone, telephone answerer, or other telephone device
on a DSL data line.

(Stock #: DSLFILT2)





-Click Here To Return To Main Page-
Copyright ©1998-2018
Surplus Material Components
SMC ELECTRONICS
Surplus Computer Modems
All Rights Reserved