SMC ELECTRONICS

ELECTRONIC MODULES & CIRCUIT BOARDS


Dual Display LED Alarm Clock Module. (RFE)

The complete "guts" of an expensive Dual Display LED Alarm Clock.
Features 7/8" main Time Display and 3/8" secondary Alarm Time
Setting display. Other features include 9V Battery Backup, Snooze,
Display Dimmer, and Piezo Buzzer.

Clock is completely wired-just plug it in. All switch settings are
contained on a seperate PCB, (or wire in your own switches).

Clock operates on 117 VAC.

Main PCB Size: 5" x 1 3/4".
Switch PCB Size: 7 1/2" x 1".

Includes Switch Legend Plate.

Sorry, No instructions are available for this module.
Plug it in, look at the switch legend, and have fun.

(Stock #: EM30)





Dual Miniature Fluorescent Light Module. (RFE)

Complete self-contained dual mini fluorescent lamps and
Inverter PCB circuit board. Includes lamp mounting frames.

Inverter operates on 12 VDC @ 600 Ma.

Lamp size: 9 1/8" x 3/32".
PCB Size: 1 5/8" x 1 1/4" x 1/2".

Perfect for automotive use.

(Stock #: EM29)





Miniature Fluorescent Light Module. (RFE)

Complete self-contained mini fluorescent lamp and
Inverter PCB circuit board. Includes lamp mounting frame.

Inverter operates on 12 VDC @ 300 Ma.

Lamp size: 3 3/4" x 3/32".
PCB Size: 1 7/8" x 1 3/8" x 5/8".

(Stock #: EM25)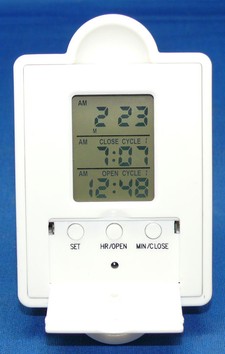 Programmable Vent Module. (RFE)

Module was originally made for a Programmable Heating/Cooling Vent.
Module was designed to control a small low-voltage, low-current
DC motor at predetermined times.

Module fits into a Output-Connection cradle which can be mounted
into a 2 7/8" x 2 3/16" rectangular hole.

At programmed times module outputs 3VDC at 50Ma. for one second.
Output polarity is positive-going for "Open" mode and negative-going
for "Close" mode.

Module features 7-Day Programming with 2 "Open" and 2 "Close"
cycles per day, simple 3-Pushbutton operation, Manual Open and
Close modes, seperate Clock and Timer Displays, automatic
Backlight, and Low-Battery Alert.

Module operates on 2 AAA Alkaline batteries.

Overall Size: 2 1/4" x 4" x 1 1/4".
With Programming Operation Instructions.

This Module is perfect for experimentation as simple circuitry
such as latching relay circuits or flip-flop circuits can be
used with the module's 3VDC momentary output.

(Stock #: EM20)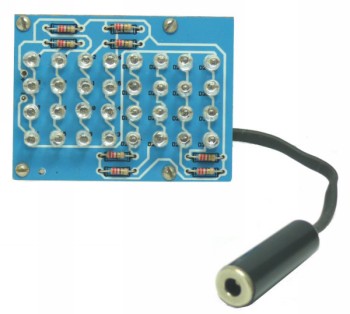 IR Illuminator Module.

Fully-constructed, self-contained module features 32 high power
5mm infrared LEDs. IR beam outputs at 870-950 nm, and
produces 500 mW. total output power. 40 degree beam angle.
IR Illuminator Module operates on included detachable
12 VDC / 300 Ma. AC adapter or can be operated from
any 12 VDC / 300 Ma. power source such as a car battery.

Module size: 3" x 2 1/4" x 1 1/4".
With removable 3/4" threaded mounting standoffs.

Perfect with use with B/W CCD cameras and IR nightscopes.

With Instructions and AC Adapter.

(Stock #: EMODIR)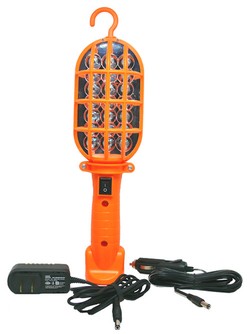 IR Illuminator.

Fully-constructed, IR Illuminator features 21 high power
5mm Infrared LEDs. IR beam outputs at 940 nm, and produces
300 Mw total output power. 40 degree beam angle. Current
consumption when operating on 12VDC power is 300 Ma.

IR Illumination is totally invisibe to the naked eye.

Also features high-impact polystyrene construction,
internal reflector, a hang-up hook, magnetic base,
and an external DC Power Jack.

IR Illuminator operates on included AC Adapter or included
12V Cigarette Lighter Adapter. Can also be operated
from any other 12 VDC / 300 Ma. power source.

Overall size (less hook): 12" x 3 1/4" x 3".

Perfect with use with B/W CCD cameras and IR nightscopes.
Most B/W CCD cameras are extremely sensitive to Infrared Light (IR).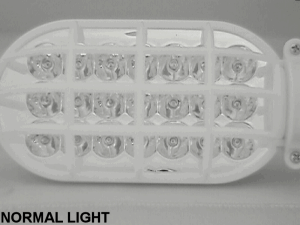 With Instructions, AC Adapter, and 12V Cigarette Lighter Adapter.

(Stock #: IRILLUM)







Portable UV Illuminator.

UV Illuminator features 24 high power 5mm Ultraviolet LEDs.
UV beam outputs at 400-405 nm, and produces 2850 Mcd
total output power. 25 degree beam angle.

Also features high-impact fully rubberized plastic construction,
internal reflector, a hang-up hook, and a rear-mounted magnet.

UV Illuminator operates on 3 AA Alkaline Batteries.

Overall size (less hook): 8 1/4" x 2 1/4" x 1".

Perfect for use in mineral or glass fluorescence detection,
paper currency authentication, signature & fraud detection,
stain and urine detection, leak detection, and when listening
to the Vanilla Fudge, Pink Floyd, or the early Moody Blues
(when Mike Pinder was still in the group).

This Item is NEW in factory box.

(Stock #: UVILLUM)






UV Illuminator.

Fully-constructed, UV Illuminator features 21 high power
5mm Ultraviolet LEDs. UV beam outputs at 400-405 nm, and
produces 2500 Mcd total output power. 25 degree beam angle.
Current consumption when operating on internal batteries
(4.5V) is 210 Ma. Current consumption when
operating on external 12VDC power is 260 Ma.

Also features high-impact polystyrene construction,
internal reflector, a hang-up hook, magnetic base,
and an external DC Power Jack.

UV Illuminator operates on 3 AA Alkaline Batteries or
included 12V Cigarette Lighter Adapter. Can also be
operated from any 12 VDC / 300 Ma. power source such
as an AC Adapter.

Overall size (less hook): 12" x 3 1/4" x 3".

Perfect for use in mineral or glass fluorescence detection,
paper currency authentication, signature & fraud detection,
stain and urine detection, leak detection, and when listening
to the Vanilla Fudge, Pink Floyd, or the early Moody Blues
(when Mike Pinder was still in the group).

With Instructions, Batteries and 12V Cigarette Lighter Adapter.

(Stock #: UVILLUM)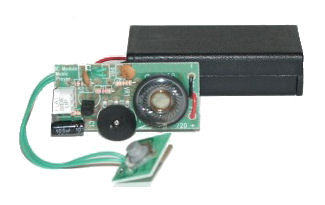 Music Player Module.

Complete self-contained module plays 5 different songs
using included "song" ics. To choose a song, simply insert
one of the "song" ics into a socket on the music player module.

Songs include:
Happy Birthday to You
Let Me Call You Sweetheart
Silent Night
Take Me Out to the Ballgame
Twinkle Twinkle Little Star

Module features 3/4" speaker, volume control, play pushbutton,
and external battery holder. Module operates on 2 AA batteries.
Module size: 2" x 1". Perfect for installing inside toys
and stuffed animals. With instructions.

(Stock #: EM11)





-Click Here To Return To Parts Index-

-Click Here To Return To Main Page-
Copyright ©1998-2018
Surplus Material Components
SMC ELECTRONICS
Surplus Electronic Modules and Circuit Boards
All Rights Reserved