SMC ELECTRONICS

LAPTOP & NETBOOK COMPUTER ACCESSORIES
Click on a picture for a larger view.
Wait a few seconds.
Another browser window will open.
Close that window when done.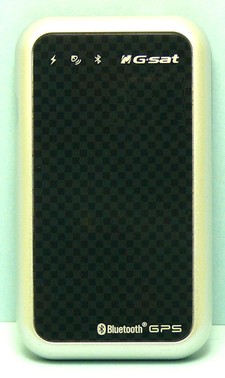 Bluetooth GPS Navigation Receiver.
Globalstat Model: BT-368i.

Bluetooth GPS Navigation Receiver adds GPS functions to almost
any Bluetooth equipped Android Tablet or Cellphone. Also can be used
with Bluetooth Android devices that have a poor internal GPS receiver.
(Like many Toshiba Tablets).

Features:

SiRF StarIII low-power GPS chipset
Receives up to 20-parallel channels
Extremely fast time-to-fix (TTF) even at low signal levels
Wireless Bluetooth 2.0
High capacity rechargeable battery
Three function LED indicators

Size: 2 3/4" x 1 1/2" x 3/8".

Unit operates on an internal Li-Ion Rechargeable Battery Pack
or with included Mini USB AC/DC Adapter/Chargers.

With Owner's Manual on CDROM, utility software, USB Cable,
AC and DC Adapter/Chargers, and Original Factory Box.

Note: This GPS Receiver must be used with an Android Driver App
such as GPSInfo or Bluetooth GPS - available at Google Play.
(A copy of GPSinfo is included on the CDROM).

This item is in Excellent physical and excellent electrical condition.
This item was a "Showcase Demo" which basically means it was
Never Used, but removed from factory box for display purposes.

Original Cost: $75.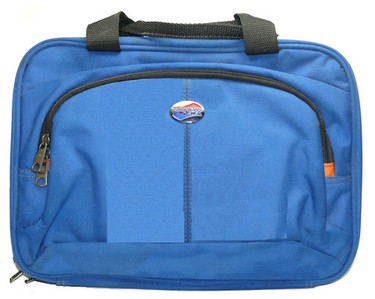 Portable DVD Player/Netbook Case.
Very well made zippered Fabric Case holds almost any
portable DVD Player or Netbook Computer. Inside zippered
pocket will hold any item up to 13 1/2" x 10" x 2" in size.
Case features heavy-duty fabric and vinyl construction,
carrying handles, and enough pockets and pouches to hold
many, many, accessories.

Front of case has a large zippered 10" x 6" pocket, inside of
case has a zippered 6" x 5 1/2" pocket, three 6" x 2 1/2" pockets,
and a removable zippered 11 1/2" x 7 1/2" pouch.

Overall Size: 13 1/2" x 10 1/2" x 3 3/4".

Colors available are Black, Blue, or Red.

Note: We reserve the right to substitute colors as stock sells out.

This Item is NEW.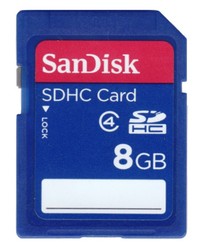 8GB SD Memory Card.
With Protective Storage Case.

This item is NEW.








Modem Saver/Telephone Line Tester.

Pen-Size Deluxe Telephone Line Tester will check whether a
telephone line is live and with correct polarity and SAFE for
use with a computer Modem.

Unlike the analog telephone line in your home, most new telephone
systems in hotels, motels, and offices are digital. These digital
telephone jacks are identical in appearance to a standard telephone
jack, however, as most computer modems are only designed to be
used with a standard analog telephone line, plugging in the computer
modem into these digital lines may damage the computer modem.

Digital telephone lines often carry over-current which can
damage modem circuitry. This Modem Line Tester will detect
these dangerous line conditions.

Simply plug the tester into any standard 4 or 6 pin
modular telephone jack and observe the LED's.

Telephone Line Tester will check LINE 1 of 2 or 3 line circuits.
Tester can also be used on DSL lines.

Tester is completely self-powered and requires no batteries
as all power is obtained from the telephone line.

A must for traveling and testing telephone lines in hotels and motels,
airports, offices, anywhere, BEFORE you plug in a computer modem.

Also many older fax machines, telephone answers, and other equipment
meant to be connected to a Standard telephone line can be damaged if
connected to a Digital telephone line. This tester is also ideal before
connecting this type of equipment.

Size: 5 3/8" x 11/16" x 1/2".

With Instructions and Cable Coupler.

This Item is NEW in factory package.





Laptop Memory.
2 GB. 1333 MHz. PC3-10600.

Used in many HP/Compaq laptop computers.

HP Part Number: 621565-001.

Memory is NEW.





Laptop Memory.
4 GB. 1333 MHz. PC3-10600.

Used in many HP/Compaq laptop computers.

HP Part Number: 621569-001.

Memory is NEW.





Laptop Memory.
1 GB. 800 MHz. PC2-6400.

Used in many HP/Compaq laptop computers.

Crucial Part Number: CT12864AC800.8FE.
Micron Technology Part Number: MT8HTF12864HDY-800E1.

Memory is NEW.





-Click Here To Return To Main Page-
Copyright ©1998-2018
Surplus Material Components
SMC ELECTRONICS
Surplus Laptop Computer Accessories
All Rights Reserved