SMC ELECTRONICS

ELECTRONIC ORGANIZERS (PDAS)
Click on a picture for a larger view.
Wait a few seconds.
Another browser window will open.
Close that window when done.



Franklin Merriam-Webster Dictionary and Thesaurus.
Model MWD-1490.

One of the most Comprehensive Dictionary & Thesaurus
devices ever sold by Franklin.

Features large, easy-to-read, 6-line Adjustable-Contrast LCD Display,
Full Keyboard, Flip-over Protective Cover, Automatic Power Off,
and up to 2-year battery life.

Unit features the following software modes and features:

Phonetic Spell Correction:
Enter a word the way it sounds, and dictionary automatically provides
alternatives for misspelled words.

Merriam-Webster Dictionary:
Immediate access to over 300,000 full definitions.

Franklin Thesaurus:
500,000 synonyms and antonyms provide alternate word choices,
expanding your vocabulary.

Merriam-Webster Geographical Dictionary:
Gives information about the world's key cities, countries, and
physical features.

Merriam-Webster Biographical Dictionary:
Provides quick answers about the world's most influential people.

Merriam-Webster Guide to Punctuation and Style:
Delivers authoritative answers to everyday questions about
working with words.

Grammar Guide:
Offers instant access to essential information on grammar rules and
usage and reinforces grammar knowledge with quizzes.

5-Language Translator:
Includes translations to and from English, Spanish, French, German,
and Italian.

Confusables function:
Alerts you when one word might be confused with another
(their vs. there vs. they're) by providing spellings and
meanings.

SAT Word List:
Improve your reading and writing skills through learning exercises
with commonly used words from actual tests. Be confident that these
learning techniques will help improve your score.

My Vocabulary List:
Create a customized list of your most challenging words and
incorporate these words into a game like Hangman for easy
reinforcement.

4 Learning Exercises and 9 Games:
Fun, systematic approach to improving spelling and vocabulary,
including Spelling Bee, Flashcards, Hangman and Jumble.

Additional Features:
Crossword Puzzle Solver to determine missing puzzle letters.

Organizer includes Local/World Clock, Personal Databank, Calculator,
Currency/Metric Converters, and On-screen Help.

Unit operates on 2 CR-2032 batteries (included).

Size: 5 1/8" x 3 7/8" x 1/2".

Includes batteries, and owner's manual.

Makes a perfect gift.

This unit is in Excellent Condition.

This item was a "Showcase Demo" which basically means it
was Never Used, but removed from factory package for
display purposes.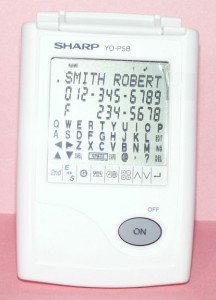 Sharp Model YO-P5B 48K Personal Organizer.

Small shirt-pocket size Personal Organizer features large
easy-to-read 3-line x 12 character touch-sensitive LCD
display and on-screen keyboard. Other features include
flip-over protective cover, built-in stylus holder, automatic
power off, and up to 2-year battery life. Unit operates on
1 CR2032 lithium battery.

Personal Organizer features the following operation modes:

Clock
Alarm Clock
World Clock
Calculator
Currency Conversion
Telephone & Address Book
Schedule
Memo
2400 Word English-Spanish Translator
Blackjack & Alpha-Attack Games
Secret (Password) Mode

Size: 3 11/16" x 2 17/32" x 9/16".
Includes stylus, battery, and owner's manual.

Makes a perfect gift.

This unit is NEW in factory package.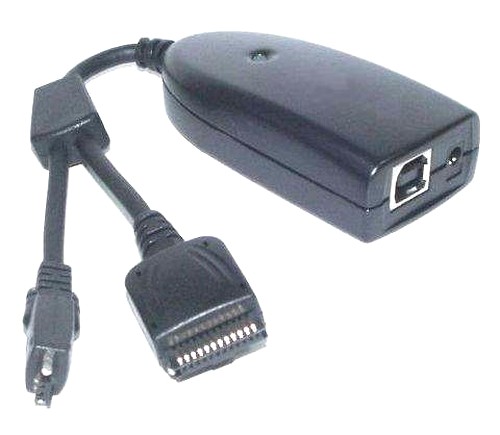 HP Jornada 540 Series Sync Adapter.
Sync Adapter allows the syncing of a HP Jornada 540 Series
PocketPC to a computer through a USB port. Adapter also
features an AC/DC power jack for powering or charging the
Jornada unit and a USB 1.1 port. With instructions.
Does NOT include USB cable, Software, or AC/DC adapter.

This unit is New in factory package. Original Cost $20.





-Click Here To Return To Main Page-
Copyright ©1998-2017
Surplus Material Components
SMC ELECTRONICS
Surplus Electronic Organizers
All Rights Reserved