SMC ELECTRONICS

PRINTER REPAIR PARTS


Canon Printer Carriage Motor. (RFE)
Used in Canon Model BJC-600 and other printers.
Rated at 27.6 VDC at 0.22A.

Shaft has friction pulley.
Approx. body size: 2 3/8" x 1 7/16" diameter,
pulley size: 9/32" x 13/32" diameter.

Canon part number: QH4-4043-000.
Hosiden part number: HMR3604-010090.

(Stock #: PRTREP12)





Printer Motor Assembly. (RFE)
Used in Dell models 3010CN/3100CN Color Laser Printer.
6" cable with 3-pin connector.

Dell/Xerox part number: 127K38581.

(Stock #: PRTREPD01)





Printer Motor Assembly. (RFE)
Used in Dell models 3010CN/3100CN Color Laser Printer.
9" cable with 6-pin connector.

Dell/Xerox part number: 127K45271.

(Stock #: PRTREPD02)




Printer Motor Assembly. (RFE)
Used in Dell models 3010CN/3100CN Color Laser Printer.

Dell/Xerox part number: 127K38561.

(Stock #: PRTREPD03)





Printer Motor/Clutch Assembly. (RFE)
Used in Dell models 3010CN/3100CN Color Laser Printer.

Dell/Xerox part numbers: 127K38602/127K45893.

(Stock #: PRTREPD05)





Dell Operator Panel Assembly. (RFE)
Used in Dell model 3010cn Color Laser Printer.

Dell part number: XH067.

(Stock #: PRTREP54)





Epson Printer Stepping Motor. (RFE)
Used in Epson Model Stylus 800 and other printers.
Shaft has 15 tooth gear.

Approx. body size: 15/16" x 1 9/16" diameter,
gear size: 1/4" x 5/16" diameter.

Epson part number: EM-189.

(Stock #: PRTREP13)





Epson Printer Stepping Motor. (RFE)
Used in Epson Model Stylus C60 and other printers.
Shaft has 15 tooth gear.

Approx. body size: 5/8" x 1 5/8" diameter,
gear size: 3/8" x 5/16" diameter.

Epson part number: EM-437.

(Stock #: PRTREP01)




Epson Front Panel Board. (RFE)
Used in Epson Models Stylus Color 400/440/600/640.

Epson part number: 2023066.

(Stock #: PRTREP20)




Epson Sensor. (RFE)
Used in Epson Model Stylus Color 600 and other printers.

Epson part number: KPC45.

(Stock #: PRTREP22)





Epson Printer Power Supply. (RFE)
Used in Epson Model Stylus C60 and other printers.

Overall case size: 5 5/8" x 3 7/8" x 1 15/16".

(Stock #: PRTREP14)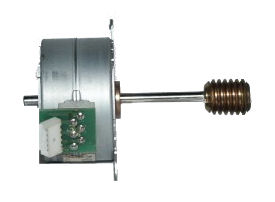 Service Station Stepper Motor Assembly. (RFE)
Used in many HP printers including Deskjet 540/600/600C/
610C/612C/615C/660C/670C/672C/680C/690C/692C/693C/
694C/695C/697C and many other HP models.
Shaft has spiral tooth gear.

Approx. size: 1" x 1 5/16" diameter,
gear size: 1/2" x 25/64" diameter.

HP part number: C2124-60190.
Mitsumi part number: M35SP-8P.

(Stock #: MOT36)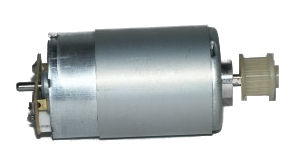 Carriage Drive Motor Assembly. (RFE)
Used in many HP printers including Deskjet 850C/850K/
855C/870C/870K/Color Copier 110/Color Copier 120/
OfficeJet Pro 1150C and many other HP models.
Shaft has friction pulley.

Approx. size: 3" x 1 3/8" diameter,
pulley size: 1/2" x 19/32" diameter.

HP part number: C2145-60011.

(Stock #: MOT31)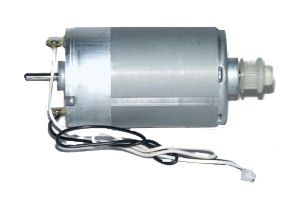 Carriage Drive Motor Assembly. (RFE)
Used in many HP printers including Deskjet 540/600/600C/
610C/612C/615C/660C/670C/672C/680C/690C/692C/693C/
694C/695C/697C and many other HP models.
Shaft has friction pulley.

Approx. size: 3" x 1 3/8" diameter,
pulley size: 7/16" x 1/2" diameter.

HP part number: C2162-60006.

(Stock #: MOT12)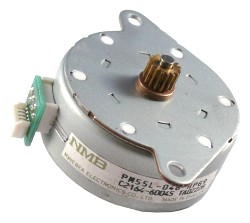 Paper Stepper Motor Assembly. (RFE)
Used in many HP printers including Deskjet 540/600/600C/
610C/612C/615C/660C/670C/672C/680C/690C/692C/693C/
694C/695C/697C and many other HP models.
Shaft has 16 tooth gear.

Approx. size: 1 3/8" x 2 1/8" diameter,
gear size: 7/32" x 3/8" diameter.

HP part number: C2164-60045.

(Stock #: MOT35)





Carriage Drive Motor Assembly. (RFE)
Used in HP Deskjet 820 series printers.
Shaft has friction pulley.

Approx. size: 2 7/8" x 1 3/8" diameter,
pulley size: 1/2" x 5/8" diameter.

HP part number: C4531-60012.

(Stock #: PRTREP47)





Service Station Motor Assembly. (RFE)
Used in HP Deskjet 820 series printers.
Shaft has 15 tooth gear.

Approx. size: 1" x 1 3/8" diameter,
gear size: 1/4" x 5/16" diameter.

HP part number: C4531-60016.

(Stock #: PRTREP46)





Carriage Drive Motor Assembly. (RFE)
Used in many HP printers including Deskjet 6100 Series/
PSC 2410/PSC 2500. Shaft has friction pulley.

Approx. size: 2 3/4" x 1 3/8" diameter,
pulley size: 5/16" x 7/16" diameter.

HP part number: C6419-60058.

(Stock #: PRTREP38)





Carriage Drive Motor Assembly. (RFE)
Used in many HP printers including Deskjet 640C/642C/648C.
Shaft has friction pulley.

Approx. size: 3" x 1 3/8" diameter,
pulley size: 5/16" x 1/2" diameter.

HP part number: C6464-60002.

(Stock #: PRTREP37)




Printer Paper pickup Motor Assembly. (RFE)
Used in many HP printers including:

DESKJET 16
DESKJET 66
DESKJET 1600CM
DESKJET 5550
DESKJET 6620
DESKJET 6620XI
DESKJET 6623
DESKJET 6628
PRINTER/SCANNER/COPIER 2410
PRINTER/SCANNER/COPIER 2410V
PRINTER/SCANNER/COPIER 2410XI
PRINTER/SCANNER/COPIER 2510
PRINTER/SCANNER/COPIER 2510XI

Approx. size: 1 1/2" x 1 1/8" diameter.
Shaft has friction pulley.

HP part number: C6487-60047.

(Stock #: PRTREP82)




Printer Carriage Motor Assembly. (RFE)
Used in many HP printers including:

DESKJET 16
DESKJET 66
DESKJET 1600CM
DESKJET 6620
DESKJET 6620XI
DESKJET 6623
DESKJET 6628

Approx. size: 2" x 1 3/8" diameter.
Shaft has friction pulley.

HP part number: C6487-60048.

(Stock #: PRTREP83)




Printer Carriage Motor Assembly. (RFE)
Used in many HP printers including:

DESKJET 5470
DESKJET 6200
DESKJET 6210
DESKJET 6210V
DESKJET 6210XI
OFFICEJET J5740
OFFICEJET J5750
OFFICEJET J5780
OFFICEJET 6210

Approx. size: 1 3/4" x 1 1/16" diameter.
Shaft has friction pulley.

HP part number: C9000-60005.

(Stock #: PRTREP85)




Printer Paper Feed Motor Assembly. (RFE)
Used in many HP printers including:

OFFICEJET J5740
OFFICEJET J5750
OFFICEJET J5780

Approx. size: 1 11/16" x 1 1/16" diameter.
Shaft has friction pulley.

HP part number: C9045-60001.

(Stock #: PRTREP86)




Printer Paper Feed Motor Assembly. (RFE)
Used in many HP printers including:

OFFICEJET 5610

Approx. size: 1 3/8" x 1" diameter.
Shaft has friction pulley.

HP part number: C9050-60003.

(Stock #: PRTREP93)




Printer Motor Assembly. (RFE)
Used in many HP printers including Officejet 6000/6500/
Photosmart B210A/D7560.

Approx. size: 2 1/4" x 1 1/2" diameter.
Shaft has friction pulley.

HP part number: C9058-60071.

(Stock #: PRTREP77)




Printer Motor Assembly. (RFE)
Used in many HP printers including Officejet 6500/Photosmart D5460.

Approx. size: 1 5/8" x 1" diameter.
Shaft has friction pulley.

HP part number: C9058-60072.

(Stock #: PRTREP78)




Printer Motor Assembly. (RFE)
Used in many HP printers including Photosmart C6150.
Approx. size: 2 1/4" x 1 1/8" diameter.
Shaft has friction pulley.

HP part number: C9087-60007.

(Stock #: PRTREP70)




Scan Carriage Motor Assembly. (RFE)
Used in many HP printers including:

PHOTOSMART C4480.

Shaft has worm gear.

HP part number: CB605-60043.

(Stock #: PRTREP87)




Keypad PCB Assembly. (RFE)
Used in many HP printers including Deskjet 610C and 612C.

(Stock #: PRTREP05)




Control Panel PCB Assembly. (RFE)
Used in many HP printers including:

PCS 2105
PCS 2108
PCS 2110
PCS 2110V
PCS 2110XI
PCS 2210
PCS 2210V
PCS 2210XI
PCS 2115

HP part number: C8644-60026.

(Stock #: PRTREP90)





Control Panel Assembly. (RFE)
Used in many HP printers including Deskjet 3820.

HP part number: C8952-60004.

(Stock #: PRTREP41)





Sensor PC Board. (RFE)
Used in many HP printers including Deskjet 600/610C/612C/
640C/642C/648C/660C/670C/672C/680C/682C/690C/691C/
692C/693C/694C/695C/697C and other HP models.

HP part number: C2164-60008.

(Stock #: PRTREP02)





Sensor PC Board. (RFE)
Used in many HP printers including Deskjet 600/610C/612C/
640C/642C/648C/660C/670C/672C/680C/682C/690C/691C/
692C/693C/694C/695C/697C and other HP models.

Also used in Apple Stylewriter 4100.

HP part number: C2164-80008-RD2.

(Stock #: PRTREP36)





Sensor PC Board. (RFE)
Used in many HP printers including
Deskjet 630C and other HP models.

HP part number: C6487-60042.

(Stock #: PRTREP40)




Sensor PC Board. (RFE)
Used in many HP printers.

HP part number: C6487-80055.

(Stock #: PRTREP60)




Sensor PC Board. (RFE)
Used in many HP printers.

HP part number: C8980-80003.

(Stock #: PRTREP73)





Sensor PC Board. (RFE)
Used in many HP printers.

HP part number: C9017-80014-B.

(Stock #: PRTREP44)





Power Supply Assembly. (RFE)
Used in many HP printers including Deskjet 940C/3820.

HP part number: C6426-60081.

(Stock #: PRTREP42)




AC Adapter Power Supply.
Used with many HP Deskjet printers including Models:

200/400/420/540/600/610/612/615/660/670/672/680/
682/690/691/692/693/694/695/697/Scanjet 4100.

120 VAC Input, 30 VDC 400 Ma. Output.

HP part numbers: 9100-5124/C2175A.

(Stock #: PRTREP62)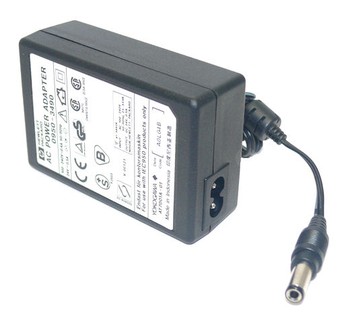 AC Adapter Power Supply.

Used with many HP printers including:

DESKJET 16
DESKJET 610C
DESKJET 640C
DESKJET 200
DESKJET 400
DESKJET 420
DESKJET 540
DESKJET 600
DESKJET 610C
DESKJET 612C
DESKJET 615C
DESKJET 630C
DESKJET 632C
DESKJET 640C
DESKJET 648C
DESKJET 656C
DESKJET 660C
DESKJET 670K
DESKJET 672C
DESKJET 680C
DESKJET 682C
DESKJET 690C
DESKJET 691C
DESKJET 692K
DESKJET 693C
DESKJET 694C
DESKJET 695C
DESKJET 697C
DESKJET 1600CM
DESKJET 6620
DESKJET 6620XI
DESKJET 6623
DESKJET 6628
SCANJET 4100

With AC Power Cord.

HP part number: 0950-3490.

100-240 VAC 50 Hz./60 Hz. Input, 24 VDC 400 Ma. Output.

(Stock #: ACADHP01)




AC Adapter Power Supply.

Used with many HP printers including:

DESKJET 5420V
DESKJET 5432
DESKJET 5438
DESKJET 5440
DESKJET 5442
DESKJET 5443
DESKJET 5490
DESKJET 5940
DESKJET 5943
PHOTOSMART 7830
PHOTOSMART 7838
PHOTOSMART 7850
PHOTOSMART 8030
PHOTOSMART 8050
PHOTOSMART 8053

With AC Power Cord.

HP part number: 0957-2084.

100-240 VAC 50 Hz./60 Hz. Input.
Dual DC Outputs 16 VDC @610 Ma./32 VDC @720 Ma.

(Stock #: PRTREP91)




AC Adapter Power Supply.

Used with many HP printers including: LaserJet 2300.

With AC Power Cord.

HP part number: 0957-2146.

100-240 VAC 50 Hz./60 Hz. Input.
Dual DC Outputs 16 VDC @625 Ma./32 VDC @940 Ma.

(Stock #: PRTREP92)





Line Interface Unit. (RFE)
Used in HP OfficeJet 500/520/570/580/590/
600/610/620/630/635 series printers.

HP part number: C3801-60159.

(Stock #: PRTREP50)




Carriage Belt Idler Wheel Assembly. (RFE)
Used in many HP printers including Deskjet 820C/850C/850K/
855C/870C/870K/890C/Color Copier 110/120/140/145/150/
155/OfficeJet Pro 1150C/1170C/1175C and many other
HP models.

HP part number: C4555-60067.

(Stock #: PRTREP07)




Turnaround Assembly. (RFE)
Used in many HP printers including Deskjet 820C/850C/850K/
855C/870C/870K/890C/Color Copier 110/120/140/145/150/
155/OfficeJet Pro 1150C/1170C/1175C and many other
HP models.

HP part number: C4555-60068.

(Stock #: PRTREP06)




Carriage Board Cable Assembly. (RFE)
Used in many HP printers including Deskjet 850C/850K/855C/
870K/Color Copier 110/120/OfficeJet Pro 1150C and many
other HP models.

HP part number: C2145-60032.

(Stock #: PRTREP09)




Encoder Strip.
Used in many earlier HP Deskjet printers.

HP part number: C8952-80005.

(Stock #: PRTREP25)




Wireless WiFi Card. (RFE)
Used in many HP printers including Photosmart C6150/C6180/C7180.
Includes connecting cable.

HP part number: 0960-2347.

(Stock #: PRTREP74)




Wireless WiFi Card. (RFE)
Used in many HP printers including Photosmart B110/D110.

HP part number: SDGOB-0892.

(Stock #: PRTREP79)




Photo Memory Card Reader PCB Assembly. (RFE)
Used in many HP printers including:

PHOTOSMART C4480
PHOTOSMART C4680
PHOTOSMART C4780

Includes connecting cable.

HP part number: Q8383-60023/Q8383-60036.

(Stock #: PRTREP88)




LCD Display PCB Assembly. (RFE)
Used in many HP printers including:

PCS 2100
PCS 2110

HP part number: C8644-60180.

(Stock #: PRTREP89)




Lexmark Printer Power Supply. (RFE)
Used in Lexmark Printer Models X1100/Z515/Z517.
Used in Dell Printer Models A920.

Overall case size: 2 1/2" x 2 5/8" x 1 1/4".

Skynet Part Numbers 15J0300/DAD-3004.

(Stock #: PRTREP80)





Okidata Printer Paper-Feed Motor. (RFE)
Used in Okidata Microline 182 and other printers.
Shaft has 15 tooth gear.

Approx. body size: 9/16" x 1 9/16" diameter,
gear size: 3/16" x 1/4" diameter.

Okidata part number: KHL-40M02B.

(Stock #: PRTREP17)





Okidata Serial-Interface Board. (RFE)
Used in Okidata Microline 182 and other printers.

Okidata part number: 4YA4021-1004G.

(Stock #: PRTREP18)





Okidata Operator Panel Assembly. (RFE)
Used in Okidata Okipage 12i digital LED printer.
Includes front panel, control PCB with LCD
display, and connecting cable.

Okidata part numbers: 40104403/40104404.

(Stock #: PRTREP26)





Okidata Serial Interface/Memory Expansion Board. (RFE)
Used in Okidata Okipage 12i digital LED printer.

(Stock #: PRTREP27)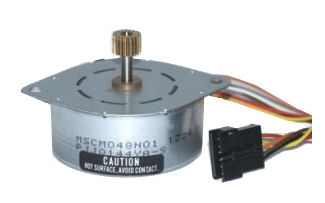 Panasonic Printer Stepping Motor. (RFE)
Used in Panasonic Model KX-P4410 laser printers.
Shaft has 19 tooth gear.

Approx. body size: 2 3/16" x 1" diameter,
gear size: 1/4" x 13/32" diameter.

Panasonic part number: PJJQ144YA-S.
Sankyo part number: MSCM048N01.

(Stock #: MOT22)




Panasonic Sensor Board. (RFE)
Used in Panasonic Model KX-P4410 laser printers.

Panasonic part number: PJUP451ZB-C.

(Stock #: PRTREP03)




Panasonic Sensor Board. (RFE)
Used in Panasonic Model KX-P4410 laser printers.

Panasonic part number: PJUP451ZB-D.

(Stock #: PRTREP04)





Minebea Printer Stepper Motor. (RFE)
Used in many inkjet printers.
Shaft has friction pulley.

Approx. body size: 3/4" x 1 5/8" diameter,
pulley size: 3/8" x 3/8" diameter.

Minebea part number: PM42L-048-FEA8.

(Stock #: PRTREP32)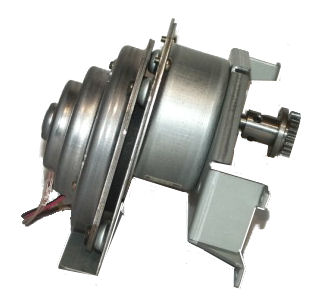 Printer Stepping Motor Assembly. (RFE)
Used in many older laser printers.
Drive voltage: 24V/0.54A. Shaft has 24 tooth gear.

Approx. overall size: 5 1/4" x 4 3/4" x 5 1/8",
gear size: 5/32" x 1" diameter.

Japan Servo part numbers: DFS10G-05.
RG9-0102-01 / RH7-1004.

(Stock #: MOT32)

Note: This Item is very heavy. If shipped outside
the United States we must charge the Actual Shipping Cost.
Please Email us before ordering.





-Click Here To Return To Parts Index-

-Click Here To Return To Main Page-
Copyright ©1998-2018
Surplus Material Components
SMC ELECTRONICS
Surplus Printer Repair Parts
All Rights Reserved