SMC ELECTRONICS

VCR REPAIR PARTS - FLAT BELTS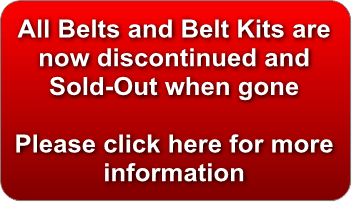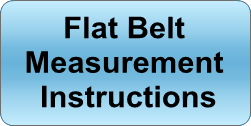 Flat Belts



Notes:

IC = Inside Circumference.
THK = Thickness.
WTH = Width.

When measuring a worn belt, it is suggested that
10% of the measured Inside Circumference (IC)
be subtracted as most worn belts have usually stretched.

To convert from Inches to Millimeters (mm):
multiply Inches by 25.4.

To convert from Millimeters (mm) to Inches:
divide Millimeters by 25.4.






Flat Belt.

IC = 2.700".
THK = 0.040".
WTH = 0.187".

Replaces PRB part number: FR2.7.
Replaces NEC part numbers: 16432191/16432192.
Replaces Toshiba part number: 70342092.

Used in NEC models: VC-734/VC-737.

Used in Sears model: 562.53580150.

Used in Toshiba models: V-9200/V-M30/V-M32.

(Stock #: VCRBLT430)





Flat Belt.

IC = 3.600".
THK = 0.032".
WTH = 0.195".

Replaces PRB part number: FR3.6.

Used in Funai models: SVG-4100/VCR-5700/VCR-9000.

Used in Harley Davidson model: HD-101.

Used in Lloyds models: L-811/L-828.

Used in Multitech model: MV-080.

Used in Portavideo models: VP-3100/VP-3200.

Used in Radio Shack/Realistic model: 19.

Used in Sampo model: VR-9620.

Used in Shintom models: VCR-4000/VCR-4010/VCR-4020/
VCR-4030/VCR-4040/VP-2000/VP-3000.

Used in Soundesign model: 8005.

Used in Symphonic models: 4500/4900/5000/5200/5300/5320/
5400/5500/5600/6000/8000/SVG-1000.

Used in Teac models: MV-350/MV-370/MV-380/MV-460.

Used in Thomas model: VHS-101.

Used in Wollensak model: SVG-1000.

(Stock #: VCRBLT421)







Flat Belt.

IC = 3.700".
THK = 0.031".
WTH = 0.100".

Replaces PRB part number: FR3.7.

Used in Magnavox Video Disc Player model: VH-8000.

Used in Electrobrand Tape Recorder model: EB-7950.

Used in Minifone Tape Recorder model: P-55.

Used in Denon CD Player model: DCD-2000.

Used in Hitachi CD Player models: DA-600/DA-1000.

(Stock #: VCRBLT426)







Flat Belt.

IC = 5.100".
THK = 0.031".
WTH = 0.090".

Replaces PRB part number: FRX5.1.

Used in Panasonic MicroCassette Tape Recorder models:
RN-0010/RN-003/RN-004/RN-110/RN-120/RN-130/
RN-150/RN-505/RN-600/RQ-180/RQ-218/RQ-J55.

Used in Denon CD Player model: DCD-1800.

(Stock #: VCRBLT425)






Flat Belt.

IC = 6.000".
THK = 0.046".
WTH = 0.123".

Replaces PRB part number: FR5.9.
Replaces EVG part numbers: 1424-49/1426-26.
Replaces Sony part number: 4-949-430-01.

Used in Akai models: VT-120/VTS-110.

Used in Admiral Cassette Tape Recorder model: CTR-450.

Used in Montgomery Wards Tape Recorder model: GEN-3910.

Used in J.C. Penney Tape Recorder model: 981-0180.

Used in Sears Tape Recorder model: 528.308755400.

Used in Soundesign Tape Recorder models: 21V-7071/494/6438.

Used in Superscope Tape Recorder models: SCT-6716/SCT-6717/
SCT-6718/SCT-6726/SCT-6727/SCT-6728/SCT-7717/SCT-7718/
SCT-7718/SCT-7726/SCT-7727/SCT-7728.

Used in Thorens Tape Recorder model: TD-121.

(Stock #: VCRBLT431)







Flat Belt.

IC = 6.100".
THK = 0.025".
WTH = 0.100".

Replaces PRB part number: FRW6.1.

Used in Panasonic Cassette Tape Recorder models: RX-CS720/
RX-CT810/RX-CT820/RX-CT980/RX-DS15/RX-DS25/RX-DS101/
RX-DS102/RX-DS550/RX-DT401/RX-DT600/RX-DT610/
RX-DT650/RX-DT670/SA-CH60/SA-DH30/SA-DH44/SA-DH55/
SA-H32/SA-HM32/SC-DH20/SC-T080/SC-T090.

Used in Quasar Cassette Tape Recorder models: CR-31/CS-11
GX-500/GXD-550/GXD-600/GXD-700/MS-10/MS-40/MS-450.

(Stock #: VCRBLT427)





Flat Belt.

IC = 6.100".
THK = 0.035".
WTH = 0.165".

Replaces PRB part number: FRM6.1.
Replaces EVG part numbers: 1424-23/1426-27.

Used in Sears Camcorder model: 934.53741750.

Used in Beltek Tape Player model: PH-81.

Used in Craig Tape Player models: 3130/3138/3139/3141/3142.

Used in Elac Tape Player models: 17-507-1056/17-507-1060/
15-507-1079/PC-830/PC-870.

Used in Emerson Tape Player model: ETR-125.

Used in Motorola Tape Player model: Mark I.

Used in Nakamichi Cassette Tape Deck models: MR-2/RX-202.

Used in Pioneer Cassette Tape Deck models: QT-400/QT-424/
TP-200/TP-222/TP-232/TP-233/TP-252/TP-6000.

Used in Sony Tape Player models: XR-50/XR-77.

Used in Stuzzi Tape Player model: 102-B.

Used in Ultravox Tape Player model: U-35.

(Stock #: VCRBLT416)





Flat Belt.

IC = 6.700".
THK = 0.035".
WTH = 0.140".

Replaces PRB part number: FRY6.7.
Replaces Sony part number: 3-681-444-00.

Used in Sony Camcorder models: BMC-100/BMC-110/
BMC-200/BMC-220/BMC-500/BMC-550/BMC-600/
BMC-660.

Used in Akai Tape Recorder model: UC-F3.

Used in Mitsubishi Tape Recorder model: TX-82.

Used in NAD Tape Player models: 6140/61500.

Used in Sharp Tape Player models: 3050/GF-570/SY-ST3050/
System 3050/WF-372.

Used in Technics Tape Recorder models: M235X/RS-M235X.

(Stock #: VCRBLT400)





Flat Belt.

IC = 6.900".
THK = 0.030".
WTH = 0.315".

Replaces PRB part number: FR6.9.
Replaces EVG part numbers: 1426-30/1426-31.

Used in JVC models: CR-8300/H-3300/HR-3300/
HR-3600/HR-4000/HR-4100/HR-4110/HR-6700.

(Stock #: VCRBLT401)







Flat Belt.

IC = 7.000".
THK = 0.025".
WTH = 0.093".

Replaces PRB part number: FRW7.0.
Replaces EVG part numbers: 1424-32/1426-08/1426-33.
Replaces Sony part numbers: 3-681-446-00/9-981-197-00.

Used in Vector Research VCP model: VCX-600.

Used in Sony Camcorder models: BMC-100/BMC-110/BMC-200/
BMC-220/BMC-500/BMC-550/BMC-600/BMC-660/BMC-1000.

Used in Akai Cassette Tape Deck model: HX-3.

Used in Audiotronics Tape Recorder models: ATC-141/
ATC-145/TT-77A.

Used in Craig Tape Recorder model: H-462.

Used in Fisher Radio Cassette Tape Deck models: CR-5150/
CR-M500/CR-W493.

Used in Hitachi Cassette Tape Deck model: D-3300.

Used in Lafayette Cassette Tape Recorder model: RKD-150.

Used in MGA Tape Recorder models: DT-11/DT-12.

Used in Panasonic Cassette Tape Deck models: RS-7/RS-907/
RS-B7/RS-B15/RS-B17/RS-B24/RS-B40/RS-B54/RS-D250/
RS-D550/RS-M235/RS-M236/RS-M245/RX-M253.

Used in Panasonic Cassette Tape Recorder models: RA-6500/
RA-6700/RX-7510/RX-7700/SE-1160/SE-1170/SE-1260/
SE-2608/SE-4509/SE-4608/SE-5508.

Used in Pioneer Cassette Tape Deck models: CT-F800/CT-F850/
CT-F900/CT-F950.

Used in Sanyo Cassette Tape Deck models: RD-C11/RD-S27/
RD-S28/RD-S29/RD-W44/RD-W760.

Used in Sanyo Cassette Tape Recorder models: C-4/M-7755/M-S560.

Used in Sony Cassette Tape Deck model: TC-20F.

Used in Teac Cassette Tape Deck models: A-103/A-105/
A-106/A-107.

Used in Toshiba Cassette Tape Recorder model: KT-1000.

Used in Yamaha Cassette Tape Deck model: K-850.

(Stock #: VCRBLT428)





Flat Belt.

IC = 7.400".
THK = 0.090".
WTH = 0.355".

Replaces PRB part number: FR7.4.

(Stock #: VCRBLT418)





Flat Belt.

IC = 7.432".
THK = 0.031".
WTH = 0.250".

Replaces PRB part number: FRZ7.5.
Replaces EVG part number: 1426-35.
Replaces Sony part number: 3-717-910-01.

Used in Radio Shack/Realistic model: Model 15.

Used in Sony Betacam Recorder model: BVV-5.

Used in Akai Cassette Tape Deck model: CS-707D.

Used in Onkyo Tape Recorder model: TA-630DM.

(Stock #: VCRBLT47)





Flat Belt.

IC = 7.700".
THK = 0.031".
WTH = 0.150".

Replaces PRB part number: FRX7.7.
Replaces Pfantone part number: 55415.
Replaces EVG part number: 1407-191.

Used in Supra model: SV-45.

Used in Wollensak model: SVG-1000.

(Stock #: VCRB55415)





Flat Belt.

IC = 7.700".
THK = 0.031".
WTH = 0.210".

Replaces PRB part number: FRM7.7.
Replaces Pfantone part number: 55509.

Used in Kenwood Cassette Tape Deck model: KX-1003.

(Stock #: VCRB55509)





Flat Belt.

IC = 7.743".
THK = 0.031".
WTH = 0.188".

Replaces PRB part number: FR7.7.
Replaces Sony part number: 3-719-123-01.

Used in Funai models: VCR-5700/VP-9000A.

Used in Lloyds model: L-828.

Used in Multitech models: MV-080/MV-085.

Used in Portavideo models: VP-3100/VP-3200.

Used in Radio Shack/Realistic model: Model 19.

Used in Sampo model: VR-9620.

Used in Shintom model: VP-2000.

Used in Symphonic models: 4900/5600.

Used in Toyomenka (TMK) model: 4290.

Used in MGA Tape Player models: DT-31/DT-41/Z-20/Z-40.

Used in Mitsubishi Tape Player models: Z-20/Z-40.

Used in Pioneer Cassette Tape Deck models: CT-F6060/
CT-F6262/CT-F7070/CT-F7272.

Used in Pioneer Tape Recorder models: TP-727E/TP-900E.

Used in Sansui Cassette Tape Deck models: SC-1100/
SC-1110/SC-2002/SC-2100/SC-2110/SC-3000/SC-3003/
SC-3100/SC-3110.

(Stock #: VCRBLT48)





Flat Belt.

IC = 7.800".
THK = 0.040".
WTH = 0.115".

Replaces PRB part number: FRX7.8.
Replaces EVG part number: 1426-36.
Replaces RCA/Thomson part number: 167221.

Used in Emerson Tape Player model: CTR-937.

Used in General Electric Tape Player model: 3-5265.

Used in Hitachi Cassette Tape Deck model: D-410.

Used in Magnavox Tape Player model: R-46203.

Used in Montgomery Ward Tape Player model: GEN-3987A.

Used in Panasonic Tape Player model: RX-F20.

Used in Philips Tape Player models: N-5631/N-5644.

Used in RCA Tape Player model: YZB-508.

Used in Sankyo Tape Player model: SKD-1000.

Used in Soundesign Tape Player model: 495/0855/5928.

(Stock #: VCRBLT414)





Flat Belt.

IC = 7.916".
THK = 0.031".
WTH = 0.125".

Replaces PRB part number: FRZ8.0.

(Stock #: VCRBLT49)





Flat Belt.

IC = 8.000".
THK = 0.035".
WTH = 0.160".

Replaces PRB part number: FRX8.0.

Used in Lloyds model: L-840.

Used in Akai Cassette Tape Deck models: CS-F14/CS-F21.

Used in Pioneer Cassette Tape Deck model: H-7000.

Used in Sony Cassette Tape Recorder model: CFS-FS.

Used in Tokyo Cassette Tape Recorder model: 408CF.

(Stock #: VCRBLT420)





Flat Belt.

IC = 8.600".
THK = 0.031".
WTH = 0.125".

Replaces PRB part number: FRM8.6.
Replaces EVG part number: 1407-64.
Replaces Pfantone part number: 55417.

Used in Craig Tape Player model: S-103.

Used in Sharp Tape Player model: RD-474AV.

(Stock #: VCRB55417)





Flat Belt.

IC = 8.700".
THK = 0.060".
WTH = 0.187".

Replaces PRB part number: FR8.8.
Replaces EVG part number: 1424-50.

Used in Emerson model: VCR-900.

Used in Mitsubishi models: HS-306/HS-316/HS-317/
HS-3061/HS-3161/HS-3163/HS-3164/HS-3173.

Used in Sony model: VO-3800.

Used in Azusa Tape Player model: AZ-76PR.

Used in Concord Cassette Tape Deck models: 120/122/200/224
234/642/700/1025/5010.

Used in Cranwood Tape Player models: 207MPX/RP-77T/TC-77T.

Used in Dynavox Tape Player models: 819/937.

Used in General Electric Tape Player model: SC-7300.

Used in JIL Tape Player models: 815FM/820P/828P/831/832.

Used in Mayfair Tape Player models: 2084/2085.

Used in Motorola Tape Player model: 12-69.

Used in Orrtronic Tape Player model: 371-215.

Used in Panasonic Tape Player models: CX-475/CX-567/CX-675.

Used in Radio Shack/Realistic Tape Player models: 14-602/14-838.

Used in Radio Shack/Realistic Cassette Tape Deck models: SCT-10.

Used in Sanyo Tape Player models: DXT-5211/DXT-5486/DXT-5489.

Used in Sanyo Reel To Reel Tape Recorder model: MR-212.

Used in Sharp Cassette Recorder model: RD-473.

Used in Sharp Cassette Tape Deck model: RD-482U.

Used in Sony Cassette Tape Deck models: TC-FX25/TC-FX35/TC-V3.

Used in Xtal Tape Player model: XA-81.

Used in Zenith Tape Player models: HR-966P/MC-6060-1/M-6065.

Used in Bowman /Astrosonix Automotive Tape Player models:
BM-1120/BM-1125/BM-1129/BM-1145.

Used in Cartape Automotive Tape Player model: CTI-3882.

Used in Inland Automotive Tape Player model: AXT-885.

Used in Lear Jet Automotive Tape Player model: A-146.

Used in Tenna Automotive Tape Player models: 54T/77T/86T/
2Q7-MPX/GAR-868/RC-2003MPX/RP-77T/RR-54T/RR-86T/
TC-68.

(Stock #: VCRBLT423)





Flat Belt.

IC = 8.900".
THK = 0.034".
WTH = 0.297".

Replaces PRB part number: FRX8.9.

(Stock #: VCRBLT417)





Flat Belt.

IC = 9.000".
THK = 0.031".
WTH = 0.210".

Replaces PRB part number: FRM9.0.
Replaces EVG part numbers: 1407-517/1424-14.

Used in Acacia model: UT-27.

Used in JVC model: PV-4500.

Used in Whirl models: VP-100/VP-200/VP-300.

Used in Akai Cassette Tape Deck models: GXF-31/
GXF-51/GXF-71.

Used in Ampro Tape Player model: A-1010.

Used in Audiovox Tape Player models: C-979/C-993.

Used in Bonsonic Tape Player models: 1717/YS-2000.

Used in Bristol Tape Player model: KE3230.

Used in Craig Tape Player models: 212/2102/2107/
2108/2202/6401/6402/6407.

Used in Dimension Tape Player model: 48.

Used in Dual Cassette Tape Deck model: C-809.

Used in DYN Electronics Tape Player model: DS-910.

Used in Dynavox Electronics Tape Player model: 901/902/
903/905.

Used in Electra Tape Player model: FXB-600C.

Used in General Electric Tape Player model: 3-6045A.

Used in Hitachi Cassette Tape Deck models: D-220/
ST-3001H.

Used in Hitachi Tape Recorder models: SDT-9310H/
SDT-9320H/SDT-9410C/SDT-9410H/SDT-9415H/
SDQ-9910H/SDQ-9922H/SDQ-9932H/ST-3001H.

Used in IDI Tape Player models: AXT-838/AXT-885.

Used in JC Penney Tape Player model: R-960.

Used in Lafayette Tape Player model: SR-30.

Used in Mecca Tape Player model: MCR-7500.

Used in Muntz Tape Player models: M-60/M-940.

Used in Olympus Tape Recorder model: RT-3535.

Used in Proton Tape Player model: 3000-T.

Used in Ranger-Tenna Tape Player models: Mini 8/RR-41T/
RR-43/RR-47T./RR-57T/TC-8T/TC-48T/TC-104C/TP-800.

Used in Radio Shack/Realistic Tape Recorder model: 14-601.

Used in Recoton Tape Player model: AD-4000.

Used in Sampo Tape Player model: FR-86.

Used in Sanyo Reel To Reel Tape Recorder model: MR-213.

Used in Sears Tape Player models: 8243/8244.

Used in Superscope Tape Recorder model: TA-56.

Used in Tamura Tape Player models: TA-56.

Used in Automatic Radio Automotive
8-Track Tape Player model: SPA-5000.

Used in Cartape Automotive Tape Player model: CT-4355.

Used in Metro Sound Automotive Tape Player model: MS-818.

Used in Muntz Automotive Cassette Tape Player model:
M-940.

Used in Panasonic Automotive 8-Track Tape Player model:
CX-567EU.

Used in many 8-Track and Cassette tape players.

(Stock #: VCRBLT129)





Flat Belt.

IC = 9.200".
THK = 0.031".
WTH = 0.140".

Replaces PRB part number: FRX9.2.

Used in Califone Tape Player model: 3670.

Used in Dual Cassette Tape Deck model: C-828.

Used in Fisher Radio Cassette Tape Deck models: CR-116/CR-125/
CR-150/CR-155/CR-M200/MC-510/MC-512/MC-530.

Used in Lenoxx Cassette Tape Player model: SL-902.

Used in Panasonic Tape Player models: RS-823/RS-853/RS-856.

Used in Pioneer Cassette Tape Deck model: CT-1160.

Used in Radio Shack/Realistic Cassette Tape Player model:
929 Modulette.

Used in Sanyo Tape Player model: D-33.

Used in Sony Tape Player models: CFM-200/CFS-6/CFS-55/CFS-61/
CFS-65/CFS-67/CFS-71.

Used in Superscope Tape Player models: C-76/C-101/C-103/CD-301/
CD-302/CD-303/CR-1000/CR-1100/CRS-152/CS-200.

Used in Teac Cassette Tape Deck model: V-380.

Used in Bowman / Astrosonix Automotive Tape Player models:
BM-294/BM-298.

(Stock #: VCRBLT412)





Flat Belt.

IC = 9.200".
THK = 0.031".
WTH = 0.210".

Replaces PRB part number: FRM9.2.
Replaces Pfantone part number: 55419.
Replaces EVG part number: 1407-88.

Used in Akai models: VP-7300U/VP-7350.

Used in Montgomery Ward model: GEN-10528.

Used in Sears model: 562.53120250.

Used in Sony model: VTR-8400.

Used in Aiwa Tape Recorder model: ADR-500.

Used in Akai Cassette Tape Deck models: GXC-730/GXC-730D.

Used in Azusa Tape Player model: AZ-60B.

Used in Bonsonic Tape Player model: P-180.

Used in Craig Tape Player models: 3216/3219/3220/
5600/5680/S-101/S-180/S-280.

Used in DYN Electronics Tape Player model: DS-800.

Used in Dynatronics Tape Player model: AXT-885.

Used in Electrophonic Tape Player model: FF-4046-4.

Used in General Electric Tape Player model: M-8621.

Used in Hammond Tape Player model: HD-585.

Used in Inland Tape Player models: BT-004/S-505.

Used in Juliette Tape Player model: C-010.

Used in JVC Cassette Tape Deck models: KD-D4/KD-V44.

Used in JVC Tape Recorder models: PC-55/RC-M90.

Used in Mayfair Tape Player model: 800.

Used in Mecca Tape Player model: 6011.

Used in Milovac Tape Player model: RR-45T.

Used in Morse Tape Player model: 9470.

Used in Muntz Tape Player models: M-60/MR-97.

Used in Nakamichi Cassette Tape Deck models: 480/481/
482/580/581/582/660ZX/670ZX/680ZX/681ZX/682ZX/
LX-3/LX-5/ZX-7.

Used in Onkyo Cassette Tape Deck model: TA-W55.

Used in Panasonic Tape Player model: SE-990.

Used in Penncrest Tape Player model: 1901.

Used in Radio Shack/Realistic Tape Player model: 14-943.

Used in Sansui Cassette Tape Deck model: D-75BW.

Used in Sanyo Tape Player models: DXT-5200/DXT-5214/RD-8010.

Used in Sears Tape Player models: 171.33455501/171.33455502.

Used in Soundesign Tape Player models: 8-47192/
59A4-1819A/4126/4411T/4469/D482.

Used in Worldstar Tape Player model: NR-46F52.

Used in Yamaha Cassette Tape Deck model: TC-720.

Used in Zenith Tape Player models: S-14067/S-14068.

Used in Automatic Radio Automotive 8-Track Tape Player model:
SPB-5001.

Used in Bowman/Astrosonix Automotive Tape Player models:
BM-1115/BM-1123/CT-25/CT-2200.

Used in Kraco Automotive 8-Track Tape Player models:
KID-560A/KS-409.

Used in Lear Jet Automotive Tape Player models: A-226/P-590.

Used in Orrtronic Automotive 8-Track Tape Player models:
682.100/682.101/682.110/682.120.

Used in Panasonic Automotive Tape Player models: CX-326/CX-375.

Used in Radio Shack/Realistic Tape Player models: 12-1831/12-1834.

Used in Sanyo Automotive 8-Track Tape Player models:
FT-867/FT-883.

Used in many 8-Track and Cassette tape players.

(Stock #: VCRB55419)





Flat Belt.

IC = 9.400".
THK = 0.031".
WTH = 0.140".

Replaces PRB part number: FRX9.4.
Replaces EVG part number: 1426-42.

Used in JVC model: TD-W503.

Used in Aiwa Cassette Tape Deck model: AD-W20.

Used in Craig Tape Player models: S-604/S-611/S-682.

Used in Dual Cassette Tape Deck models: C-812/C-844.

Used in Sansui Cassette Tape Deck models: D-55M/D-99D.

Used in Sanyo Cassette Tape Deck models: RD-5250/RD-5350.

Used in Sharp Cassette Tape Deck models: SC-180/SC-210.

Used in Sharp Tape Recorder models: RT-8740/SC-180/
SG-181/SG-220.

Used in Yamaha Cassette Tape Deck model: TC-5115.

Used in Craig Automotive Tape Player model: 5611.

(Stock #: VCRBLT118)





Flat Belt.

IC = 9.400".
THK = 0.035".
WTH = 0.250".

Replaces PRB part number: FR9.4.
Replaces EVG part numbers: 1426-43/1426-45.

Used in Akai model: VR-7300U.

Used in General Electric model: 9-7456.

Used in JVC models: HP-4000/HR-3300/HR-3600/
HR-4000/HR-4100U/HR-4110U/HR-6700U.

Used in Kmart model: KMV-155H.

Used in Multitech model: MV-087.

Used in Samsung models: VR-2500/VR-2610/
VR-4700/VR-6600.

Used in Sharp models: VC-5F7U/VC-581U/
VC-584/VC-586U/C-5815U.

Used in Whirl Tape Player model: CR-89W.

Used in World Electronics Tape Player models: PT-1200/
PT-1300/PT-1400/PT-1600/PT-1900.

(Stock #: VCRBLT132)





Flat Belt.

IC = 9.600".
THK = 0.035".
WTH = 0.139".

Replaces PRB part number: FRM9.6.
Replaces PRB part number: FRX9.6.
Replaces Pfantone part number: 55423.
Replaces EVG part number: 1407-65.
Replaces RCA/Thomson part number: 165856.

Used in Toshiba models: V-S36/V-S46.

Used in Akai Cassette Tape Deck models: CS-34D/CS-340.

Used in Audiovox Tape Player models: C-80/FC-72.

Used in Califone Tape Player models: 3410/3430.

Used in Columbia Tape Player model: 2022.

Used in Concord Cassette Tape Deck models: F-65/F-115/
MK-VI/MK-VII.

Used in Courier Tape Recorder model: DA-101.

Used in Craig Tape Player models: J-104/J-105/M-650.

Used in Dynascan Tape Player model: 55XLR.

Used in Emerson Tape Player model: TCX-53.

Used in Fannon Tape Player model: FTR-406.

Used in Fisher Radio Tape Recorder model: 5055/C-3616/C-3668.

Used in Fulmera Tape Player model: 739.

Used in General Electric Tape Player model: M-8400/M-8410/
M-8415/M-8500/RT-4349/RT-6270.

Used in General Of Tokyo Tape Player model: FX-305A.

Used in Harman Kardon Cassette Tape Deck model: CAD-4A.

Used in Hitachi Tape Recorder models: D-455/DE-22/
DE-33/J5/MU-10/TRK-8600/TRK-9990.

Used in JC Penney Tape Player models: 651-0349/651-0445/
651-0448/651-0455/651-3250/651-3275/651-6535/651-6550/
651-6551/853-1774/981-0445/6550/3249.

Used in JVC Tape Recorder models: RC-204/RC-363/RC-646/
RC-838/RC-M70/RC-M71.

Used in Kmart Tape Player model: KM-62.

Used in Medallion Tape Player model: 65-530.

Used in Motorola Tape Player models: GA-16GWRC/PA-8MV/PP-8MV.

Used in Nikko Tape Player model: N-790.

Used in Panasonic Cassette Tape Deck model: RS-263.

Used in Panasonic Tape Recorder models: M-78/RQ-236/
RQ-238/RQ-260/RQ-308/RQ-309/RQ-439/RQ-451/RQ-518/
RQ-833/RQ-4040.

Used in Panasonic Tape Player models: RS-833/RS-838/RS-888.

Used in Philips Tape Player models: N-2535/N2544/N-2554.

Used in Pioneer Cassette Tape Deck models: CT-1270/CT-F1050.

Used in Pioneer Tape Recorder model: SK-700.

Used in Radio Shack/Realistic Tape Player models:
14-771/14-818/14-838/CTR-18D/CTR-38.

Used in Recoton Tape Player model: AD-7000.

Used in Ross Tape Player model: 6891.

Used in Sansui Cassette Tape Deck model: SC-700.

Used in Sanyo Tape Recorder models: JXT-6420/
JXT-6430/JXT-6440.

Used in Sharp Cassette Tape Deck models: RT-1125/
RT-1144/RT-1157/RT-1177/RT-6001/RT-6002/
RT-6005/RT-6006.

Used in Sharp Tape Recorder models: SC-3800/SG-3810/SG-3910.

Used in Sony Tape Recorder model: TC-787.

Used in Sylvania Tape Player model: SCT-6711.

Used in Technics Tape Recorder model: RS-646.

Used in Toshiba Cassette Tape Deck models: PC-G6/PC-X20/PC-X40.

Used in Toshiba Tape Recorder model: RT-8930.

Used in Truetone Tape Player model: 26-8510.

Used in Wollensak Tape Player model: 2720.

Used in W.T. Grant Tape Player models: 2104-A34/2104-C23.

Used in Xtal Tape Player models: XA-88/XA-90/XA-93/
XA-803/XA-902/XA-99.

Used in Zenith Tape Player model: MC-9070.

Used in Automatic Radio Automotive Tape Player model: RAL-500.

Used in Clarion Automotive Tape Player model: PU-651C.

Used in Jensen Automotive Cassette Tape Player models: JR-100/R-200.

Used in Kraco Automotive Tape Player model: 2000-B.

Used in Lear Jet Automotive Tape Player models: A-52/A-152.

Used in Radio Shack/Realistic Automotive Tape Player model: 12-1832.

(Stock #: VCRB55423)





Flat Belt.

IC = 9.600".
THK = 0.020".
WTH = 0.200".

Replaces PRB part number: FRW9.6.
Replaces Sharp part number: NBLTH0110AFZZ.
Replaces Toshiba part numbers: 25755434/25759185.

Used in Luxman Cassette Tape Deck model: K-110.

Used in Pioneer Cassette Tape Deck models: CT-6R/CT-10/
CT-50/CT-70/CT-301/CT-305/CT-320/CT-340/CT-350/CT-405/
CT-450/CT-501/CT-720/CT-930/CT-X9/DC-100Z/DC-101Z/
DC-200Z/DC-201Z.

Used in Sansui Cassette Tape Deck models: D-99CW/D-590R/
D-990R/D-E750/DA-E70/DA-E90.

Used in Sharp Cassette Tape Recorder models: WQ-CD15/
WQ-T222/WQ-T232/WQ-T238/WQ-T281/WQ-T282/WQ-T360.

Used in Teac Cassette Tape Deck models: W-4600/W-660R.

Used in Toshiba Cassette Tape Deck models: PC-5858/PC-D10/PCX-40.

(Stock #: VCRBLT411)





Flat Belt.

IC = 9.600".
THK = 0.030".
WTH = 0.281".

Replaces Pfantone part number: 55424.
Replaces EVG part number: 1407-241.

Used in Samsung model: VT-21T.

Used in Sanyo model: VCR-5000.

Used in Sears model: 564.53060901.

Used in Tancredi model: VC-5200.

Used in Totevision model: CB-1300.

Used in Zenith model: KR-9000.

(Stock #: VCRB55424)





Flat Belt.

IC = 9.700".
THK = 0.031".
WTH = 0.120".

Replaces PRB part number: FRX9.7.
Replaces EVG part numbers: 1424-30/1424-34.
Replaces RCA/Thomson part number: 169752.

Used in Advent Cassette Tape Deck model: 200.

Used in Bigston Tape Player model: BSD-300.

Used in Califone Tape Player model: 4450.

Used in Capehart Tape Player models: 2000325A/2003001/
2003051/3330902.

Used in Capri Tape Player model: QTX-50.

Used in Channel Master Tape Player models: 6383/6644.

Used in Esquire Tape Player models: GEN-3979A/GEN-3983A.

Used in Fisher Cassette Tape Player models: RC-75/RC-80D.

Used in General Electric Tape Player models: 3-5009A/3-5015A/
3-5016A/3-5158A/3-5508.

Used in Hitachi Cassette Tape Deck model: C-225/D-335/
D-405/D-555/D-720/D-M1 MKII/D-M2 MKII/DE-10/
DE-11/DE-99/TRK-8181H.

Used in JC Penney Tape Player models: 1001-3860/1146-3932/
5206/6548/C-140/C-142/C-144.

Used in JVC Cassette Tape Deck models: CA-ME5BK/CA-MXC5BK/
CA-MXC7TN/CA-X70BKKD-A1/KD-A22J/RC-343/RC-345/
SKTC-434/SKTC-676.

Used in Lloyds Tape Player models: J-247/QL-02877.

Used in Midland Tape Player models: 67-555/67-557.

Used in Montgomery Ward Tape Player model: GEN-3983A.

Used in Morse Tape Player models: 94-TH/325-0/325-1/3410/
6400/6410/6480/6490/6660/6680/T-36/T-37/T-46.

Used in Motorola Tape Player model: M-353.

Used in Onkyo Cassette Tape Deck model: TA-1500.

Used in Panasonic Cassette Tape Player models: CX-327/
RQ-210/RQ-309/RQ-312/RQ-320/RQ-323/RQ-324/RQ-413/
RQ-436/RQ-437/RQ-438/RQ-448/RQ-518/RQ-830/RS-260/
RS-261/RS-263/RS-268/RS-451/RS-460/RS-466/RS-610/
RS-612/RS-615/RS-619/RS-630/RS-640/RS-646/RS-807/
RS-808/RX-1250/RX-1650/RX-5280/T-509A/TR-200P/
TR-5001.

Used in Philco-Ford Tape Player models: 11-14207-72/H245-JPC/
H247-JMA/H248-JPC/H256-HWA/H256-JWA/H257-HMA/
H257HPN/H258-HPC/H258-JPC/H266-JWA/H267-JMA/
H268-JDK/HW56-JWA/I-1241JWA/I-1242JWA/I-1243JPC.

Used in Pioneer Cassette Tape Deck models: CT-3/CT-4/
CT-330/CT-4242/CT-F700/CT-F4242.

Used in Ross Tape Player models: 8840/8842.

Used in Scott Tape Player model: 671-DM.

Used in Sharp Cassette Tape Deck models: GF-5656/GF-6060/
RD-1000U/RD-1500U.

Used in Sony Tape Player model: MSD-50.

Used in Soundesign Tape Player models: 4769/TN-32V46/A-6011.

Used in Superscope Tape Player model: CR-100.

Used in Sylvania Tape Player models: MST-135W/SCT-2K/SCT-3K/
SCT-6701/SCT-6702/SCT-6703/SCT-7701/SCT-7702/SCT-7703.

Used in Tanashin Tape Player models: TN-32V-46/TN-303X.

Used in Wollensak Tape Player model: 4400.

Used in York Tape Player models: K-5000/R-5284.

Used in Zenith Tape Player models: A-8051/S-4071-3/S-4081-3.

Used in Bowman / Astrosonix Automotive Tape Player model:
BM-1130.

Used in Craig Automotive Tape Player model: 7639.

Used in Inland Automotive Tape Player model: S-85.

Used in Jensen Automotive Tape Player models: JR-100/R-200.

Used in Lear Jet Automotive Tape Player models: A-81/
AE6811/HE-6811.

Used in Mitsubishi Automotive Tape Player model: RX-722.

Used in Sanyo Automotive Tape Player model: PK-4000.

Used in Sparkomatic Automotive Tape Player model: SR-305.

(Stock #: VCRBLT413)





Flat Belt.

IC = 9.750".
THK = 0.020".
WTH = 0.235".

Replaces PRB part number: FRW9.7.
Replaces Pfantone part number: 55427.
Replaces EVG part numbers: 1407-248/1424-51/1426-10/1426-11.
Replaces RCA/Thomson part numbers: 186485/187882.
Replaces Sony part number: 3-618-091-00.

Used in Astra models: LKS-1320/LKS-5216/LKS-5225.

Used in Curtis Mathes model: CV-725.

Used in Emerson models: 966/VCP-660/VCP-700/VCR-765/
VCR-800/VCR-801/VCR-850/VCR-870/VCR-880/VCR-951/
VCS-955/VCS-966.

Used in General Electric models: 9-7450/VG-7500/ VG-7515/VG-7575.

Used in Kmart model: KMV-155H.

Used in Lloyds models: L-824/L-826.

Used in Montgomery Ward models: 10507A/GEN-10529/
JSJ-10550/JSJ-10551.

Used in Multitech model: MV-087.

Used in Radio Shack/Realistic/Optimus model:
16-514 Model 26.

Used in RCA models: VG-7500/VG-7575/VPT-200/VR-250/
VR-280/VR-285.

Used in Samsung models: VP-2090/VP-2095/VR-2310/
VR-2840/VR-3319/VT-210T/VT-215T/VT-221T/
VT-222T/VT-225T/VT-226T/VT-311/VT-503.

Used in Scott model: SVR-330S.

Used in Sharp models: VC-363U/VC-381U/VC-385/
VC-481U/VC-482U/VC-483U/VC-487U/VC-563U/
VC-3500/VC-6800/VC-9400/VC-9500/VC-9600.

Used in Sony models: AV-3400/AV-8400.

Used in TDK model: VCR-3000.

Used in Toshiba models: V-8000/V-9200/V-M30/V-M521.

Used in Toyomenka (TMK) models: 2020/2030/2033/2053/
2055/3033/3035.

Used in Unitech model: SSV-1000.

Used in Akai Cassette Tape Deck models: GXC-710D/GXC-745.

Used in Craig Tape Player models: T-621/T-639.

Used in Yamaha Cassette Tape Deck models: C-300/K-700/
K-720/K-1020/KX-1200.

(Stock #: VCRB55427)





Flat Belt.

IC = 9.750".
THK = 0.031".
WTH = 0.237".

Replaces PRB part number: FRY9.7.
Replaces Pfantone part number: 55429.

Used in Emerson models: VCP-663/VCP-754.

Used in Montgomery Ward models: GEN-10525A/
GEN-10526A/GEN-10527A/GEN-10528A.

Used in JC Penney models: 686-2285/686-2293.

Used in Samsung models: VP-2210/VP-2215/VR-500/
VR-2000/VR-2400/VR-2410/VR-2430.

Used in Sharp model: VC-485U.

(Stock #: VCRB55429)





Flat Belt.

IC = 9.750".
THK = 0.025".
WTH = 0.250".

Replaces PRB part number: FRZ9.7.

(Stock #: VCRBLT46)





Flat Belt.

IC = 9.772".
THK = 0.036".
WTH = 0.250".

Replaces PRB part number: FR9.7.

Used in Chief model: AH-2407.

Used in Emerson model: VCS-966.

Used in MGN model: MVR-9500.

Used in Radio Shack/Realistic model: Model 26.

Used in Samsung model: VT-21T.

Used in Sears model: 564-53060901.

Used in Tancredi model: VC-5200.

Used in Totevision model: CB-1300.

Used in Zenith model: KR-9000.

Used in General Electric Tape Player models: RT-8433/
SC-4205.

Used in Inland Tape Player model: HG-600.

Used in Morse 8-Track Tape Player model: 424.

Used in Muntz 8-Track Tape Player model: H-503.

Used in Panasonic Tape Recorder model: RQ-4135.

Used in Sanyo 8-Track Tape Player models: DXL-5480/
DXL-5485.

Used in Sharp Tape Player model: VC-6800.

Used in Telefunken/Magnetphon Reel To Reel Tape Recorder models:
75/77/M75-15/M76-15.

Used in Weltron 8-Track Tape Player models: 2001/2005/2010.

Used in Inland Automotive 8-Track Tape Player model: S-900A.

Used in Toyo Automotive 8-Track Tape Player model: CS-300.

Used in many 8-Track tape players.

(Stock #: VCRBLT51)





Flat Belt.

IC = 9.8".
THK = 0.020".
WTH = 0.125".

(Stock #: VCRBLT52)





Flat Belt.

IC = 10.000".
THK = 0.023".
WTH = 0.120".

Replaces PRB part number: FRW10.1.
Replaces EVG part numbers: 1426-47/1426-48/1426-50/1426-51.
Replaces RCA/Thomson part numbers: 257430/257525.

Replaces Sony part numbers: 3-563-031/3-565-523/
3-924-817-01/9-981-099-00.

Used in Bell & Howell Tape Player models: 3170A/3500.

Used in Califone Tape Player model: 5270.

Used in Craig Tape Player models: 3145/3146/H-422/H-423/
H-464/H-465/H-560/S-631/S-683.

Used in Fisher Cassette Tape Deck model: CR-5125.

Used in Fisher Tape Player model: MC-4040.

Used in General Electric Tape Player model: 7-4975A.

Used in Harman Kardon Cassette Tape Deck models:
CAD-5/Festival 2/HK-3500.

Used in Hitachi Cassette Tape Deck models: D-230/D-410/
D-850/D-900/D-7500.

Used in Hitachi Tape Player models: SDP-8410H/SDP-9200/
SDP-9510/SDQ-7720H/SDQ-8810/TRK-5500H/TRK-5620H/
TRK-7100H/TRK-7200H/TRK-7250H/TRK-7300H/TRK-7400H/
TRK-8080H/TRK-9150W/TRQ-249/TRQ-289.

Used in ITT Tape Player model: SL-59.

Used in JVC Cassette Tape Deck models: KD-8/KD-A5/
KD-A6/KD-A7/KD-A11/KD-A22/KD-A33/KD-A55/KD-A77.

Used in JVC Tape Player models: RC-250/RC-251/RC-252/
RC-555/RC-561/RC-656.

Used in Kenwood Cassette Tape Deck models: KX-40/KX-71.

Used in Marantz Tape Player model: PMS-3040.

Used in Morse Tape Player models: 2UN/9U/RTM-2A/TM-2A/
TCR-15/TP-22.

Used in Nakamichi Cassette Tape Deck models: 500/550/600.

Used in Nakamichi Cassette Tape Player models: 250/350.

Used in Nutone Tape Player model: CP-82.

Used in Onkyo Cassette Tape Deck models: TA-W80.

Used in Panasonic Cassette Tape Deck models: RS-462/
RS-607/RS-608/RS-M04/RS-M05/RS-M07/RS-M8/RS-M14/
RS-M16/RS-M24/RS-M26/RS-M51/RS-M202/RS-M205/
RS-M215/RS-M218/RS-M225/RS-M245X/RS-M246X/RM-260/
RM-263/RM-273/SE-60/SE-65.

Used in Panasonic Cassette Tape Recorder models: RQ-44/
RQ-240/RQ-542/RQ-544/RQ-2105/RQ-2107/RQ-2108/RQ-2309/
RQ-4350/RX-C60/RX-C100/RX-1440/RX-1450/RX-1460/RX-1470/
RX-1480/RX-1660/RX-1680/RX-5030/RX-5031/RX-5040/RX-5090/
RX-5100/RX-5150/RX-5200/RX-5250/RX-5300/RX-5350/RX-6400/
RX-7000/RX-7510/SG-40/SG-V03/SG-V05.

Used in Panasonic 8-Track Tape Player models: RE-8190/RE-8420/
SE-4908/SE-9500.

Used in Philips Cassette Tape Deck models: N-5781.

Used in Pioneer Cassette Tape Deck model: CT-F9090.

Used in Pioneer Tape Player models: RK-500/RK-550/
RK-560/SK-101F.

Used in Quasar Tape Player models: GX-3622/GX-3642/GX-36528.

Used in Realistic/Radio Shack Cassette Tape Deck models:
SCT-17/SCT-28.

Used in Realistic/Radio Shack Tape Player models: 13-1204/
14-605/CTR-40.

Used in Recoton Tape Player models: AD-6500/AD-7000.

Used in Sampo Tape Player model: CS-407.

Used in Sansui Cassette Tape Deck models: D-95M/
PLUS-D45/PLUS-D55/PLUS-D60.

Used in Sanyo Cassette Tape Deck models: RD-10/RD-12/
RD-5006/RD-5008/RD-5009/RD-5025/RD-5030/RD-5035/
RD-5040/RD-5340.

Used in Sanyo Tape Recorder models: JXT-4404/M-9996/M-9998.

Used in Sharp Cassette Tape Deck models: RT-101/RT-103/
RT-150/RT-1155/RT-1165/RT-2251/RT-2266/RT-6201/
RT-6202/RT-6205/RT-6206.

Used in Sharp Tape Player models: GF-500/GF-700/GF-990/
GF-2800/GF-6000/GF-7500/GF-7600/GF-8585/GF-9090/GF-9494/
GF-9696/GX-300/QT-37/QT-38/RD-200U/RD-250U/SC-153U/
SC-5500/SC-153U/SG-165U.

Used in Sony Cassette Tape Deck models: HCD-VA550/TC-15F/
TC-K2A/TC-K35/TC-K45/TC-K51/TC-U30/TC-U40.

Used in Sony Tape Player models: CFS-D7/HCD-VA550.

Used in Soundesign Tape Player model: 5994.

Used in Stereomatic Tape Player model: 8200.

Used in Superscope Tape Player models: C-504/D-604R/SMS-800.

Used in Sylvania Tape Player model: CL-0586.

Used in Teac Cassette Tape Deck model: V-30.

Used in Technics Cassette Tape Deck model: RS-640/RS-MC.

Used in Toshiba Cassette Tape Deck models: PC-G6R/PC-G46.

Used in Toshiba Tape Player models: KT-1500/RT-F401D/RT-F4020.

Used in Transcriber Tape Recorder model: DA-101.

Used in Zenith Tape Player models: 154071-3/154-081-3/
3WR-10X/3WR-11X/3WR-12X.

Used in Realistic/Radio Shack Automotive Tape Player model: 12-1802A.

Used in Sanyo Automotive Tape Player models: FT-816/FT-819/FT-1001.

(Stock #: VCRBLT53)





Flat Belt.

IC = 10.200".
THK = 0.031".
WTH = 0.210".

Replaces PRB part number: FRM10.2.
Replaces EVG part number: 1426-49.

Used in Akai models: VTS-110/VTS-150.

Used in JVC models: BR-6200/HR-2200U/HR-2250U.

Used in Symphonic model: 5200.

Used in Toshiba model: M-2100/M-2120/M-2140/M-2130/
M-2134/M-2200/M-2220/M-2300/M-2320/M-2325/M-2420/
M-2430/M-2700/M-3430/M-5100/M-5120/M-5130/M-5200/
M-5800/MZ-2006/V-900/V-C300/V-M32C/V-M32T/V-M41/
V-M400/V-M411/V-M412/V-M415/V-S44/V-S441/V-S443/
V-S443/Z-2003.

Used in Aircastle Tape Player model: SP-7108.

Used in Airline Tape Player model: 2810.

Used in Akai Cassette Tape Deck model: GXC-740.

Used in Audiovox Tape Player models: C-975/C-977.

Used in Brother Tape Player model: BR-5.

Used in Channel Master Tape Player models: 6270/6336/
6378/6379/6381/6382/6384/6684.

Used in Craig Tape Player models: 3140/3149/H-300/L-630/
S-600/S-602/S-603/S-605/S-636/S-680/S-686/S-900.

Used in DYN Electronics Tape Player model: PS-4120.

Used in Electra Tape Player model: STP-800.

Used in Electrophonic Tape Player model: TRD-61.

Used in Fisher Radio Cassette Tape Deck model: CR-5120.

Used in Fisher Radio Tape Player model: 3500.

Used in Fulmera Tape Player model: 705.

Used in General Electric Tape Player model: 3-5540A.

Used in Gibbs Tape Player models: CR-335/CR-636/CR-920.

Used in Hitachi Tape Player models: CS-13001C/CSK-13001C.

Used in Inland Tape Player model: S-70.

Used in Janus Tape Player model: AC-8C4.

Used in JC Penney Tape Player model: 1910.

Used in JIL Tape Player model: 821-G.

Used in Juliette Tape Player model: C-644.

Used in Lloyds Tape Player models: 614073/DD-9910-0016/R-943.

Used in Masterwork Tape Player model: M-557.

Used in Mayfair Tape Player model: 444.

Used in Mecca Tape Player models: 883/CSI-22.

Used in Medallion Tape Player models: 65-501A/65-532.

Used in Milda Tape Player models: 2090.

Used in Midland Tape Player models: 16-626/16-501.

Used in Monteverdi Tape Player model: DS-6010.

Used in Montgomery Ward Tape Player model: GMJ-2125A.

Used in Morse Tape Player models: 2U/9360/MY-32335/TRD-118.

Used in Motorola Tape Player models: TF-756/TF-875AX.

Used in Muntz Tape Player models: 6M-607/6M-608/6M-880/
6M-881/6M-884/6M-886/M-430/M-888.

Used in Panasonic Tape Player models: RE-8250/SC-830/
SE-2090/SE-3070/SE-3280/SE-4000/SE-4040.

Used in Raytheon Tape Player model: 12R-500/12R-703.

Used in Realistic/Radio Shack Tape Player models:
13-1201 CLARINETTE 92/13-1204 CLARINETTE 101/
14-849/14-947 TR-884.

Used in Riverside Tape Player model: FMV-16713B.

Used in Roberts Tape Recorder model: 5620.

Used in Ross Tape Player model: 8430.

Used in Sears Tape Player models: 21V-7008/19180.

Used in Sobynea Tape Player model: GT-8.

Used in Soundesign Tape Player models: 4432/4456/4494/
4880/5737/5996.

Used in Telefunken Tape Player model: KL-65.

Used in Toshiba Tape Player models: SMC-5460/SMC-5560.

Used in Uniset Tape Player models: 46FM.

Used in Automatic Radio Automotive Tape Player models: MNI-1410/
NPX-2390/SPE-5004/UPX-2354/XME-1443.

Used in Blaupunkt Automotive Tape Player model: 9404-230-018.

Used in Clarion Automotive Tape Player models: M-430/
M-431/M-607/M-608/M-651/M-860/M-880/M-881/
M-884/M-886/PU-434A/R-310/R-320/R-330.

Used in Jensen Automotive Tape Player models: R-310/R-320/R-330.

Used in Kraco Automotive Tape Player models: KID-550/
KS-400/KS-450/KST-679.

Used in Lear Jet Automotive Tape Player models: A-40/A-75.

Used in Panasonic Automotive Tape Player models: CQ-969/CX-830.

Used in Sanyo Automotive Tape Player model: FT-86.

Used in many 8-Track tape players.

(Stock #: VCRBLT101)





Flat Belt.

IC = 10.300".
THK = 0.020".
WTH = 0.250".

(Stock #: VCRBLT54)





Flat Belt.

IC = 10.343".
THK = 0.034".
WTH = 0.212".

Replaces PRB part number: FRY10.4.
Replaces Pfantone part number: 55432.
Replaces EVG part number: 1407-78.

Used in JVC model: HR-2200SE.

Used in Sharp models: VC-2250U/VC-2550/XA-600/
XA-900.

Used in Akai Cassette Tape Deck models: CSF-33R/GX-44R/
GX-4000/GXC-740D.

Used in Akai Tape Player models: SSF-36R/SSF-39R.

Used in Craig Tape Player models: H-340/H-362.

Used in Pioneer Cassette Tape Deck models: CT-F800/
CT-F850/CT-F900/CT-F950/CT-F8080/CT-F8082/
CT-F9191.

Used in Pioneer 8-Track Tape Player models: TH-30/
TH-303/TH-2211.

Used in Pioneer Tape Player models: RH-2255/RH-4411.

Used in Radio Shack/Realistic Tape Player model:
Clarinette 95.

Used in Sanyo Tape Player models: DXT-5004/DXT-5204/
DXT-5240/DXT-5250/DXT-5252.

Used in Sharp Tape Player models: SG-150MKII/SG-151MKII/
SG-151/SR-140.

Used in Teac Cassette Tape Deck models: A-480/A-660/
C-1/V-7.

Used in Toshiba Tape Player model: SMC-4550.

Used in Yamaha Cassette Tape Deck model: TC-511B.

Used in Zenith Tape Player models: 169-485/169-486/
169-489/169-490/169-491/169-492/169-510/169-521/
F-635/ND-902P.

(Stock #: VCRB55432)





Flat Belt.

IC = 10.494".
THK = 0.035".
WTH = 0.200".

(Stock #: VCRBLT55)





Flat Belt.

IC = 10.500".
THK = 0.025".
WTH = 0.125".

Replaces PRB part number: FRX10.5.
Replaces EVG part number: 1426-54.
Replaces Sony part numbers: 3-543-978-00/3-578-328/3-578-511-00.

Used in Aiwa Tape Player models: CA-70/H-241.

Used in Akai Cassette Tape Deck models: AD-6550/CS-702D.

Used in Denon Cassette Tape Deck models: DR-230/DR-250.

Used in Dual Cassette Tape Deck model: C-839.

Used in Esquire Tape Player models: 2642-02408/GEN-3980A/
GEN-3989A/GEN-3994A/GEN-3995/GEN-3996/GEN-3999A.

Used in Hitachi Tape Player model: TRK-8290H.

Used in Montgomery Ward Tape Player models: GEN-3980A/
GEN-3989A/GEN-3993A/GEN-3994A/GEN-3995A/GEN-3996A/
GEN-3999A.

Used in Nikko Tape Player models: ND-39011/ND-59011/ND-70011.

Used in Radio Shack/Realistic Cassette Tape Deck model: ST-111.

Used in Radio Shack/Realistic/Optimus Tape Player model: 14-849

Used in Sanyo Tape Player models: M-8300/M-8500.

Used in Sharp Tape Player models: RT-5500/SY-9860.

Used in Sony Cassette Tape Deck models: T-187/T-206SD/
TC-188/TC-199/TC-204/TC-K3/TC-K4/TC-K6/TC-K50/
TC-K60/TC-U5.

Used in Sony Tape Recorder models: CFS-66/CFS-77/CFS-88/
CFS-99/RS-30/HST-89.

Used in Teac Cassette Tape Deck models: V-33/V-44/
V-300C/V-350C/V-400X/V-500X.

Used in Yamaha Cassette Tape Deck model: KX-55.

Used in Toyota Automotive Tape Player models: YAFR-01018/
YAFR-01023.

(Stock #: VCRBLT110)





Flat Belt.

IC = 10.500".
THK = 0.035".
WTH = 0.250".

Replaces PRB part number: FRM10.5.
Replaces Pfantone part number: 55434.
Replaces EVG part numbers: 1407-71/1424-21.
Replaces RCA/Thomson part number: 167347.
Replaces Sony part number: 4-891-942-00.

Used in Akai models: VS-303/VS-333U/VS-353U/VS-377U/
VS-379U/VS-399U/VT-120/VT-130/VTS-110/VTS-150.

Used in Emerson model: VCR-910.

Used in JVC models: CR-4700U/CR-4900U.

Used in Minolta model: MV-120S.

Used in Mitsubishi models: HS-318UR/HS-319UR.

Used in Scott model: SVR-100.

Used in Admiral Tape Player models: STC-1561/STC-1571/STC-1591.

Used in Airline Tape Player model: ZCX-16722A.

Used in Akai Cassette Tape Deck models: GXC-570D/
GXC-750/GXC-760D.

Used in Audiovox Tape Player model: MD-2560.

Used in Belair Tape Player model: Stereo 8.

Used in Bonsonic Tape Player model: MPX-8000.

Used in Broadmoor Tape Player model: 2191.

Used in Capehart Tape Player model: 1591-C18/7004-AT8/
7004-18/7005-AT8/7006-AT8/7008-AT8/7020-A18/7200-A18/
AMD-302/AS-123/AT-119/KMT-161A/KMT-229/STC-63.

Used in Catalina Tape Player models: 21V4790/21V7020.

Used in Channel Master Tape Player models: 6200/6204/6606/
6326/6376/6385/6638/6646/6647/F-52/F-659/HD-6075.

Used in Columbia Tape Player model: 557-M9.

Used in Concert Hall Tape Player models: 21-V7008/99-3062.

Used in Craig Tape Player model: 3211.

Used in Dicco Tape Player model: MGC-101R.

Used in Dyn Electronics Tape Player models: DS-623/DS-813/
DS-814/DS-836/DS-842/DS-880/DS-882/DS-6025/DS-6027/
DS-6072.

Used in Dynatronics Tape Player model: AT-830.

Used in Dynavox Tape Player models: 819/937/QM-1000/
QM-1500/TP-1N.

Used in Electra Tape Player models: 8TR-750/8TR-800.

Used in Electrophonic Tape Player models: FF-6660/N8860/
P-39/T-440/T-460/T-954/T-4200.

Used in Esquire Tape Player models: GEN-6210A/GEN-6230A/
GEN-6308/GEN-6341A.

Used in Federal Transistor Tape Player models: MPX-7000/
MPX-8000/PT-900.

Used in Fisher Radio Tape Player models: ER-8020/ER-8120/
MC-2081/MC-3010/MC-3015/MC-3050/MC-3160/MC-4000/
MC-4005/MC-4010/MC-4050.

Used in Fulmera Tape Player models: 73AAF/501/791.

Used in Gamble-Skogmo Tape Player models: PH29-62629/
PH29-62844/PH29-62945/PH29-62950/PH45-17178A/
PH45-17186A/PH45-17194A.

Used in General Electric Tape Player models: 3-5501/3-5502/
3-5503A/3-5505/3-5507/3-5515A/3-5520C/3-5530C/3-5540A/
7-7405B/9-7110A/9-7201A/CP-8980/EA1X-307/EA1X-381/
EA2X-237EA4X-452/EA-3338/M-8430/RV-2114/SC-300B/
SC-330B/SC-2307B/SC-3300B/TA-556B/TA-640/TD-81.

Used in Grand Prix Tape Player models: 2600/2700/2900.

Used in Hammond Tape Player model: HD-500.

Used in Hitachi Tape Player model: CS-17501C.

Used in JIL Tape Player models: 809-RAM/810-VMPX/817FM/
822FM/SS-90/SS-190.

Used in Juliette Tape Player models: 8TR-155/C-501.

Used in Kmart Tape Player model: K-100B.

Used in Lafayette Tape Player model: RK-890A.

Used in Lloyds Tape Player models: 2A-61/2A-62/2V-61W/
2V-76/804-205A/BB-7892/BB-8593/BB-8890/BB-8893/BB-8913/
BB-8916/BB-9807/DD-9720/DD-9910/FK-04447/FK-05007/
FK-05207/FK-05858/FK-06087/FK-06417/FK-06594/
FK-06659/FK-06703/FQ-04597/J-248/J-251/M-717/
M-721/M-747/QL-01672/QL-01676/R-889/R-891/R-973.

Used in Marlin Tape Player models: 8200/8500.

Used in Mayfair Tape Player models: M-810/M-811.

Used in Medallion Tape Player model: 65-500.

Used in Metro Sound Tape Player model: MS-9000.

Used in MGA Tape Player model: TD-83.

Used in Midland Tape Player model: 65-500.

Used in Mikado Tape Player models: M-88/M-805/M-806.

Used in Montgomery Ward Tape Player model: GEN-2210A/
GEN-2217A/GEN-6208A/GEN-6209A/GEN-6210/GEN-6217A/
GEN-6218A/GEN-6219A/GEN-6227A/GEN-6229A/GEN-6247A/
GEN-6308A/GEN-6317A/GEN-6318A/GEN-6341A/GEN-6442A/
GEN-6822A/GEN-6827A/GEN-6228A/GEN-6927A/GMJ-2084A/
GMJ-2094A/GMJ-2125A/GMJ-2290A/GSA-2123A/GSA-2132A/
GSA-2153A/GTB-2025A/ZXC-16753.

Used in Morse Tape Player models: 81/90E/94F-1/215/216/
217/220/915/916/917/2400/3400/6360/6970/FR-1510/
FR-1712/FR-2010/FR-2011/T-242/T-243/TC-43/TC-242/
TC-243/TRD-53.

Used in Motorola Tape Player models: 3JD-5210/TD-229/
TD-231/TF-752/TF-852/TF-852AX/TM-203/TM-204/TM-213/
TM-402/TM-413/TM-416/TM-703/TM-833/TM-2265/TM-3165/
TM-92051/YF-6252AX.

Used in Muntz Tape Player models: PU-607A-D1/PU-860/PU-880.

Used in National Tape Player model: CS-809.

Used in Panasonic Tape Player models: RD-8586/RP-9090/
RMQ-46Z/RQ-444/RQ-2285/RQ-4445/SJ-D152/SJ-D156/
SJ-D232/SJ-D234.

Used in Penncrest Tape Player models: 21V7008/21V7020/
0101/1701/5001/5003/5004/7010/851-0224/853-0024/
853-0230/853-0297/853-0438/853-0446/853-0453/
853-0461/853-0487/853-0495/853-0529/853-0693/
853-0776/853-0792/853-1535/853-3077/853-3119/
853-3442/853-3481/853-3507/853-3549/853-3580/
981-0161/981-0165/1048-9235/1059-1154/1088-5028/
1103-2653/1145-9740/1713/1740/1742/1769/1785/
1788/1789/1805/1900/1910/3012/3241A/3312/3400/
5130/5131/5150/5154/5155/5156/5204.

Used in Philco-Ford Tape Player models: H841-GWA/H842-GMA/
H843-GPC/H848-GPC/H8662-GMA/H863-GDK/H8616-WA.

Used in Philips Tape Player models: 3170/CPR-75-TPX/
FMK-75-CXP/FPT-75-TPX/FTR-75-TPX.

Used in Philmore Tape Player model: VC-950.

Used in Pilot Tape Player model: 1500.

Used in Precor Tape Player model: 1026.

Used in Radio Shack/Realistic Reel To Reel Tape Recorder model: 393.

Used in Radio Shack/Realistic Cassette Tape Deck models:
14-603 SCT-30/14-604 SCT-16.

Used in Radio Shack/Realistic Tape Player models:
13-1197/14-915/14-916/14-945/14-946/14-1920/TR-169.

Used in Realtone Tape Player model: 4486.

Used in Rhapsody Tape Player model: RY-481.

Used in Riviera Tape Player model: CS-809.

Used in Ross Tape Player models: 8431/8432.

Used in Sanyo Tape Player models: DXL-5480/GXT-4800/
GXT-4848/GXT-5260/RD-8020/RD-8200.

Used in Sears Tape Player models: 132.91722500/132.91734700/
132.91811600/132.91851700/400.9142500/400.91712700/
548.31556100/548.31556101/548/548.31602100/564.50420/
564.50480.

Used in Sharp Tape Player models: SG-150MKI/SG-151MKI/SG-3910.

Used in Skyline Tape Player model: CR-87.

Used in Sony Tape Player models: HME-118/HME-228/HME-238/
HMF-334/HST-48/HST-68.

Used in Soundesign Tape Player models: 21V-7020/21V-7080/
65/68/69/477/2022/3802A/4448B/4482B/4485/4634/
4774B/4782B/4937/5409/5513/5715/5729/6243/6514/
6990/9117SF/CP-103/MC-595/REC-6780A/REC-6890A/
S-3201PR/S-4245PR/S-4544PR/S-5540PR/S-5586PR.

Used in Stereomatic Tape Player models: 499S/971S.

Used in Sylvania Tape Player model: H848.

Used in Symphonic Tape Player models: 1323T/1324T/AT-119.

Used in Tanashin Tape Player models: TN-88N/TN-999.

Used in Telex Tape Player model: 2761.

Used in Tenna Tape Player models: 14467/MPX-71T/Mini-8 7042/
Mini-8 7051/RR-60/RR-62/TC-49/TC-79T/TC-TFMK.

Used in Tonika Tape Player model: K-2.

Used in Universal Tape Player model: TM-2000.

Used in Webcor Tape Player model: 350.

Used in White Tape Player model: 16-565.

Used in W.T. Grant Tape Player model: 2127-008.

Used in Xtal Tape Player models: XA-82/XA-84.

Used in York Tape Player models: 21V7080/L-6454/L-6457/
M-2612/M-2657/R-5260/R-5263/R-5265.

Used in Zenith Tape Player models: 154061-2/154071-2/
169-588/JR-900/LR-902/LR-912/LR-915/LR-916/LR-919/
LR-920/M-900/M-902/M-6010/M-6020/MD-912/MD-919/
MR-915/MR-916/MD-917/MR-920/S-4021/S-4041/
S-4080/S-4081/SL-2597.

Used in BSR Record Player model: C-129.

Used in American Motors Automotive Tape Player model: H075-TPX.

Used in Automatic Radio Automotive Tape Player models: 23/
E-10001/HLX-2534/MDD-2560/PED-2512/PSM-2456/SPA-5000B/
SPA-5001B/SPB-5000/SPC-5002/SPF-5005/SST-1179.

Used in Bowman/Astrosonix Automotive Tape Player models:
BM-900/BM-910/BM-911/BM-922/BM-926/BM-950/BM-1100/
BM-1110/BM-8415/SP-90/SP-191.

Used in Buick Automotive Tape Player model: 26810-173.

Used in Cartape Automotive Tape Player models: 8999-093/
CT-3700/CT-3800/CT-3900/CT-4800/X-8010.

Used in Clarion Automotive Tape Player model: PE-423.

Used in Chrysler Automotive Tape Player model: 26810-173.

Used in GMC Automotive Tape Player models: 26810-17/CHT-75-TPX.

Used in Kraco Automotive Tape Player models: KS-600/KS-666B/KS-770.

Used in Lear Jet Automotive Tape Player models: A-10/
A-109/A-110/A-119/H-310.

Used in Oldsmobile Automotive Tape Player models: 26810-173/
CNO-75-TPX/QL-75-TPX/QLF-75-TPX/VE-75-7PX.

Used in Opel Automotive Tape Player models: 26810-17/OPL-75-TRX.

Used in Panasonic Automotive Tape Player models: CQ-999/CQ-2289/
CQ-2988/CQ-2989/CQ-B4989/CX-175/CX-176.

Used in Pontiac Automotive Tape Player models: CHT-75-TPX/
OLF-75-TPX/PF-75-CX/PGP-75-CXP/VE-75-CXP.

Used in Radio Shack/Realistic Automotive Tape Player models:
12-1390/12-1401/12-1402/12-1816/12-1818.

Used in Sanyo Automotive Tape Player model: FT-863.

Used in Toyota Automotive Tape Player models: 86260-20030/
86260-20040/86260-22021/86260-22031/CX-361/YAFR-01023.

Used in Western Auto Automotive Tape Player models: GPE-6005A-08/
GPE-6042A-08/GPE-6805A-08/LLD-8113A/MAE-8505A-77.

Used in many 8-Track tape players.

(Stock #: VCRB55434)





Flat Belt.

IC = 10.500".
THK = 0.135".
WTH = 0.265".

Replaces PRB part number: FR10.6.

(Stock #: VCRBLT415)





Flat Belt.

IC = 10.600".
THK = 0.025".
WTH = 0.250".

Replaces PRB part number: FRW10.6.

Used in Akai models: VS-125U/VS-165U/VS-220U/VS-270U/
VS-270U/VS-515U/VS-525U/VS-555U/VS-565U/VS-5151U.

Used in Teac Cassette Tape Deck model: A-770.

(Stock #: VCRBLT406)





Flat Belt.

IC = 10.700".
THK = 0.031".
WTH = 0.155".

Replaces PRB part number: FRX10.7.

(Stock #: VCRBLT85)





Flat Belt.

IC = 10.700".
THK = 0.031".
WTH = 0.203".

Replaces PRB part number: FRM10.7.
Replaces PRB part number: FRW10.7.
Replaces EVG part number: 1426-57.
Replaces RCA/Thomson part number: 123061.
Replaces Pfantone part number: 55436.

Used in Akai models: VP-7300U/VS-1U/VS-7U/
VU-7300US/VUT-6400.

Used in Funai model: VP-9000A.

Used in JC Penney model: 686-5830.

Used in JVC models: AH-7200U/AH-7500U/BP-5100U/BR-7110U/
HR-225U/HR-7100U/HR-7200/HR-7300U/HR-7350/HR-7600/
HR-7650U/HR-7655/JR-D1012/KV-360.

Used in Kenwood model: KV-901.

Used in Montgomery Ward models: JSL-10658A/JSL-10659A/
JSL-10660A/JSL-10661A/JSJ-10662A/JSJ-10663A.

Used in Sansui model: SVR-5000.

Used in Sharp models: VC-5F5U/VC-582/VC-583/VC-585/
VC-587/VC-5830U.

Used in XR-1000 model: SVG-500.

Used in Aircastle Tape Player model: 18176.

Used in Akai Tape Player model: CR-83D.

Used in Ambassador Tape Player model: 2MC-51.

Used in Audiovox Tape Player model: ID-500.

Used in Brother Tape Player models: BR-3/VX-33-A.

Used in Capehart Tape Player models: 810R/8TDR008/
8TP-101/8TR-413R17/20C20C15/5004/5006/SKT-016-A/
SKT-227/V-500/V-509.

Used in Columbia Tape Player model: 5144.

Used in Craig Tape Player models: 3124/3134/3209/3304/
H-240/H-260/H-261.

Used in Dynatronics Tape Player model: MPT-8Q.

Used in Dynavox Tape Player model: 8305.

Used in Electrobrand Tape Player model: EB-6591.

Used in Emerson Tape Player model: 2140.

Used in Fisher Tape Player models: ER-8115/MC-4037/MC-4038.

Used in Fisher Radio Tape Player models: ER-8110/ER-8125/
ER-8130/ER-8150/ER-8155.

Used in Fulmera Tape Player model: 748.

Used in General Electric Tape Player models: 3-5003/SP-90/SP-626.

Used in Gibbs Tape Player models: 626/910/CR-644.

Used in Hitachi Cassette Tape Deck model: D-5500M.

Used in Janus Tape Player model: CT-400.

Used in Juliette Tape Player model: 8TR-444.

Used in Lafayette Tape Player model: RK-88.

Used in Lenoxx Tape Player model: SL-902.

Used in Magnavox Tape Player model: MD-3717.

Used in Marquis Tape Player model: M-8810.

Used in Milda Tape Player model: 1069.

Used in Motorola Tape Player models: 2409/HS-2350/TM-1204.

Used in Muntz Tape Player models: H-7200/HT-800/MR-79.

Used in Panasonic Cassette Tape Deck model: RA-7600/RA-7800.

Used in Panasonic Tape Player models: RE-8060/SE-1085/
SE-2680/SE-2708/SE-2709/SE-2710/SE-2819/SE-2910/
SE-3160/SE-3170/SE-3180/SE-3190/SE-3380/SE-3809/
SE-4708/SE-4809/SE-4908/SE-5808.

Used in Philco-Ford Tape Player model: H855-FPC.

Used in Pioneer Cassette Tape Deck model: CT-055W.

Used in Radio Shack/Realistic Tape Player models: 14-919/
SP-7108/TR-882.

Used in Ranger-Tenna Tape Player model: 030-GC-A.

Used in RCA Tape Player models: YJS-13/YJS-15/YJS-156/
YLS-15/YLS-16.

Used in Sanyo Tape Player models: DXL-5490/GXT-4812/
RD-8020/RD-8400.

Used in Sears Tape Player model: 564.50460.

Used in Sharp Tape Player models: RT-820U/RD-821U/RD-840U.

Used in Solar Tape Player model: D-325.

Used in Sony Tape Player models: HST-58/HST-78.

Used in Soundesign Tape Player model: 5954.

Used in Stellarsonic Tape Player model: 4320.

Used in Tandberg Cassette Tape Deck models: TCD-910/TCD-911.

Used in Ford Automotive Tape Player model: C9AA.

Used in Lear Jet Automotive Tape Player model: A-250.

Used in Panasonic Automotive Tape Player models: CX-777CX-888.

Used in Sanyo Automotive Tape Player model: FT-862.

Used in Western Auto Automotive Tape Player model: FK-05007.

(Stock #: VCRB55436)





Flat Belt.

IC = 10.750".
THK = 0.040".
WTH = 0.238".

Replaces PRB part number: FR10.8.

Used in Akai model: VS-31U.

Used in Emerson models: VCR-900/VCR-950.

Used in Harman Kardon model: VCD-1000.

Used in Mitsubishi models: AH-1100/AH-1200/AH-2600/HS-306/
HS-316/HS-317/HS-329/HS-400/HS-410/HS-710/HS-3061/HS-3161/
HS-3162/HS-3163/HS-3164/HS-3171/HS-3173/HS-3181/HS-3182/
HS-3183/HS-3184/HS-3191.

Used in Portavideo models: VP-3100/VP-3200.

Used in JVC Tape Recorder models: CA-MX90BK/DX-MX0OBK.

(Stock #: VCRBLT105)





Flat Belt.

IC = 10.800".
THK = 0.025".
WTH = 0.125".

Replaces PRB part number: FR10.9.

Used in Aiwa Cassette Tape Deck model: 1260.

Used in Electro Tape Player model: QM-1500.

Used in Electrobrand Tape Player model: EB-6621.

Used in Magnavox Tape Player model: 1TR-106.

(Stock #: VCRBLT409)





Flat Belt.

IC = 10.937".
THK = 0.030".
WTH = 0.250".

Replaces PRB part number: FRZ11.0.
Replaces General Electric part number: EW02X0322.
Replaces RCA/Thomson part numbers: 157064/163895.

Used in Akai model: VP-7350.

Used in Burle models: TC-3700/TC-3920.

Used in General Electric models: 1VCR-300/1VCR-3000/
1VCR-3001X/1VCR-3010X.

Used in Hitachi models: VT-11A/VT-12A/VT-15A/VT-16A/
VT-18A/VT-19A/VT-33A/VT-34A/VT-35A/VT-43AY/
VT-44AY/VT-45AY/VT-56A/VT-60A/VT-61A/VT-62A/
VT-63A/VT-64A/VT-65A/VT-71A/VT-73A/VT-74A/
VT-76AY/VT-78AY/VT-86A/VT-87A/VT-88A/VT-89A/
VT-260/VT-330/VT-870A/VT-1100A/VT-1105A/VT-1110A/
VT-1200A/VT-1300A/VT-1305A/VT-1310A/VT-1320A/
VT-1350A/VT-1360A/VT-1370A/VT-1400A/VT-1410A/
VT-1420A/VT-1430A/VT-1450A/VT-1570A/VT-1710A/
VT-1720A/VT-1800A/VT-1805A/VT-2000A/VT-2010A/
VT-2050A/VT-2100A/VT-2150A/VT-2155A/VT-2200A/
VT-L30A/VT-L240A/VT-P1000/VT-P2000/VT-P3000.

Used in JC Penney models: 686-0300/686-0400/686-0550/
686-5029/686-5036/686-5051/686-5061/686-5067/686-5069/
686-5070/686-5072/686-5079/686-6069/686-6072/686-6081/
686-6190/686-6575/686-6580/686-7050/686-7052/686-7053/
686-7059.

Used in Multitech model: MV-080.

Used in Pentax model: PV-T100A.

Used in Pioneer model: VH-900.

Used in RCA models: VJT-250/VJT-255/VJT-275/VJT-400/
VJT-425/VJT-500/VJT-700/VKT-275/VKT-300/VKT-310/
VKT-325/VKT-326/VKT-375/VKT-385/VKT-400/VKT-425/
VKT-426/VKT-430/VKT-500/VKT-550/VKT-650/VKT-700/
VLT-250/VLT-260/VLT-270/VLT-375/VLT-385/VLT-386/
VLT-387/VLT-388/VLT-395/VLT-450/VLT-460/VLT-470/
VLT-471/VLT-472/VLT-473/VLT-600HF/VLT-601HF/
VLT-602HF/VLT-603HF/VLT-625HF/VLT-650HF/VLT-700HF/
VMT-285/VMT-295/VMT-296/VMT-297/VMT-298/VMT-385/
VMT-389/VMT-390/VMT-391/VMT-392/VMT-393/VMT-395/
VMT-400/VMT-590/VMT-595/VMT-596/VMT-597/VMT-598/
VMT-630HF/VMT-670HF/VPT-289/VPT-290/VPT-291/
VPT-292/VPT-293/VPT-294/VPT-295/VPT-296/VPT-385/
VPT-390/VPT-391/VPT-392/VPT-393/VPT-395/VPT-396/
VPT-397/VPT-398/VPT-490/VPT-495/VPT-595.

Used in Sears models: 934.53130250/934.53281550/
934.53290650/934.53292650/934.53303550/934.53320450/
934.53321450/934.53323550/934.53323551/934.53350650/
934.53351650/934.53380550/934.53380551/934.53386550/
934.53450650/934.53470650/934.53520650.

(Stock #: VCRBLT56)





Flat Belt.

IC = 11.000".
THK = 0.031".
WTH = 0.154".

Replaces PRB part number: FRX11.0.
Replaces Sony part number: 3-371-571-01.

Used in Akai Cassette Tape Deck model: GXC-706D.

Used in Bang Olufsen Tape Recorder model: Beocord 8000.

Used in DYN Electronics Tape Player model: DS-888.

Used in Dynavox Tape Player models: STP-800/TP-0N/TP-8N.

Used in Harmon-Kardon Cassette Tape Deck models: HK-100M/
HK-200XM/HK-1500/HK-2500.

Used in Lloyds Tape Player models: FK-05480/M-638/M-647/
M-658/M-686/M-847/M-858.

Used in Morse Tape Player model: 6470.

Used in Radio Shack/Realistic Cassette Tape Deck model: SCT-19.

Used in Sony Cassette Tape Deck model: TC-S7.

Used in Teac Cassette Tape Deck models: A-100/A-601.

Used in Uher Tape Player model: CG-360.

Used in Zenith Tape Player model: MC-9070-1.

Used in Cartape Automotive Tape Player models: PT8-100/PT9A-D19.

(Stock #: VCRBLT407)





Flat Belt.

IC = 11.000".
THK = 0.027".
WTH = 0.250".

Replaces PRB part number: FRM11.0.
Replaces EVG part numbers: 1424-16/1426-58.
Replaces Sony part numbers: 3-549-778/3-671-253-00.

Used in Funai models: K-1800UA/LC-940/SSC-400/
TVCR-19F/XR-1000.

Used in Montgomery Ward model: JSJ-10658.

Used in NEC models: N-830/N-831/N-833.

Used in Radio Shack/Realistic model: 16-510 Model 21.

Used in Sansui model: SVR-500U.

Used in Shintom model: VCR-800.

Used in Sony models: SL-5000/SL-5010/SL-5020/
SL-5100/SL-5101/SL-5200/SLO-1400.

Used in Symphonic models: 13TVCR/5900/6300/7700/
8800/SVG-200.

Used in Teknika models: 882A/VCR-882.

Used in Video Concepts model: AH-1100.

Used in XR-1000 model: SVG-220.

Used in Zenith models: VR-8500/VR-8900/VR-8910.

Used in Admiral Tape Player models: STPF-1300/STPF-1333.

Used in Aiwa Tape Player models: TP-801/TP-830.

Used in Akai Cassette Tape Deck models: GXC-570DII/GXC-750D.

Used in Audiovox Tape Player models: 136-1013/C-780/C-925/
C-930/C-935/C-976/C-986.

Used in Capehart Tape Player models: 5207/5208.

Used in Channel Master Tape Player models: 21-V006/6045/
6048/6050/6060/6070/6075/6080/6201/6203/6349/6598/
6599/A-489/E-737/I-751/K-924/KE-43.

Used in CMC Tape Player model: 300.

Used in Columbia Tape Player model: 2695.

Used in Dumont TV models: 1N/2N/2Q/3N/3003251/
DD18R/DD19R/DTP23-8.

Used in DYN Electronics Tape Player models: DS-3100/
DS-3115/DS-3126/DS-3128/DS-3135/PS-4126/PS-4128/
PS-6025.

Used in Electra Tape Player model: 500.

Used in Electrobrand Tape Player model: EB-6488.

Used in Electrophonic Tape Player model: TP-23.

Used in Eversonic Tape Player model: 100R.

Used in Gamble-Skogmo Tape Player models: PH45-62828A/
PH45-62836A.

Used in General Electric Tape Player models: RT-7491/TA-755.

Used in Hammond Tape Player model: HD-555.

Used in Hitachi Tape Player models: TR-1100/TRQ-2020D.

Used in JC Penney Tape Player models: 21V0005/21V7Q13/
21W0117/853-3589/1741/1745/1755/1778/1779/1804/1902/
1903/1905/1906/1970/3310/3316/3326/3327/3331/3820/
5207/5208/5232/5240/5250/5251/5252/8731.

Used in Juliette Tape Player model: 8QM-888.

Used in Kmart Tape Player models: SKTC-688/SKTC-690.

Used in Lloyds Tape Player models: BB-1168/DD-1100/
FK-05117/FK-06286/M-902.

Used in Magnavox Tape Player model: IK-0886T.

Used in Mayfair Tape Player model: 2099.

Used in Medallion Tape Player models: 65-508/65-509/65-528/65-550.

Used in Midland Tape Player models: 91-511/19-512/19-568/
19-569/19-770.

Used in Milda Tape Player model: S-921.

Used in Mikado Tape Player model: 883.

Used in Morse Tape Player models: 2TH/2-TH-1/244/254/644/
645/944/945/954/FF-6360.

Used in Muntz Tape Player models: 35-69/800/850.

Used in Panorama Tape Player model: 1124.

Used in Peerless Tape Player model: HSP-25.

Used in Penncrest Tape Player model: 3820.

Used in Ranger-Tenna Tape Player models: HTC-210/HTD-500/
RR-50/TCH-200.

Used in Radio Shack/Realistic Tape Player models: 14-925/
TR-801/TR-881.

Used in Rhapsody Tape Player models: RY-893/RY-896.

Used in Sanyo Tape Player models: M-8000/M-8080.

Used in Sears Tape Player model: 564.5010.

Used in Sharp Cassette Tape Deck models: RT-1199/RT-2000U/
RT-3388/RT-4488/RT-6101/RT-6105/RT-6501/RT-6502/RT-6506.

Used in Sharp Tape Player models: SC-8000/SG-231.

Used in Sony Tape Player models: EL-4/EL-5.

Used in Soundesign Tape Player models: 4489/4768.

Used in Studio Sound Tape Player model: SS-883.

Used in Telex Tape Player model: BESC-601W.

Used in Telmar Tape Player models: ST-301/ST-401.

Used in Voice Of Music Tape Player model: 174.

Used in Zenith Tape Player models: 5589WI/GR-596W.

Used in Automatic Radio Automotive Tape Player models: CAH-2000/
CHP-4710/CPE-3714/CRP-4741/CSP-4726/CUP-4714/EMS-2121/
FOP-4704/FPE-3726/FPP-3704/HMX-4000/HRP-1256/HSX-7000/
MES-1454/R-1051/R-4644/SEL-9606/SFB-6802.

Used in Bowman/Astrosonix Automotive Tape Player models:
BM-960/BM-1000/CT-20/SPORT-92.

Used in Clarion Automotive Tape Player model: 850.

Used in Kraco Automotive Tape Player models: KS-700/KS-890.

Used in Panasonic Automotive Tape Player models: CQ-251/CQ-252/
CX-161.

Used in Sanyo Automotive Tape Player models: FT-842/FT-866.

Used in Toshiba Automotive Tape Player model: CT-812.

(Stock #: VCRBLT41)





Flat Belt.

IC = 11.000".
THK = 0.037".
WTH = 0.236".

Replaces PRB part number: FRM11.2.
Replaces EVG part number: 1424-17.
Replaces RCA/Thomson part number: 120619.

Used in JVC models: CR-4700/CR-4900.

Used in Panasonic model: NV-9400.

Used in Admiral Tape Player models: 5L-5561/5L-5565/
5L-55868/8G-6/8T-6/KS-821/KS-823/KS-828/KS-833/
KS-843/KS-853/KS-858/KS-883/STC-1501/STC-1511/
STP-1301.

Used in Audiovox Tape Player models: C-12/C-801/
C-860/C-890/C-945.

Used in Bell & Howell Tape Player models: 292/294/299.

Used in Bell Sound Tape Player models: 5800/7500.

Used in Bellewood Tape Player models: 5800/7500.

Used in Bogen Tape Player model: ACP-8.

Used in Broadmoor Tape Player models: 1092/1098/1296/1299.

Used in Capehart Tape Player models: 1591/1506/1508/1511/
4001/4002/4003/4004/4006/7001/7020/7004/7005/7006/7008/
7009/7010/7011/7200/8200/88906/AMD-302/SCT-63/SKT-1200.

Used in Carnegie Tape Player model: 131-1200.

Used in Channel Master Tape Player models: 6207/6611/
6614/6676/A-725/F-870.

Used in Columbia Tape Player models: 3034/8144/8608.

Used in Craig Tape Player models: 3212/3213.

Used in Dumont TV models: 1M/2M/3M/2003001/D04/D012/D016.

Used in Dyn Electronics Tape Player models: DS-3071/DS-3072/
DS-3073/DS-4031/DS-4032/DS-4033/DS-4038.

Used in Electrobrand Tape Player models: EB-6000/EB-6575.

Used in Electrophonic Tape Player models: 447/TG-700.

Used in Emerson Tape Player model: M-2388.

Used in Federal Transistor Tape Player model: AM-101.

Used in Fisher Radio Tape Player models: 2080/2380/
CP-100/MC-2081/TX-240/TX-420.

Used in Fulmera Tape Player models: 15-574/761/767.

Used in General Electric Tape Player models: 9-8245A/4490/
SC-2200/SK-2200/TA-640C/TD-091.

Used in Grand Prix Tape Player models: 46-F3/280/2700/
9100/L-500/MP-57ST.

Used in Gransonic Tape Player model: GS-3.

Used in Heath Tape Player model: GD-28.

Used in Inland Tape Player models: MPT-80/S-70/S-75.

Used in Invicta Tape Player model: 3000.

Used in JC Penney Tape Player models: 853-0305/853-0727/
1762/3315/6883A/7016/7017/8838A/8858A.

Used in Juliette Tape Player models: 8TR-11AZ/8TR-12X8/
8TR-900R/8TR-1200X/8TR-8600X/8TR-8686X/8TR-9000R/
86X-4001/ATP-525/ATP-527/RT-6X/RT-35/RT-36X/RT-3535.

Used in Lafayette Tape Player models: RK-800/RK-850.

Used in Lloyds Tape Player models: 1M-76/1V-56/FK-05066/FK-40160.

Used in Magnavox Tape Player models: 1V-9053/1V-9054/
TH-3535/W1V-9072.

Used in Masterwork Tape Player models: M-461/M-503/M-510/
M-558/M-8608/SQ-440/SQ-442/SQ-444.

Used in Mayfair Tape Player model: 881/888/2090/2100.

Used in MGA Tape Player models: SM-82/TD-85.

Used in Midland Tape Player models: 12-143/12-621.

Used in Milda Tape Player models: 1000/2000/2020/3040/M-107.

Used in Montgomery Ward Tape Player models: A-5038/
FKI-16779A/GAI-2123/GEN-3970A/GEN-3975A.

Used in Morse Tape Player models: T-9/T-17/T-200/
T-4210/TM-1.

Used in Motorola Tape Player models: 1-CH-2901/1PF-2903/83 Series/ 5881A/A-8MG/A-9MG/B-9MC/B-9MG/B-0910/FHZ-10/FHZ-61/
KM-135/PA-8MV/TD-250/TD-253/TD-254/TD-255/TD-317/
TD-327/TD-328/TD-376/TD-389/TD-390/TD-391/TD-392/
TD-393/TD-394/TD-395/TD-400/TM-2005/TM-7065.

Used in North American Tape Player models: 8585A/AMD-103.

Used in Olson Tape Player models: 40-SC21T/60-SD63B/TDA-301.

Used in Olympic Tape Player models: C-826/P-826/TDA-301.

Used in Packard Bell Tape Player models: RPC-312/TPA-6/
TPAK-2M/TPAK-3/TPAK-5/TPAX-3.

Used in Panasonic Tape Player models: TP-A6/TP-AK2M/CR-339.

Used in Penncrest Tape Player model: CR-339.

Used in Radio Shack/Realistic Tape Player models: 14-1919/TR-284B.

Used in Ross Tape Player model: RE-3500.

Used in Sanyo Tape Player models: DXL-5491/GXT-4880.

Used in Sharp Cassette Tape Deck models: RT-811U/RT-816U.

Used in Sharp Tape Player models: SG-131/SG-164/SG-167/
SR-130/SR-152/SR-162/SR-172.

Used in Sony Cassette Tape Deck models: TC-229/TC-K8.

Used in Soundesign Tape Player models: 4456B/4491/4721/
4764/4765/4778/4782/SE-22.

Used in Stradivarid Tape Player model: RX-3000.

Used in Symphonic Tape Player models: 233201/236301/236302.

Used in Tenna Tape Player models: R-69TC/TC-73T.

Used in Toshiba Tape Player models: KT-80/KT-81/KT-84/
SMC-4700/SMC-4800.

Used in VM Tape Player model: 169-338.

Used in Webcor Tape Player models: 151/155.

Used in Waters Conley Tape Player model: C-9155.

Used in Weltron Tape Player models: 715/2001/RAM-FM.

Used in Westbury Tape Player models: 804/805/808/8000.

Used in W.T. Grant Tape Player model: 2013019-33.

Used in Zenith Tape Player models: 5WER-53/5WFR-50/
5WFR-53/12WFR-51/15WFR-51/169-335/169-336/169-337/
169-338/169-342/169-343/169-485/169-486/169-487/
169-490/169-491/169-492/169-504/169-505/504-05E/
594-W/Allegro 1000/Allegro 2000/Allegro 3000/
Bellport/Dexter/E-585/E-587/HPS-45.

Used in Automatic Automotive Radio Tape Player model: SHG-1010.

Used in Clarion Automotive Tape Player model: 33-200.

Used in Ford Automotive Tape Player model: T7SMF.

Used in Inland Automotive Tape Player models: MPT-80/S-75/S-80.

Used in Kraco Automotive Tape Player models: KS-408/KS-660/
KS-666/KS-888.

Used in Lear Jet Automotive Tape Player models: H-430/H-440.

Used in Panasonic Automotive Tape Player models: CQ-959/
CX-351/CX-557/CX-807/CX-811/CX-877.

Used in Toyota Automotive Tape Player models: 86260-14010/
86260-20011/CX-161/YAFR-01003.

Used in Western Auto Automotive Tape Player models: CEI-5470A-57/
CIE-5470A-57.

(Stock #: VCRBLT57)





Flat Belt.

IC = 11.200".
THK = 0.031".
WTH = 0.120".

Replaces PRB part number: FRX11.2.
Replaces Sony part number: 3-558-706-00.

Used in Aiwa Cassette Tape Deck model: SDL-10AH.

Used in Akai Cassette Tape Deck models: GXC-704D/GXC-7060.

Used in Bell & Howell Tape Player model: 405.

Used in JC Penney Tape Player model: TP-2200.

Used in JVC Cassette Tape Recorder models: RC-565/RC-575.

Used in Marantz/Superscope Cassette Tape Deck model: SD-5010.

Used in Meriton Electronics Tape Player model: CRH-904.

Used in Pioneer Tape Recorder models: SK-111F/SK-900.

Used in Sony Tape Recorder model: TC-U2.

Used in Superscope Tape Recorder model: SD-5010.

Used in Teac Cassette Tape Deck model: CX-400.

Used in Teac Tape Player model: AC-19.

Used in Telmar Tape Player model: 555.

Used in Toyo Tape Player model: 68394.

Used in Yamaha Cassette Tape Deck models: KX-77.

Used in Panasonic Automotive Tape Player model: CX-601EU.

(Stock #: VCRBLT408)





Flat Belt.

IC = 11.484".
THK = 0.022".
WTH = 0.234".

Replaces PRB part number: FRQ11.2.
Replaces Pfantone part number: 55441.
Replaces EVG part number: 1407-242.
Replaces Sony part numbers: 3-551-006/3-661-708-00.

Used in Aiwa Mathes models: HV-M110/HV-MG360S.

Used in Aventura model: AV-91.

Used in Curtis Mathes model: JV-729.

Used in Funai models: SVG-4100/VCP-1500/VCR-5700/
VP-1501.

Used in General Electric models: 1VCR-0005W/1VCR-0010W/
1VCR-1010W.

Used in Harley Davidson models: HD-101/HO-101.

Used in Hitachi models: VT-5000A/VT-5600A/VT-5800A.

Used in JC Penney models: 686-5820/686-5831.

Used in JVC models: BR-3000U/HR-D120U/HR-D130U/
HR-D131U/HR-D220U/HR-D225/HR-D235U.

Used in Kenwood models: KV-903/KV-905.

Used in Lloyds models: L-811/L-824A/L-826/L-828/
L-840/L-940.

Used in Magnavox models: CR-L131AT01/CR-L191/
CRN-090AT01/CV-1010/CV-1040/VR-3213/VR-3223.

Used in Multitech models: MV-070/MV-085.

Used in NEC models: VC-734E/VC-737E/VC-739E.

Used in North American Philips models: 5766/5767.

Used in Philco models: VT-2210/VT-2240.

Used in Philips models: 5766/5767.

Used in Portavideo model: VP-1100.

Used in Posier models: PV-5310/PV-5354.

Used in Radio Shack/Realistic models: Model 15/
Model 19/16-505.

Used in Sampo model: VR-9620.

Used in Sansui model: SVR-7000.

Used in Shintom models: VCR-4000N/VCR-4010N/
VCR-4020N/VCR-4030N/VCR-4040N/VP-2000/
VP-3000.

Used in Sony models: SL-5400/SL-5600/SL-C7E.

Used in Soundesign model: 8005.

Used in Supra models: SV-45/SV-4500.

Used in Sylvania models: VC-4213/VC-4223/VC-4243/
VC-4263/VCT-190.

Used in Symphonic models: 4007/4500/4900/5000/5002/
5200/5202/5300/5320/5400/5500/6000/8000.

Used in Tatung model: VRH-8300U.

Used in Teac models: MV-350/MV-385/MV-390/MV-490/
MV-510/MV-560/MV-620.

Used in Thomas models: VHS-100/VHS-101.

Used in Toshiba model: V-5425.

Used in Toyomenka (TMK) model: 4290.

Used in XR-1000 models: SVG-100/SVG-1000.

Used in Zenith models: VR-900W/VR-9000/VR-9700/
VR-9760.

Used in Azusa Tape Player model: AZ-76.

Used in General Electric Tape Player model: 3-5506A.

Used in IBM Tape Player models: 212/213.

Used in Montgomery Ward Tape Player models: GEN-3990A/
GEN-6811A/GMJ-2046A/GMJ-2055A/GMJ-2065A/GMJ-2066A/
GMJ-2075A/GMJ-2076A/GMJ-2086B/GMJ-2515C/GMJ-2226A/
GMJ-2228B/GMJ-2229B/GMJ-2346.

Used in Morse Tape Player models: 90/211.

Used in Radio Shack/Realistic Tape Player model: 14-881A.

Used in Sears Tape Player model: 400.913006700.

Used in Sharp Tape Player models: SG-152U/SG-154U/
SG-162U/SG-164U/SG-172U/SG-174U/SR-102U/SR-110U/
SR-156U/SR-202U/SR-203U.

Used in Sony Cassette Tape Deck models: TC-228/TC-K7/TC-K8.

Used in Soundesign Tape Player models: 489/552/4027.

Used in Superscope Tape Recorder models: SMS-620/TDR-830.

Used in Webcor Tape Player models: 21V-7020/21V-7021/
121/122/B-0186/B-6254.

Used in Clarion Automotive Tape Player models: MR-97/MR-4728-1000.

Used in Panasonic Automotive Tape Player model: CX-355.

Used in Western Auto Automotive Tape Player models: GPE-6805A-08/
101-7002A-17/101-7015A-27/101-7105A-27/101-7140A-27.

(Stock #: VCRB55441)





Flat Belt.

IC = 11.500".
THK = 0.027".
WTH = 0.187".

Replaces PRB part number: FRX11.5.
Replaces EVG part number: 1426-60.
Replaces Sony part number: 3-558-349.

Used in Shintom model: VCR-550.

Used in General Electric Tape Player model: 3-5295A.

Used in JVC Cassette Tape Deck models: KD-10/KD-25/
KD-55/KD-85/KD-A3/KD-S201.

Used in Magnavox Tape Player model: 1V-9070.

Used in Pioneer Tape Recorder model: SK-650.

Used in Realistic/Radio Shack Cassette Tape Deck models:
14-620 SCT-500/14-642 SCT-29.

Used in Roberts Tape Recorder model: 997.

Used in Sharp Cassette Tape Deck models: RT-12/RT-31/
RT-3300/RT-4040/RT-5050/SC-1250.

Used in Sharp Tape Recorder models: GF-575/GF-777/GF-8787/
GF-8929/GF-8989/GF-9797/VZ-2000/VZ-3000.

Used in Sony Cassette Tape Deck models: TC-K77/TC-K96/TC-V7.

Used in Teac Cassette Tape Deck models: 122/133/CX-210/
CX-250/CX-310/CX-311/CX-350/CX-351/CX-370.

Used in Uher Tape Player models: 555/565.

Used in Zenith Tape Player models: 169-458/169-464/169-469/
169-472/169-473.

Used in Teac Automotive Tape Player model: AC-5.


(Stock #: VCRBLT42)





Flat Belt.

IC = 11.500".
THK = 0.030".
WTH = 0.250".

Replaces PRB part number: FRY11.5.
Replaces EVG part number: 1426-59.
Replaces Sony part number: 3-599-137.

Used in JVC models: CR-4400/HR-4400U.

Used in Panasonic model: VPR-4400.

Used in Teac models: MV-370/MV-380/MV-460.

Used in Fisher Tape Recorder model: 40.

Used in Ikegami Tape Player models: 324-U/VTR.

Used in Sony 8-Track Tape Player models: TC-208/
TC-228/TC-255/TC-258.

Used in Sony Tape Player models: HP-178A/HP-318.

Used in Teac Tape Player model: 244.

Used in Unisonic Tape Player model: MX-8151C.

Used in Zenith Tape Player model: 169-518/169-519/169-520/
169-521/169-522/169-523/C-631/C-635/D-635/D-680.

Used in Automatic Radio Automotive Tape Player model: GES-6394.

(Stock #: VCRBLT30)





Flat Belt.

IC = 11.700".
THK = 0.031".
WTH = 0.150".

Replaces PRB part number: FRX11.7.
Replaces RCA/Thomson part number: 171143.

Used in Akai Cassette Tape Deck model: GXF-80.

Used in Dual Cassette Tape Deck models: C-810/C-820/C-830.

Used in Hitachi Cassette Tape Deck models: D-550/D-800.

Used in Mayfair Tape Player model: 336.

Used in Montgomery Ward Tape Player models: GEN-3972A/
GEN-3982A/GEN-6233A.

Used in Pioneer Cassette Tape Deck models: SK-21/SK-31/
SK-51/SK-61/SK-71/SK-95/SK-400/SK-600.

Used in RCA Tape Player models: YVD-975/YZD-597.

Used in Sanyo Cassette Tape Recorder models: MX-320/MX-720.

Used in Sharp Cassette Tape Recorder models: GF-5252/GF-5454/
GF-7200/GF-7300.

Used in Sony Tape Recorder model: HP-238.

Used in Sony Tape Player models: TC-83/TC-84.

Used in Teac Cassette Tape Deck models: A-140/A-160/A-400/
A-420/C-3X/C-3RX.

Used in Toyo Tape Player models: CH-315/CH-900/CRH-677/
CRH-901/CRH-902/CS-721/CS-722.

Used in Teac Automotive Tape Player models: AC-7/AC-9.

(Stock #: VCRBLT422)





Flat Belt.

IC = 12.000".
THK = 0.038".
WTH = 0.240".

Replaces PRB part number: FRY12.0.

Used in JVC model: CR-4400.

Used in Dictaphone Tape Recorder model: 211.

Used in General Electric Tape Player models: M-8600/M-8610.

Used in IBM Tape Recorder model: Executary.

Used in Morse Tape Player models: TR-1000/TR-2000.

Used in Muntz Tape Player model: HP-202.

Used in Project-1 Tape Player model: FLD-7000.

Used in Thorens Tape Player model: TD-121.

Used in Zenith Tape Player model: D-638.

(Stock #: VCRBLT35)





Flat Belt.

IC = 12.100".
THK = 0.031".
WTH = 0.118".

Replaces PRB part number: FRX12.1.

Used in Admiral Tape Player models: STC-971/STC-1521.

Used in Montgomery Ward Tape Player models:
GEN-2972/GEN-2982A.

Used in Panasonic Tape Recorder model: RX-5500.

Used in Panasonic 8-Track Tape Player model: RS-806.

Used in Phonola Tape Player model: 9004.

Used in Sears Tape Player models: 5248/6249.

Used in Cartape Automotive Tape Player models: 8200/8900/ CT-8800.

(Stock #: VCRBLT410)





Flat Belt.

IC = 12.562".
THK = 0.027".
WTH = 0.265".

Replaces PRB part number: FR12.5.
Replaces EVG part number: 1424-06.
Replaces Pfantone part number: 55455.

Used in JVC model: HR-4400U.

Used in Panasonic models: NV-9400/VPR-4400.

Used in Airline Tape Player models: GCI-2521A/GCI-2531/GCI-2541.

Used in Aiwa Tape Player model: TPR-4001H.

Used in Akai Tape Player models: M-5/Telecorder.

Used in Ampex Tape Player model: UST-4.

Used in APF Tape Player models: STF-98/TPS-88.

Used in Capehart Tape Player models: 8T-70/8T-770/P-880.

Used in Channel Master Tape Player models: 615/650/679/
6331/J-435.

Used in Columbia Tape Player models: M-501/M-501-62/
M-504-62/M-553.

Used in Concord Tape Player model: F-128.

Used in Dyn Electronics Tape Player models: DS-3066/DS-3092/
DS-4000/DS-4041/DS-4043.

Used in Inland Tape Player models: S-800/S-8005.

Used in JC Penney Tape Player models: KID-5800/KS-445.

Used in Juliette Tape Player model: 4141-4001.

Used in Magnavox Tape Player model: 1K-8835.

Used in Montgomery Ward Tape Player models: GEN-3679A/GEN-3699A/
ZCX-16706/ZCX-16731A.

Used in Morse Tape Player models: T-300/T-700/T-800/TM-6/TV-7.

Used in Roberts Tape Player models: 70-TC/192/330/721/1040/
1055/1600/1670/1719/1720/1721/3085/3100/3200/32057/SC-1.

Used in Ross Tape Player models: RE-3430/RE-3800.

Used in Soundesign Tape Player models: 4454/4960/SE-210/
SK-296/SR-311/SR-314.

Used in Telefunken Tape Player model: 85.

Used in Telex Tape Player model: STD-174V.

Used in Westbury Tape Player models: MY-4006/T-9.

Used in Wollensak Tape Player model: 8075A.

Used in Automatic Radio Automotive Tape Player models:
MEL-6740/MNE-6725.

Used in Cartape Automotive Tape Player model: 8900-111.

Used in Chrysler Automotive Tape Player model: CH-4007.

Used in Clarion Automotive Tape Player model: 480.

Used in Ford Automotive Tape Player models: 1FD-4103/1MT-4002/
1MY-4106/1TB-4008/2CR-4107/2FD-4103/2LN-4110/2MR-4111/
2MT-4108/2MY-4106/2MZ-410/27B-4109.

Used in Lear Jet Automotive Tape Player models: M-410/M-460.

Used in Medallion Automotive Tape Player model: 65-481.

Used in Metro Sound Automotive Tape Player model: MS-800.

(Stock #: VCRB55455)





Flat Belt.

IC = 12.688".
THK = 0.022".
WTH = 0.318".

Replaces PRB part number: FRX12.6.
Replaces EVG part number: 1407-229.

Used in Whirl models: VP-1100/VP-1200/VP-1300.

(Stock #: VCRBLT125)





Flat Belt.

IC = 12.750".
THK = 0.032".
WTH = 0.312".

(Stock #: VCRBLT34)





Flat Belt.

IC = 12.792".
THK = 0.035".
WTH = 0.210".

Replaces PRB part number: FRM12.7.
Replaces Pfantone part number: 55458.
Replaces EVG part number: 1407-30.
Replaces Sony part number: 3-536-713.

Used in Airline Tape Player model: TCM-1505.

Used in APF Tape Player models: 302/303/304/601/602/
603/801/802/STF-98/TFS-88.

Used in Audiotronics Tape Player model: 1020.

Used in Channel Master Tape Player model: 332.

Used in Concert Hall Tape Player models: 99-1WQ/99-41W/
99-51W/99-62LP/99-81WQ/99-302LP/99-3012LP/99-3022LP/
99-3042LPQ/99-3301W/99-3311WQ.

Used in Concord Tape Player model: M-260.

Used in Craig Tape Player models: 3103/3104/3110/3116/
3117/3202/3203/3204/3206/3207.

Used in Decca Tape Player model: TB-344.

Used in DYN Electronics Tape Player models: DS-830/DS-835/DS-3090.

Used in Electrosonic Tape Player model: ES-361.

Used in General Of Tokyo Tape Player model: FX-305A.

Used in Gibbs Tape Player model: 805.

Used in JC Penney Tape Player models: 853-0255/1702/6537/6681.

Used in Lloyds Tape Player models: A-109586/CC-706/CC-809/
CC-816/CC-832/CC-7063/CC-8095/CC-8160/CC-8327.

Used in Magnavox Tape Player model: RA-10986.

Used in Major Electronics Tape Player models: T-800/TPX-350.

Used in Masterwork Tape Player models: M-501/M-504/M-514.

Used in Mecury Tape Player model: 70.

Used in Metro Sound Tape Player models: SM-80/TD-30/TD-80.

Used in Morse Tape Player models: 942/947/Electro T-344.

Used in Muntz Tape Player model: M-480.

Used in National Tape Player model: RS-776S.

Used in Norelco Tape Recorder model: 1481.

Used in Panasonic Tape Player models: RE-7070/RF-7120/
RS-800/RS-806/RS-810/RS-820.

Used in Philco-Ford Tape Player model: A-4610.

Used in Pioneer 8-Track Tape Player models: H-2000/TR-1020H.

Used in Radio Shack/Realistic Cassette Tape Deck model:
14-631 SCT-80.

Used in Radio Shack/Realistic Tape Player model: 14-1975.

Used in Roberts Tape Recorder models: 63-13/1630-8L/
1725-8L/1725-82.

Used in Ross Tape Player models: 6500/6871.

Used in Sears Tape Player model: 905.50721.

Used in Sharp Reel To Reel Tape Recorder model: RD-504.

Used in Sharp Cassette Tape Deck models: RT-107/RD-350.

Used in Sony Cassette Tape Deck models: TC-137SD/TC-138SD.

Used in Soundesign Tape Player models: 484/4483/4484/
4777/4902.

Used in Tandberg Cassette Tape Deck models: TCD-300/
TCD-310/TCD-330/TCR-5500.

Used in Wollensak Tape Player model: 8055.

Used in BSR/McDonald Record Player model: RD-8S.

Used in Sony Record Player models: PS-1000/PS-2700.

Used in Thorens Record Player models: TD-134/TD-135.

Used in Automatic Radio Automotive Tape Player models: CFE-8001/
OMX-9843.

Used in Western Auto Automotive Tape Player models: A109586/
IST-5470A-37/IST-5490A-37.

Used in many 8-Track tape players.

(Stock #: VCRB55458)





Flat Belt.

IC = 13.500".
THK = 0.033".
WTH = 0.196".

Replaces PRB part number: FRQ13.6.
Replaces Pfantone part number: 55462.
Replaces EVG part numbers: 1407-231/1424-42.
Replaces Sony part number: 3-652-522-00.

Used in Airway models: CR-200/CR-300/CR-400.

Used in Sony model: SL-8200.

Used in Tancredi models: VR-1200/VR-1300.

Used in Akai Cassette Tape Deck models: GXC-310/GXC-325.

Used in Nakamichi Cassette Tape Deck models: 1000/70011/100011.

Used in Radio Shack/Realistic Tape Player model: 14-776.

(Stock #: VCRB55462)





Flat Belt.

IC = 14.200".
THK = 0.031".
WTH = 0.225".

Replaces PRB part number: FR14.1.
Replaces PRB part number: FRM14.2.
Replaces EVG part number: 1499-29.
Replaces Pfantone part number: 55465.

Used in Akai Reel To Reel Tape Recorder models: 1700/1710/
A-200D/ST-1.

Used in Califone Tape Player model: 75T.

Used in Channel Master Tape Player models: 6430/6431.

Used in Montgomery Ward Tape Player model: GEN-2224A/
GEY-2321/GEY-2334A/GEY-2352/GEY-2354.

Used in Morse Tape Player models: A4-8038/A4-8044/A4-8451/T-108.

Used in Olympic Tape Player model: TD-20.

Used in Roberts Tape Recorder models: 40-8N/400X/440/
455D/650X/800X/4000/4550/5000/RD-12099/XD.

(Stock #: VCRB55465)





Flat Belt.

IC = 14.600".
THK = 0.033".
WTH = 0.250".

Replaces PRB part number: FR14.6.
Replaces Sony part numbers: 3-537-184/3-654-100.

Used in Sony model: VP-2260.

Used in Sony Cassette Tape Deck model: TC-177.

Used in Perfectone Reel To Reel Tape Recorder model: EP6A.

Used in Teac Reel To Reel Tape Recorder models:
X-3/X-3R/X-3 MKII.

(Stock #: VCRBLT402)





Flat Belt.

IC = 15.100".
THK = 0.033".
WTH = 0.187".

Replaces PRB part number: FRX15.2.
Replaces EVG part numbers: 1424-52/1424-53.

Used in Centrex Tape Player model: MT30-02.

Used in JC Penney Tape Player models: 1114-7535/1991/
6200/6204/6300.

Used in Kenwood Cassette Tape Deck models: KC-850/KX-710/
KX-720/KX-910/KX-920.

Used in Keystone Tape Player model: R-37.

Used in Arvin Record Player model: 31-130-04.

Used in BIC Record Player models: 911/912/914/916/960/980/
980/981/1000/1403/A-7/A-8/A-20Z/A-40Z/A-60Z/A-80Z/
SP-920/SP-940/SP-960.

Used in Fisher Record Player models: 37-13001/320XA.

Used in Hitachi Record Player models: SDQ-9922H/SDT-9622.

Used in JC Penney Record Player models: 1150-4735/MSC-6200.

Used in Magnavox Record Player model: MT-2002.

Used in Panasonic Record Player model: SL-H201.

Used in Radio Shack/Realistic Record Player model: LAB-65.

Used in Soundesign Record Player model: 0984.

Used in Tenva Record Player models: MT-202/MT-301/MT-302/
SLH-201/ST-202/ST-301/ST-302.

Used in Zenith Record Player models: 169-579/IS-4081/IS-4090.

(Stock #: VCRBLT419)





Flat Belt.

IC = 15.200".
THK = 0.035".
WTH = 0.235".

Replaces PRB part number: FRM15.2.
Replaces Pfantone part number: 55472.
Replaces EVG part number: 1407-219.
Replaces Sony part numbers: 3-448-104/3-488-104/3-618-090-02.

Used in Sony models: AV-3400/VTR-8400.

Used in Akai Reel To Reel Tape Recorder model: 100-D.

Used in Craig Tape Player models: 3101/3102/3103/C-501/C-502.

Used in JC Penney Tape Player models: 1157-9877/1775/1786/1992.

Used in JVC Tape Player model: TRD-2044.

Used in Panasonic Cassette Tape Deck model: RS-288/RS-650/
RS-671/RS-676.

Used in Sanyo Tape Player model: MR-111.

Used in Sharp Tape Player models: SG-3810/SG-3910.

Used in Toyo Tape Player model: 38694.

Used in ADC Record Player model: Accutrac 4000.

Used in BIC Record Player model: 920.

Used in BSR Record Player models:
20B/20BP/20BPX/62SX/65SX/100BAX/100BPX/200BA/
200BAX/320B/400/450/500/550/550SX/4000/C-163/
C-164/C-165/C-166/C-205/C-206/C-218/C-234/C-235/
C-248/C-350/C-3505X/MARK IV/P-183/P-184/P-186/
P-187/P-200/P-300-KAX/Quanta 60MX/Quanta 70MX/
Quanta 240MX/Quanta 255SX/Quanta 720/T-15T/
TD-8Q-T-15T/TD-8Q-W.

Used in Panasonic Record Player model: SL-H202.

Used in Radio Shack/Realistic/Optimus Record Player models:
13-1205 Clarinette 110/42-2947 LAB-50/42-2953 LAB-55/
42-2964 LAB-200/42-2972 LAB-56/42-2973 LAB-120/
42-2974 LAB-58/42-2981 LAB-75/42-2982 LAB-77.

Used in Sharp Record Player models:
RP-900/SG-3810/SG-3910.

Used in Zenith Record Player models: 169-566/169-586/
169-588/LR-919P/LR-920AE/MD-919P/MR-920AE.

Used in many belt-driven Record Players & Changers.

(Stock #: VCRB55472)






Flat Belt.

IC = 21.6".
THK = 0.050".
WTH = 0.205".

Replaces PRB part number: FRX21.6.
Replaces EVG part number: 1426-80.
Replaces Samsung part number: 0000048066.
Replaces Sharp part number: 205357.

Used in Linnsondex Record Player model: LP-12.

Used in Samsung Record Player model: SM-3237.

Used in Zenith Record Player models: 169-195/169-228.

(Stock #: VCRBLT432)





Flat Belt.

IC = 23.3".
THK = 0.030".
WTH = 0.185".

Replaces PRB part number: FRX23.6.
Replaces EVG part numbers: 1407-192/1407-553/1424-57/1426-81.

Used in Akai Record Player model: APB-20.

Used in Benjamin Record Player model: CD-43387.

Used in BIC Record Player model: SL-3200.

Used in BSR Record Player model: TB-33.

Used in Curtis Mathes Record Player models: CM-40/CM-41.

Used in Elac Record Player model: CD-43387.

Used in Fisher Record Player models: MT-35/MT-6410D/MT-6115.

Used in Fuji Record Player model: L-220.

Used in JC Penney Record Player models: 1090-4548/
6502/6710.

Used in Juliette Record Player models: 60/M-60.

Used in JVC Record Player models: 5250/JL-A1/JL-A15/
JL-A20/JL-F30/JL-F35/JL-P30/LA-10/LA-11/LA-21/
SRP-473E/VL-8.

Used in Kenwood Record Player models: 4033-TT/JP-2021/
KD-2033/KD-2055/KD-2500/KD-3033/KD-3055/KP-1022/
KP-2021/KP-3021/KP-3022/KR-2035.

Used in MGA Record Player models: DP-200/DP-330/DP-410/
DP-420/DP-430.

Used in Miracord Record Player model: CD-43387.

Used in Panasonic Record Player models: H-204/RD-3500/
RD-3600/SC-1600B/SC-T080/SC-T090/SE-9500/SE-P7/
SF-620/SF-GB029-1/SF-GB321-1/SG-H10/SG-V03/SG-V05/
SG-V11/SL-20/SL-42/SL-101/SL-210/SL-220/SL-230/SL-235/
SL-301/SL-303/SL-B1/SL-B2/SL-B3/SL-B5/SL-B10/SL-B20/
SL-B23/SL-B30/SL-B35/SL-B100/SL-B101/SL-B200/
SL-B202/SL-B205/SL-B210/SL-B220/SL-B300/SL-B300/
SL-B303/SL-B350/SL-B500/SL-BD2/SL-BD270/SL-H204/
SL-H301/SL-H304/SL-H305/SL-Q202/SP-916.

Used in Phantone Record Player models: TA-33/TA-55.

Used in Pioneer Record Player models: KEB-004/KEB-006/
KH-8833/KH-8855/N28-612/N28-616/PL-2/PL-12A/PL-12D/
PL-12DII/PL-12E/PL-12PV/PL-15C/PL-15D/PL-15III/PL-33/
PL-45D/PL-61/PL-100/PL-100X/PL-112/PL-112D/PL-115D/
PL-117D/PL-120/PL-220/PL-510/PL-514/PL-516/PL-15011/
PL-15111/PL-A25/PL-A26/PL-A35/PL-A45/PL-A45D/SX8400.

Used in Quasar Record Player model: CS-9.

Used in Roberts Record Player model: 1725-BL-11.

Used in Sampo Record Player models: SA-1919/SA-3030.

Used in Sansui Record Player models: SR-2020/SR-2020BC/
SR-3030BC/SR-4040/SR-4050.

Used in Sherwood Record Player model: PD-502.

Used in Sony Record Player models: EX-1K/EX-1M/EX-2K/
HMK-313.

Used in Tamura Record Player models: C-450/C-730.

Used in Technics Record Player models: M-220/SL-33/
SL-210/SL-BD20D/SLB-1/SLB-2.

Used in Teknika Record Player models: RP-100/RP-230.

Used in Toshiba Record Player model: SR-F100.

Used in Toyo Record Player models: TA-101/TA-520/TA-950.

Used in Visonik Record Player model: VT-3300.

Used in Yamaha Record Player model: P-350.

Used in many belt-driven Record Players & Changers.

(Stock #: VCRBLT37)





Flat Belt.

IC = 23.6".
THK = 0.020".
WTH = 0.250".

Replaces PRB part number: FR23.6.
Replaces EVG part numbers: 1424-52/1426-07.

Replaces Sony part numbers: 3-827-489-00/4-804-642-00/
4-827-489/4-836-884-00/4-850-664-00.

Used in Akai Record Player model: AP-10-C.

Used in Concord Record Player model: BA-300.

Used in Fisher Record Player models:
MT-30/MT-30C/MT-37/MT-710/MT-730/MT-6114/
MT-6117/MT-6118/MT-6210/MT-6211/MT-6310/
MT-6410/MT-M23.

Used in JC Penney Record Player models:
6500/6503/6725/683-6500/683-6502/
MCS-6203/MCS-6500/MCS-6502.

Used in JVC Record Player models:
AL-A1/AL-F330/AL-F350.

Used in Kenwood Record Player model: KP-3120.

Used in Marantz Record Player model: MRT625.

Used in MGA Record Player models: LT-5V/LT-640/X-12.

Used in Project 1 Record Player model: Project 1.

Used in Realistic/Radio Shack Record Player models:
LAB-250/LAB-270/LAB-340/LAB-1500.

Used in Sansui Record Player models: FR-3060/SR-3060.

Used in Sanyo Record Player models: TP-805B/TP-3000A.

Used in Sharp Record Player model: RP-101.

Used in Sherwood Record Player models: PD-913R/ST-875.

Used in Sony Record Player models: AV-1700/EX-M1/EX-M3/
HMK-11/P-5550/PS-1000/PS-1010/PS-1700/PS-2350/PS-2700/
PS-5100/PS-5520/PS-5550/PS-LX330/PS-LX700/TTS-3000.

Used in Toshiba Record Player models: SK-V11/SL-V11
SR-250/SR-F450/SR-F451/SR-F452/SR-V11.

Used in Yamaha Record Player models:
P-05/P-10/P-30/P-200/P-320/P-350/P-450.

Used in Zenith Record Player model: MM-2670.

(Stock #: VCRBLT58)





Flat Belt.

IC = 25.0".
THK = 0.030".
WTH = 0.250".

Replaces PRB part numbers: FRA25.0/FRX25.0.
Replaces EVG part numbers: 1407-199/1424-37.

Used in Aiwa Record Player models: AF-5050/AF-5080/AP-2060.

Used in Akai Record Player models: AP-620/AP-620C/
X-100D.

Used in BSR Record Player model: ADC-1500.

Used in Concord Record Player model: BO-1000.

Used in Craig Record Player models: 5101/5102/5102-026.

Used in Electrophonic Record Player models: 200/T-17/T-200.

Used in Fisher Record Player models: MC-3015/MT-32/
MT-6010/MT-6020/MT-6030/TT-4191-028.

Used in Garrard Record Player model: SR-2050C.

Used in Harmon-Kardon Record Player models: 1-20/1-40/1-60.

Used in JVC Record Player models: EG-1050/VL-5/VL-50.

Used in Kenwood Record Player model: P-7.

Used in Marantz Record Player models: 6025/6050/6100/
6110/6200.

Used in MGA Record Player model: DP-11.

Used in Micro Seiko Record Player model: MB-14.

Used in Mitsubishi Record Player models: DP-11/DP-12.

Used in Project 1 Record Player models: DR-2A/DR-115/
DR-331/DRI.

Used in Radio Shack/Realistic/Optimus Record Player model:
42-2931 LAB-300.

Used in Rotel Record Player model: RP-100.

Used in Sansui Record Player models: FR-1080/FR-D25/P-50/
SR-13/SR-212/SR-232/SR-313/SR-1050/SR-2050C/SR-B200.

Used in Sanyo Record Player models: M-9915K/TP-80S/
TP-1005/TP-1010/TP-600SA/TP-626/TP-636/TP-727/
TP-728/TP-700SA/TP-808/TP-747/TP-6850.

Used in Scott Record Player models: PS-17A/PS-48A/PS-57.

Used in Sharp Record Player models: RP-104/RP-114V/
SG-1I3K/VZ-2000/VZ-3000.

Used in Sony Record Player model: TP-6850.

Used in Toshiba Record Player models: SR-230/SR-305/
SR-A100/SR-A102/SR-A270/SR-A272/SR-B20/SR-B150/
SR-B152.

Used in Yamaha Record Player models: SX-69006/
YP-B4/YP-B11.

Used in many belt-driven Record Players & Changers.

(Stock #: VCRBLT97)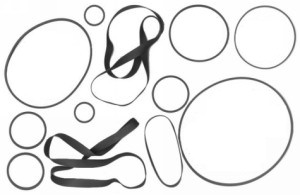 VCR Belt Assortment.
12 piece belt assortment includes square and flat belts.
Perfect for replacing the belts in 100's of VCR makes
and models. Also many belts can be used in cassette,
reel-to-reel, 8-track, and other equipment.

Set of 12 belts.

(Stock #: VCRBK02)




-Click Here To Return-
Copyright ©1998-2018
Surplus Material Components
SMC ELECTRONICS
Surplus VCR Belts
All Rights Reserved