SMC ELECTRONICS

CALCULATORS
Click on a picture for a larger view.
Wait a few seconds.
Another browser window will open.
Close that window when done.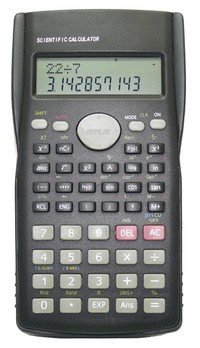 Scientific Calculator.

Good quality and low-priced Scientific Calculator offers basic
and advanced functions including trigonometric calculations,
logarithm and root calculations, fraction conversions,
DMS conversions, coordinate conversions, standard deviation,
and regression, linear and quadratic regression.

Other features include a large 2-line LCD display,
10-digit plus exponent answer results, formula display,
79 calculation steps, memory, replay/edit modes,
random number generator, and auto power-off.

Calculator operates on 2 G13 coin batteries.
Size: 6" x 3 1/4" x 3/4".

Includes Owner's Manual, Batteries, and Protective Cover.

This item is NEW.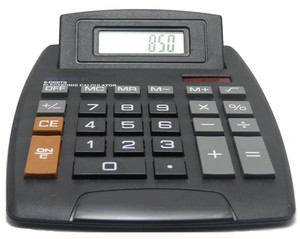 Big Display Desk Top Calculator.
Features include 4 functions plus 4-key memory, percent,
and square root. Large easy-to-use buttons and large
easy-to-read 1/2" digits on an adjustable-tilt display.
Size: 7 1/2" x 5 1/2" x 1/2".
With battery and instructions.

This unit is NEW in factory package.





-Click Here To Return To Main Page-
Copyright ©1998-2018
Surplus Material Components
SMC ELECTRONICS
Surplus Calculators
All Rights Reserved