SMC ELECTRONICS

VACUUM TUBES

ADD TO CART Ordering is located at the bottom of this page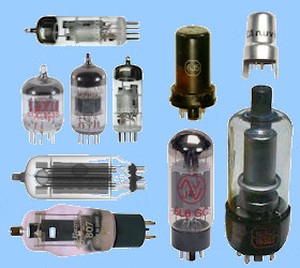 These tubes are not cheap Chinese or Russian made tubes,
most of these tubes were manufactured during the period
of the 1950's - 1970's. Most were made in the USA,
Western Europe, or Japan by American companies such as
Dumont, GE, ITT, Motorola, Raytheon, RCA, Sylvania,
Westinghouse, and Zenith.

Even for the tubes made outside the United States,
the factories back then were usually owned by the
big American Electronic Companies. These are the same
companies that made the televisions and radios
that were in every American home.

Many are Hard-To-Find and will become even harder
to find as time passes on. A must for restoring
classic electronic equipment.


-Click here for Free downloads of Vacuum Tube Reference Data
and Substitution Manuals.-

Note: Unless otherwise indicated, all tubes are unused New-Old-Stock.
Used tubes are tested for emission, transconductance, leakage, and shorts.


0A3/VR75 - $6.00 Each





1A3 - $5.00 Each
1AD2 - $5.00 Each
1AD2A - $5.75 Each
1AY2A - $6.50 Each

1BC2 - $5.00 Each
1BC2A - $5.00 Each
1BG2 - $5.00 Each
1BH2 - $3.00 Each
1BK2 - $5.00 Each

1J3/1K3A - $5.00 Each

1L4 - $3.00 Each
1LH4 - $5.00 Each
1LN5 (Used-Tested) - $3.00 Each

1S2A - $3.00 Each

1U4 - $5.00 Each
1U5 - $6.00 Each

1V2 - Replaces Tektronix Part # : 154-0004 - $5.00 Each

1X2C - $4.50 Each





2AF4 - $3.00 Each
2AF4B - $3.25 Each
2AH2 - $5.00 Each
2AH2/2AS2A/2BU2 - $6.50 Each
2AS2 - $4.50 Each
2AV2 - $4.00 Each

2BJ2 - $5.00 Each
2BN4A - $3.50 Each

2CN3B - $4.50 Each
2CW4 (Nuvistor) - $4.75 Each
2CY5 - $3.50 Each
2CY5 (Used-Tested) - $2.25 Each

2DZ4 - $3.50 Each

2EA5 - $4.50 Each
2EG4 (Nuvistor) - $4.50 Each
2ER5 - $4.50 Each

2FH5 - $3.00 Each
2FQ5 - $3.00 Each
2FQ5A/2GK5 - $4.00 Each
2FS5 - $3.00 Each





3A2 - $3.00 Each
3A3 - $5.00 Each
3A3C/3AW3/3B2 - $5.75 Each
3A4 - $4.50 Each
3AF4A - $4.50 Each
3AL5 - $3.00 Each
3AU6 - $4.50 Each
3AV6 - $3.00 Each
3AW2A - $5.75 Each

3BC5/3CE5 - $3.00 Each
3BN4 - $4.50 Each
3BN6 - $4.50 Each
3BS2A/3BT2/3BW2 - $6.00 Each
3BU8/3GS8 - $4.50 Each
3BY6 - $4.50 Each
3BY6 (Used-Tested) - $3.00 Each
3BZ6 - $3.50 Each

3CB6 - $4.50 Each
3CF6 - $4.50 Each
3CS6 - $4.50 Each
3CS6 (Used-Tested) - $3.00 Each
3CU3A - $6.25 Each
3CY3/3DB3 - $7.50 Each
3CY5 - $4.50 Each
3CZ3 - $5.00 Each
3CZ3A - $4.00 Each

3DK6 - $4.50 Each
3DR3 - $6.50 Each
3DT6A - $4.50 Each
3DZ4 - $4.50 Each

3EH7 - $4.50 Each
3EJ7 - $4.50 Each
3ER5 (Used-Tested) - $3.00 Each

3FS5 - $4.50 Each

3GK5 - $4.50 Each

3HA5/3HM5 - $4.50 Each
3HQ5 - $4.50 Each
3HS8 - $4.50 Each

3Q4 - $5.00 Each

3V4 - $7.50 Each





4AU6 - $4.50 Each
4AV6 - $4.50 Each

4BC5/4CE5 - $3.00 Each
4BC8 - $4.50 Each
4BL8 - $4.50 Each
4BN6 - $4.50 Each
4BQ7A - $5.00 Each
4BQ7A (Used-Tested) - $3.00 Each
4BS8 - $4.50 Each
4BU8/4GS8 - $4.50 Each
4BZ6 - $4.50 Each
4BZ6 (Used-Tested) - $3.00 Each
4BZ7 - $4.50 Each

4CB6 - $3.50 Each

4DE6 - $4.50 Each
4DT6A - $4.50 Each

4EH7 - $4.50 Each
4EJ7 - $4.50 Each

4GM6 - $4.50 Each

4HA5 - $3.50 Each
4HQ5 - $4.50 Each
4HS8/4MK8 - $4.50 Each

4JC6A - $4.50 Each
4JD6 - $4.50 Each
4JH6 - $4.50 Each

4KE8 - $4.50 Each
4KT6 - $5.00 Each

4LJ8 - $5.00 Each

4MK8 - $4.50 Each





5AM8 - $3.50 Each
5AN8 - $3.50 Each
5AQ5 - $3.50 Each
5AS4A - $15.00 Each
5AS8 - $3.50 Each
5AT8 - $3.50 Each
5AV8 - $3.50 Each

5BC3 - $5.00 Each
5BK7A - $3.00 Each
5BQ7A - $3.50 Each
5BR8 - $3.00 Each
5BT8 - $3.50 Each
5BW8 - $3.50 Each

5CG8 - $3.50 Each
5CL8A - $3.50 Each
5CM8 - $3.50 Each
5CQ8 - $3.50 Each
5CZ5 - $3.00 Each

5DH8 - $3.00 Each

5ES8 - $3.00 Each
5EU8 - $3.00 Each
5EW6 - $3.50 Each

5FG7 - $3.50 Each
5FV8 - $3.00 Each

5GH8 - $4.00 Each
5GJ7 - $3.50 Each
5GM6 - $3.00 Each
5GX7 - $3.50 Each

5HB7 - $3.50 Each
5HG8 - $3.00 Each

5J6 - $3.50 Each
5JK6 - $3.50 Each
5JL6 - $3.00 Each

5KE8 - $4.00 Each
5KZ8 - $3.50 Each

5LJ8 - $3.50 Each

5MB8 - $3.50 Each

5T8 - $3.50 Each

5U8 - $3.00 Each
5U9 - $4.50 Each

5V4G (Used-Tested) - $7.50 Each

5X8 - $3.50 Each





6AC7 - Replaces Tektronix Part # : 154-0011 - $5.00 Each

6AC10 - $6.00 Each
6AD10 - $8.00 Each

6AF3 - Replaces Tektronix Part # : 154-0301 - $3.00 Each

6AF4A (Used-Tested) - $3.00 Each
6AF11 - $6.50 Each

6AG7 - Replaces Tektronix Part # : 154-0012 - $8.50 Each

6AG9 - $10.00 Each

6AH6 - Replaces Tektronix Part # : 154-0013/157-0001 - $6.00 Each
6AH6 (Used-Tested) - Replaces Tektronix Part # : 154-0013/157-0001 - $3.50 Each

6AH9 - $6.50 Each

6AK5 - Replaces Tektronix Part # : 154-0014 - $6.50 Each
6AK5 (Used-Tested) - Replaces Tektronix Part # : 154-0014 - $3.50 Each

6AL3 - $6.00 Each
6AL3 (Used-Tested) - $3.50 Each

6AL5 - Replaces Tektronix Part # : 154-0016 - $4.00 Each
6AL5 (Used-Tested) - Replaces Tektronix Part # : 154-0016 - $2.00 Each

6AM4 - $3.50 Each
6AM8A - $6.50 Each

6AN4 - $7.50 Each

6AQ7GT - $4.00 Each

6AR11 - $7.50 Each
6AR11 (Used-Tested) - $5.00 Each

6AS5 - Replaces Tektronix Part # : 154-0018 - $5.00 Each

6AS6 (Used-Tested) - Replaces Tektronix Part # : 154-0019 - $2.00 Each

6AS8 - $4.50 Each

6AT8A - $3.25 Each

6AU4 - $6.50 Each
6AU4GT - $7.00 Each
6AU4GTA - $7.50 Each
6AU4GTA (Used-Tested) - $4.00 Each

6AU5GT (Used-Tested) - Replaces Tektronix Part # : 154-0021 - $4.50 Each

6AU6 (Used-Tested) - Replaces Tektronix Part # : 154-0022/157-0059 - $4.00 Each
6AU6A (Used-Tested) - Replaces Tektronix Part # : 154-0022/157-0059 - $4.00 Each
6AU8A (Used-Tested) - Replaces Tektronix Part # : 154-0022/157-0059 - $2.50 Each

6AV5GA - $5.00 Each
6AV6 - $4.50 Each

6AW8A - Replaces Tektronix Part # : 154-0095 - $5.00 Each

6AX3 - $5.00 Each

6AX4GTB - Replaces Tektronix Part # : 154-0113 $6.50 Each

6AY3 - $4.50 Each
6AY3B/6BS3A - $5.00 Each
6AY11 - $3.50 Each

6B8G - $5.00 Each
6B10 - $5.00 Each
6BA6 (Used-Tested) - $3.00 Each

6BA8A - Replaces Tektronix Part # : 154-0163 - $6.50 Each

6BA11 - $6.00 Each
6BA11 (Used-Tested) - $3.50 Each
6BC5/6CE5 - $3.00 Each

6BC7 - Replaces Tektronix Part # : 154-0232 - $5.00 Each

6BC8 - $5.00 Each
6BD6 - $3.00 Each

6BE6 - Replaces Tektronix Part # : 154-0025 - $5.00 Each
6BE6 (Used-Tested) - Replaces Tektronix Part # : 154-0025 - $2.50 Each

6BF6 (Used-Tested) - $2.25 Each
6BF11 - $7.50 Each
6BG6GA - $10.00 Each

6BH6 - Replaces Tektronix Part # : 154-0026/154-0285 - $6.00 Each
6BH6 (Used-Tested) - Replaces Tektronix Part # : 154-0026/154-0285 - $3.00 Each

6BH8 - $4.50 Each
6BH11 - $6.00 Each
6BJ3 - $5.00 Each
6BJ6 - $4.00 Each
6BJ6 (Used-Tested) - $2.50 Each
6BJ8 - $4.50 Each
6BK5 - $3.50 Each

6BK7 (Used-Tested) - Replaces Tektronix Part # : 154-0027 - $3.50 Each

6BL4 - $4.50 Each

6BL8/ECF80 - Replaces Tektronix Part # : 154-0278 - $7.50 Each
6BL8 (Used-Tested) - Replaces Tektronix Part # : 154-0278 - $5.00 Each

6BN4A - $5.00 Each
6BN6 - $4.00 Each
6BQ6GA/6CU6 (Used-Tested) - $3.00 Each
6BQ6GTB/6CU6 - $4.00 Each

6BQ7A/6BZ7 - Replaces Tektronix Part # : 154-0028 - $7.50 Each

6BS3A - $4.50 Each
6BS8 - $5.00 Each
6BU8 - $4.00 Each
6BU8A - $4.50 Each
6BV8 - $5.00 Each
6BW8 - $4.00 Each
6BW11 - $5.50 Each
6BY5GA - $5.00 Each
6BY6 - $4.50 Each
6BY7 - $4.50 Each

6BY8 - Replaces Tektronix Part # : 154-0414 - $5.00 Each
6BY8 (Used-Tested) - Replaces Tektronix Part # : 154-0414 - $3.50 Each

6BZ6 - $5.50 Each
6BZ7 - $4.50 Each

6C5GT - $8.50 Each
6C6G - $6.00 Each
6CA4 - $16.50 Each
6CA5 - $3.00 Each

6CB6A/6CF6 - Replaces Tektronix Part # : 154-0030 - $4.50 Each
6CB6A/6CF6 (Used-Tested) - Replaces Tektronix Part # : 154-0030 - $2.50 Each

6CE3/6CD3 - $6.00 Each

6CG7/6FQ7 - Replaces Tektronix Part # : 154-0134 - $12.50 Each

6CG8A - $5.00 Each
6CH3 - $6.00 Each
6CH8 - $3.00 Each
6CJ3/6DW4B - $6.50 Each
6CK3 - $5.00 Each

6CL6 - Replaces Tektronix Part # : 154-0031/154-0286 - $6.00 Each
6CL6 (Used-Tested) - Replaces Tektronix Part # : 154-0031/154-0286 - $3.50 Each

6CL8A - $4.50 Each
6CM7 - $4.50 Each
6CN7 - $4.50 Each
6CQ8 - $5.00 Each
6CR6 - $3.50 Each
6CS6 - $4.00 Each
6CS7 - $7.50 Each
6CU5 - $3.50 Each
6CU8 - $3.50 Each

6CW4/6DS4 (Nuvistor) - Replaces Tektronix Part # : 154-0323 - $12.50 Each

6CW5 - Replaces Tektronix Part # : 154-0202 - $9.50 Each
6CW5 (Used-Tested) - Replaces Tektronix Part # : 154-0202 - $5.00 Each

6CX8 - $4.00 Each

6CY5 - Replaces Tektronix Part # : 154-0207 $6.00 Each

6DB5 - $3.50 Each
6DE4 - $5.00 Each
6DE6 - $3.50 Each

6DE7 - Replaces Tektronix Part # : 154-0188 - $7.50 Each

6DG6GT/6W6GT - $4.00 Each

6DJ8 (Used-Tested) - Replaces Tektronix Part # : 154-0187/154-0305 - $6.50 Each

6DK6 - Replaces Tektronix Part # : 154-0149 - $3.25 Each
6DK6 (Used-Tested) - Replaces Tektronix Part # : 154-0149 - $2.50 Each

6DN3 - $5.00 Each

6DQ5 - Replaces Tektronix Part # : 154-0317 - $12.50 Each
6DQ5 (Used-Tested) - Replaces Tektronix Part # : 154-0317 - $7.50 Each

6DQ6A/6GB6 - Replaces Tektronix Part # : 154-0277 - $8.50 Each
6DQ6B/6GW6 - Replaces Tektronix Part # : 154-0277 - $8.50 Each
6DQ6B/6GW6 (Used-Tested) - Replaces Tektronix Part # : 154-0277 - $5.00 Each

6DR7 - $6.00 Each
6DR7 (Used-Tested) - $3.50 Each
6DS5 - $3.50 Each
6DT3 (Used-Tested) - $5.00 Each

6DT5 - Replaces Tektronix Part # : 154-0302 $3.00 Each

6DW4B - $5.00 Each
6DZ4 - $4.50 Each

6EA8 (Used-Tested) - $3.00 Each
6EH7 - $5.00 Each

6EJ7 - Replaces Tektronix Part # : 154-0421 $5.00 Each
6EJ7 (Used-Tested) - Replaces Tektronix Part # : 154-0421 - $3.00 Each

6EM5 - $6.50 Each
6EN4 - $12.50 Each
6ER5 - $8.50 Each
6ES8 - $7.50 Each
6ET7 - $4.50 Each
6EV5 - $5.00 Each

6FG7 - $4.00 Each
6FM7 - $4.50 Each
6FM8 - $3.00 Each
6FQ5A/6GK5 - $6.50 Each
6FS5 - $4.50 Each
6FV6 - $3.00 Each
6FY5 - $4.50 Each
6FY7 (Used-Tested) - $3.00 Each

6G11 - Replaces Tektronix Part # : 154-0660 $4.00 Each

6GB5 - $9.50 Each
6GE5 - $8.00 Each
6GE5 (Used-Tested) - $6.00 Each
6GF7A - $7.50 Each
6GH8A - $5.00 Each
6GJ7 - $4.00 Each
6GM6 - $5.00 Each
6GQ7 - $4.00 Each
6GS7 - $4.00 Each
6GU5 - $4.00 Each
6GU7 - $6.00 Each
6GX6/6GY6 - $4.50 Each
6GX7 - $3.50 Each
6GY8 - $4.00 Each

6HA5/6HM5 - $5.00 Each
6HB6 - $4.50 Each
6HB7 - $4.50 Each
6HB7 (Used-Tested) - $3.00 Each
6HD7 - $3.50 Each
6HE5 - $6.50 Each
6HG8 - $3.50 Each
6HL8 - $5.00 Each
6HQ5 - $5.00 Each
6HS5 - $8.00 Each
6HS5 (Used-Tested) - $5.00 Each
6HS8 - $4.00 Each

6HZ6 - Replaces Tektronix Part # : 154-0447 - $3.00 Each
6HZ6 (Used-Tested) - Replaces Tektronix Part # : 154-0447 - $2.00 Each

6J4 - $3.00 Each
6J4 (Used-Tested) - $2.00 Each

6J6 - Replaces Tektronix Part # : 154-0032 - $3.00 Each
6J6A - Replaces Tektronix Part # : 154-0032 - $3.00 Each
6J6A (Used-Tested) - Replaces Tektronix Part # : 154-0032 - $2.00 Each

6J10/6Z10 - $7.50 Each
6J10/6Z10 (Used-Tested) - $4.00 Each
6JA5 - $15.00 Each
6JB5/6JC5 - $6.00 Each
6JC6 (Used-Tested) - $2.50 Each
6JC6A - $4.00 Each
6JC8 - $3.00 Each
6JD5 - $5.00 Each
6JD6 - $4.00 Each
6JG5 - $3.50 Each
6JH5 - $7.50 Each
6JH6 - $5.00 Each
6JH8 - $5.00 Each
6JM6 - $6.50 Each
6JN6 - $8.00 Each
6JN8 - $3.00 Each
6JT8 - $4.00 Each
6JU8A - $4.50 Each
6JU8A (Used-Tested) - $2.50 Each
6JV8 - $3.50 Each
6JW8 - $4.50 Each
6JZ8 - $5.00 Each

6K6GT - $9.50 Each
6K7 (Used-Tested) - $3.50 Each
6KA8 - $4.50 Each
6KD8/6U8A - $5.00 Each
6KE8 - $6.00 Each
6KR8 - $4.50 Each
6KT8 - $5.00 Each
6KT8 (Used-Tested) - $3.00 Each
6KV8 - $3.00 Each
6KY8A - $7.50 Each
6KZ8 - $4.00 Each
6KZ8 (Used-Tested) - $2.50 Each

6LC8 - $3.00 Each
6LE8 - $5.00 Each
6LF8 - $6.00 Each
6LN8 - $4.50 Each
6LN8 (Used-Tested) - $3.00 Each
6LQ8 - $4.50 Each
6LT8 - $4.00 Each
6LU8 - $6.50 Each
6LX8 - $3.50 Each

6LY8 - Replaces Tektronix Part # : 154-0497 - $3.50 Each

6M11 - Replaces Tektronix Part # : 154-0493 - $7.50 Each
6M11 (Used-Tested) - Replaces Tektronix Part # : 154-0493 - $4.00 Each

6MD8 - $6.00 Each
6ME8 - $6.50 Each
6MG8 - $4.50 Each
6MJ8 (Used-Tested) - $3.50 Each
6MK8A - $4.50 Each
6ML8 - $6.50 Each
6MQ8 - $4.50 Each
6MU8 - $6.00 Each
6MV8 - $5.00 Each

6Q5G - $7.50 Each

6S4A - $6.50 Each
6SF5 (Used-Tested) - $3.50 Each
6SQ7GT - $5.00 Each
6SR7 (Used-Tested) - $2.50 Each

6T4 - $10.00 Each
6T8A - $3.50 Each
6T10 - $6.50 Each

6U8A (Used-Tested) - Replaces Tektronix Part # : 154-0033 - $3.50 Each

6U10 - $6.00 Each

6V3A - $4.00 Each

6W4GT (Used-Tested) - Replaces Tektronix Part # : 154-0034 - $3.00 Each

6W4GTA - $4.50 Each
6W6GT - $5.00 Each
6W6GTA - $5.00 Each

6X8 (Used-Tested) - Replaces Tektronix Part # : 154-0036 - $2.50 Each

6X8A - $4.00 Each





7A8 (Used-Tested) - $2.50 Each
7AU7 - $3.00 Each

7EY6 - $3.00 Each

7HG8/PCF86 - $3.00 Each

7MP18 - $4.50 Each

7Y4 - $3.50 Each





8AC9 - $4.50 Each
8AR11 - $6.50 Each
8AU8 - $4.50 Each
8AW8A - $4.50 Each

8B10 - $4.50 Each
8BM11 - $4.50 Each
8BQ5 - $7.50 Each

8CB11 - $5.00 Each
8CG7/8FQ7 - $4.50 Each
8CM7 - $4.50 Each
8CN7 - $4.50 Each
8CS7 - $4.50 Each
8CW5/XL86 - $4.50 Each
8CX8 - $4.50 Each

8EB8 - $4.50 Each
8EM5 - $4.50 Each
8ET7 - $4.50 Each
8ET7 (Used-Tested) - $3.00 Each

8GJ7 - $4.50 Each
8GN8 - $4.50 Each

8JU8A - $4.50 Each

8KA8 - $4.50 Each

8LT8 - $4.50 Each





9A8/PCF80 - $3.00 Each
9AH9 - $5.00 Each
9AU7 - $4.50 Each

9BJ11 - $4.00 Each
9BR7 - $4.50 Each

9KZ8 - $4.50 Each

9U8A - $4.50 Each





10AL11 - $4.00 Each

10CW5/LL86 - $3.00 Each

10DE7 - $4.50 Each
10DR7 - $5.00 Each
10DX8 - $4.50 Each

10EG7 - $4.50 Each
10EM7 - $4.00 Each

10GF7A - $6.50 Each
10GK6 - $5.00 Each
10GN8 - $4.00 Each

10JA8/10LZ8 - $3.50 Each
10JT8 - $5.00 Each
10JT8 (Used-Tested) - $3.00 Each
10JY8 - $4.50 Each

10KR8 - $5.00 Each
10KU8 - $3.50 Each

10LD6 - $4.50 Each
10LY8 - $5.00 Each





11AF9 - $7.50 Each
11AR11 - $5.00 Each

11BT11 - $6.50 Each

11CH11 - $7.50 Each
11CY7 - $4.00 Each

11HM7 - $5.00 Each
11KV8 - $4.50 Each

11LT8 - $4.00 Each

11MS8 - $6.00 Each





12AC6 - $3.00 Each
12AD6 - $4.50 Each
12AE10 - $7.50 Each
12AJ6 - $4.50 Each

12AL5 (Used-Tested) - Replaces Tektronix Part # : 154-0038/157-0075 - $2.50 Each

12AQ5 - $3.50 Each
12AT6A - $4.00 Each

12AT7 (Used-Tested) - Replaces Tektronix Part # : 154-0039/154-0205 - $3.50 Each

12AU6 (Used-Tested) - Replaces Tektronix Part # : 154-0040/157-0038 - $2.50 Each

12AV5GA - $5.00 Each
12AV6 - $5.00 Each
12AX4GTA - $4.00 Each
12AX4GTB - $4.00 Each

12B4A - Replaces Tektronix Part # : 154-0044 - $7.50 Each
12B4A (Used-Tested) - Replaces Tektronix Part # : 154-0044 - $4.00 Each

12BA7 - $3.00 Each
12BD6 - $4.50 Each
12BF6 - $3.00 Each
12BK5 - $4.50 Each
12BL6 - $4.00 Each
12BQ6GTA - $5.00 Each
12BQ6GTB/12CU6 - $6.50 Each
12BR7 - $4.50 Each

12BY7A (Used-Tested) - Replaces Tektronix Part # : 154-0047/157-0053 - $6.50 Each

12C5/12CU5 - $4.50 Each
12CA5 - $4.50 Each
12CR6 - $4.50 Each

12D4 - $3.00 Each
12DB5 - $3.00 Each
12DL8 - $6.50 Each
12DQ6B/12GW6 - $9.50 Each
12DT5 - $4.50 Each
12DT8 - $6.50 Each
12DU7 - $4.50 Each
12DV8 - $4.50 Each
12DY8 - $4.50 Each

12ED5 - $4.50 Each
12EG6 - $5.00 Each
12EK6 - $4.50 Each
12EL6 - $4.50 Each
12EM6 - $4.00 Each
12EZ6 - $4.75 Each

12F8 - $4.50 Each
12FK6 - $4.50 Each
12FM6 - $7.50 Each
12FX5 - $4.00 Each

12GE5 - $4.50 Each
12GN7 - $6.00 Each
12GT5 (Used-Tested) - $3.00 Each

12HE7 - $4.50 Each
12HL7 - $4.50 Each

12J7GT - $4.00 Each
12J8 - $3.00 Each
12JQ6 - $6.00 Each

12K7G - $5.00 Each
12K7GT - $4.00 Each

12MD8 - $6.50 Each

12SA7 (Used-Tested) - $4.00 Each
12SJ7 (Used-Tested) - $3.00 Each
12SK7 - $5.00 Each

12V6GT - $5.00 Each
12V6GT (Used-Tested) - $3.00 Each

12W6GT - $4.00 Each
12W6GT (Used-Tested) - $2.50 Each





13EM7 - $6.00 Each

13FM7 (Used-Tested) - $3.00 Each

13GB5 - $6.50 Each
13GF7 - $7.00 Each
13GF7A - $7.50 Each





14B8 - $4.00 Each
14BL11 - $5.00 Each
14BL11 (Used-Tested) - $3.00 Each
14BR11 - $5.50 Each
14BR11 (Used-Tested) - $3.00 Each

14GW8 - $5.00 Each





15AF11 - $4.00 Each
15AF11 (Used-Tested) - $2.50 Each

15BD11 (Used-Tested) - $3.00 Each
15BD11A - $5.00 Each

15CW5 - $4.50 Each

15DQ8 - $4.50 Each

15HB6 - $4.50 Each

15KY8A - $6.50 Each
15KY8A (Used-Tested) - $3.50 Each

15LE8 - $4.50 Each





16AK9 (Used-Tested) - $3.50 Each
16AQ3 - $6.00 Each

16BQ11 - $5.00 Each

16GK6 - $5.00 Each





17AB10/17X10 - $6.00 Each
17AX3 - $5.00 Each
17AX4GTA - $5.00 Each
17AY3A (Used-Tested) - $3.00 Each
17AY3A/17BS3A - $6.00 Each
17AY3A/17BS3A/17DW4A - $6.50 Each

17BF11 - $4.50 Each
17BF11 (Used-Tested) - $2.50 Each
17BQ6GTB/17CU6 - $7.50 Each
17BR3/17RK19 - $4.50 Each
17BS3 - $5.00 Each
17BS3A - $5.75 Each
17BS3A/17DW4A - $6.50 Each
17BW3 - $6.50 Each

17C5/17CU5 - $3.00 Each
17CK3 - $4.50 Each

17D4 - $5.00 Each
17DE4 - $6.50 Each
17DQ6B/17GW6 - $7.50 Each
17DW4A (Used-Tested) - $3.50 Each

17EW8 - $4.50 Each

17GJ5A - $7.50 Each

17HB25 - $6.50 Each

17JB6 (Used-Tested) - $3.50 Each
17JN6 (Used-Tested) - $3.50 Each
17JZ8 - $6.50 Each





18A5 - $4.00 Each
18AJ10 - $5.00 Each
18FX6 - $4.00 Each
18FX6A - $4.50 Each
18FY6 - $4.00 Each
18FY6A - $4.50 Each
18GB5 - $6.50 Each
18GD6 - $4.50 Each
18GV8 - $4.00 Each





19AU4GTA - $4.00 Each

19CG3 - $4.50 Each
19CL8A/19JN8 - $4.50 Each

19GQ7 - $4.50 Each

19HR6 - $4.50 Each
19HV8 - $5.00 Each

19T8 - $7.50 Each





20AQ3 - $7.50 Each

20EZ7 - $5.00 Each





21GY5 - $5.00 Each

21HB5A - $7.50 Each

21JS6A - $7.50 Each
21JZ6 - $9.50 Each

21KA6 - $4.50 Each

21LG6 - $8.50 Each
21LR8 - $7.50 Each
21LR8 (Used-Tested) - $4.50 Each
21LU8 - $6.50 Each





22BH3A - $4.00 Each
22BW3 - $6.50 Each
22BW3 (Used-Tested) - $3.50 Each

22DE4 - $7.00 Each

22JF6 - $7.50 Each
22JF6 (Used-Tested) - $5.00 Each
22JG6A - $4.50 Each
22JR6 - $6.50 Each

22KV6A - $8.50 Each





24BF11 - $5.00 Each

24JE6C/24LQ6 - $18.50 Each





25AV5GT - $6.00 Each
25AV5GT (Used-Tested) - $3.00 Each
25AX4GT - $5.00 Each

25BK5 - $4.50 Each
25BQ6GA/25CU6 - $6.50 Each
25BQ6GTB - $7.50 Each

25CA5 - $4.50 Each
25CD6GB - $8.50 Each

25DN6 - $4.50 Each





27GB5 - $7.50 Each





30AE3 - $5.00 Each





31JS6C - $15.00 Each





33GT7 - $5.00 Each
33GY7A - $10.00 Each





34GD5A - $4.50 Each





35B5 - $4.00 Each

35Z5GT (Used-Tested) - $5.00 Each





38HK7 - $7.50 Each





42EC4 - $6.00 Each





50A5 (Used-Tested) - $3.00 Each

50B5 - $4.00 Each

50DC4 - $3.50 Each

50HK6 - $4.00 Each

50X6 - $5.00 Each





403B/5591 (Similar to 5654/6AK5) - $8.50 Each





807 RCA Brand USA.
Excellent condition. (Used-Tested) - $12.50 Each





5642 (Used-Tested) - Replaces Tektronix Part # : 154-0051 - $4.50 Each





6080 (Used-Tested) - Replaces Tektronix Part # : 154-0056 - $5.00 Each

6360 - Replaces Tektronix Part # : 154-0191 - $8.50 Each





7054 - $4.25 Each





8136 (Used-Tested) - Replaces Tektronix Part # : 154-0367/157-0082 - $2.50 Each






To order any of the Vacuum Tubes listed on this page:

Please enter the Tube Number, desired Quantity,
and Price Each. Then Click on "ADD TO CART".






Vacuum Tube Assortment.
A fine assorted selection of New-Old-Stock Receiving Vacuum Tubes
from the 1950's-1970's. All different numbers. Most with original boxes.

Assortment may include 7-pin, 9-pin, Octal, and Compactron types,
used in Amplifier, Oscillator, Rectifier, IF, HV, Detector, Sync,
Video Amplifier, Color Seperation, and Sync circuits.

A perfect assortment for collectors or for building a replacement
parts inventory for Amplifier, Radio, or Television restoration.




-Click Here To Return To Parts Index-

-Click Here To Return To Main Page-
Copyright ©1998-2018
Surplus Material Components
SMC ELECTRONICS
Surplus Vacuum Tubes
All Rights Reserved