SMC ELECTRONICS

FANS
Data Sheet - PDF File size: 126K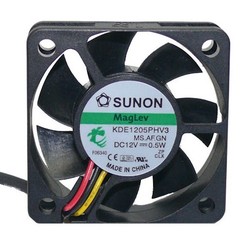 12 Volt DC Low-Current Mini Cooling Fan.
50mm x 50mm x 15mm.

Rated at 12 Volt DC at 35 Ma.
Brushless. Size Approx.: 1 15/16" square x 9/16".

Variable speed with (yellow) Tach-output lead.
Can be used as a full speed fan by using only
the positive (red) and negative (black) leads.

RPM: 3700. CFM: 10.2. Noise: 22 dB.

Low current consumption makes this fan ideal for use with solar cells.

Sunon part number: KDE1205PHV3.

With 6" wire leads and 3-pin connector.

(Stock #: FN35)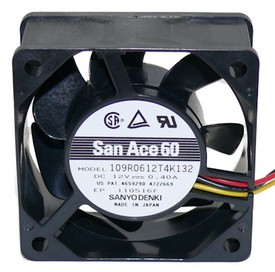 12 Volt DC High-Velocity Mini Cooling Fan.
60mm x 60mm x 25mm.

Rated at 12 Volt DC at 400 Ma.
Brushless. Size Approx.: 2 3/8" square x 1".

Variable speed with (yellow) Tach-output lead.
Can be used as a full speed fan by using only
the positive (red) and negative (black) leads.

RPM: 7200. CFM: 35.3. Noise: 42 dB.

Sanyo Denki part number: 109R0612T4K132.

With 3 1/2" wire leads and 3-pin connector.

(Stock #: FN31)



Data Sheet - PDF File size: 83K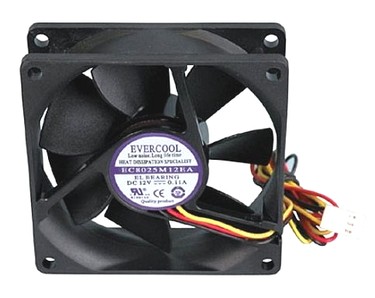 12 Volt DC Low Noise Mini Cooling Fan.
80mm x 80mm x 25mm.

Rated at 12 Volt DC at 110 Ma .
Brushless. Size Approx.: 3 1/8" square x 1".

Variable speed with (yellow) Tach-output lead.
Can be used as a full speed fan by using only
the positive (red) and negative (black) leads.

RPM: 2500. CFM: 25. Noise: <28 dB.

Fan features Auto Restart and Reverse Polarity Protection.

Perfect for cooling desktop computer cases.

Evercool part number: EC8025M12EA.

With 16" wire leads and 3-pin connector.

(Stock #: FN46)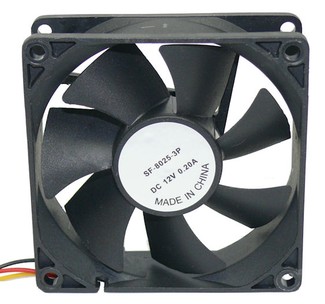 12 Volt DC Mini Cooling Fan.
80mm x 80mm x 25mm.

Rated at 12 Volt DC at 200 Ma.
Brushless. Size Approx.: 3 1/8" square x 1".

Variable speed with (yellow) Tach-output lead.
Can be used as a full speed fan by using only
the positive (red) and negative (black) leads.

RPM: 3000. CFM: 30. Noise: 34 dB.

Part number: SF-8025-3P.

With 10" wire leads and 3-pin connector.

(Stock #: FN36)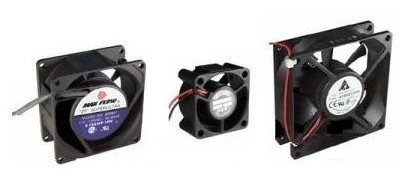 12 Volt DC Square Cooling Fans. (Assortment) (RFE)

Assortment may include sizes from 2 to 6 inches square.

Perfect for replacement or experimental use.

(Stock #: FN01)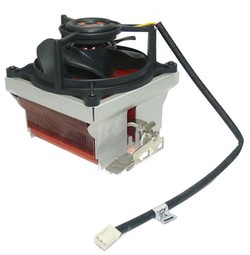 CPU Cooler.

For use with AMD Athlon FX and Athlon 64 CPUs.
Features Aluminum heat sink with copper core.
Perfect for replacement or upgrade use.

Rated at 12VDC at 240 Ma. Fan Speed: 2200 RPM.
Max Air Flow: 38.7 CFM. Noise: 18 dBA.
Heatsink Size: 88mm x 87mm x 43mm.
Fan Size: 92mm x 92mm x 38mm.

9 1/2" cable with 3-pin plug.

Thermaltake Part Numbers: TR2-M17SE/A4017-01.

This Item is NEW in factory package.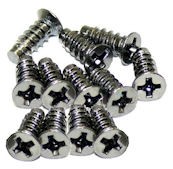 Fan Mounting Screws.

Fan Mounting Screws suitable for mounting Mini Cooling Fans.

Set of 12 screws.

(Stock #: FN50)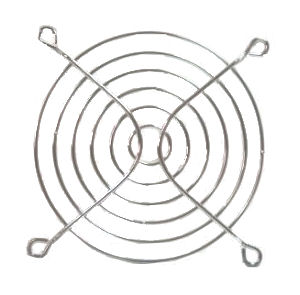 3 5/8" Fan Guard.

Fits 3 5/8" / 90mm/92mm square fans.
Chrome-plated metal. Offset mounting.

With 4 mounting screws.

(Stock #: FN05)





-Click Here To Return To Parts Index-

-Click Here To Return To Main Page-
Copyright ©1998-2018
Surplus Material Components
SMC ELECTRONICS
Surplus Fans
All Rights Reserved