SMC ELECTRONICS

HARDWARE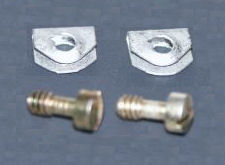 D-Subminiature Connector Mounting Hardware.
Set includes 2 #4-40 x 0.22" yellow chromate male
screws and 2 zinc-plated steel retaining clips.
For metal shell connectors.

Amphenol Part #: 205980-1.

(Stock #: HARD01)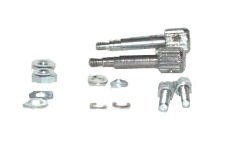 D-Subminiature Connector Mounting Hardware.
Set includes 4 #4-40 female jackscrew bushings,
2 washers, 2 lockwashers, 2 c-clips, and 2 hex nuts.

(Stock #: HARD02)





F-F Threaded Round Steel Standoff.
4-40 thread. Size: 2 7/8" length x 1/4" diameter.

(Stock #: STAND05)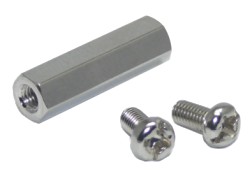 F-F Threaded Hex Aluminum Standoff.
Size: 3/4" length x 1/4" diameter.
With two 1/4" long Phillips Pan-Head screws.

(Stock #: HARD28)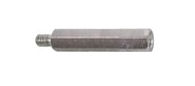 M-F Threaded Hex Aluminum Standoff.
4-40 thread. Size: 1 1/8" length x 9/32" diameter.

(Stock #: STAND15)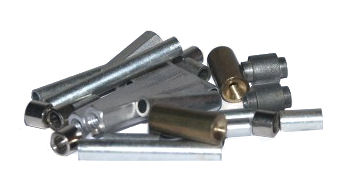 Spacer/Standoff Assortment.
25 piece metal spacer/standoff assortment
includes various sizes of threaded and
non-threaded types.

(Stock #: HARD19)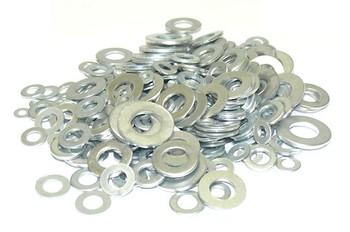 Flat Washer Assortment.
Flat Washer Assortment contains a total of
290 pieces of 6 different diameters.

Assortment includes:
50 pieces - M3 (3.2mm ID/6.6mm OD).
50 pieces - M4 (4.3mm ID/8.6mm OD).
65 pieces - M5 (5.3mm ID/9.6mm OD).
65 pieces - M6 (6.4mm ID/11.6mm OD).
45 pieces - M8 (8.4mm ID/15.6mm OD).
15 pieces - M10 (10.5mm ID/19.5mm OD).

(Stock #: WASHERS01)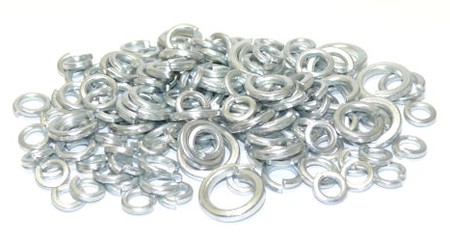 Split-Ring Lock Washer Assortment #1.
Split-Ring Lock Washer Assortment contains a
total of 152 pieces of 4 different diameters.

Assortment includes:
90 pieces - 3/16".
32 pieces - 1/4".
18 pieces - 5/16".
12 pieces - 3/8".

(Stock #: HARD64)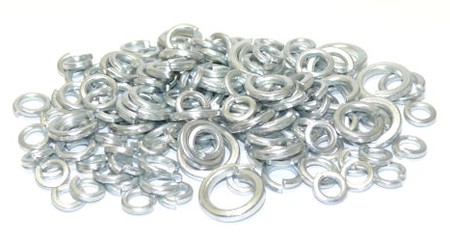 Split-Ring Lock Washer Assortment #2.
Split-Ring Lock Washer Assortment contains a
total of 120 pieces of 6 different diameters.

Assortment includes:
25 pieces - 6#.
25 pieces - 8#.
25 pieces - 10#.
20 pieces - 1/4".
15 pieces - 5/16".
10 pieces - 3/8".

(Stock #: LWASHERS03)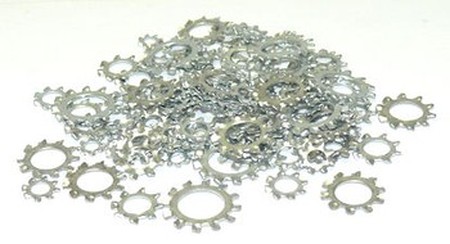 External Star Lock Washer Assortment.
Split-Ring Lock Washer Assortment contains a
total of 120 pieces of 6 different diameters.

Assortment includes:
25 pieces - 6#.
25 pieces - 8#.
25 pieces - 10#.
20 pieces - 1/4".
15 pieces - 5/16".
10 pieces - 3/8".

(Stock #: LWASHERS01)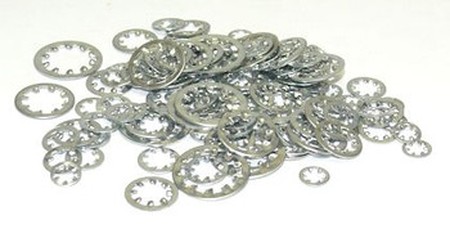 Internal Star Lock Washer Assortment.
Split-Ring Lock Washer Assortment contains a
total of 120 pieces of 6 different diameters.

Assortment includes:
25 pieces - 6#.
25 pieces - 8#.
25 pieces - 10#.
20 pieces - 1/4".
15 pieces - 5/16".
10 pieces - 3/8".

(Stock #: LWASHERS02)






Tektronix Captive-Washer Nut - Small. (RFE)

4-40 thread.

Used in almost every type of Tektronix Equipment.

Set of ten pieces.

(Stock #: TEKHARD01)






Tektronix Captive-Washer Nut - Medium. (RFE)

6-32 thread.

Used in almost every type of Tektronix Equipment.

Set of ten pieces.

(Stock #: TEKHARD02)






Tektronix Captive-Washer Nut - Large. (RFE)

8-32 thread.

Used in almost every type of Tektronix Equipment.

Set of ten pieces.

(Stock #: TEKHARD03)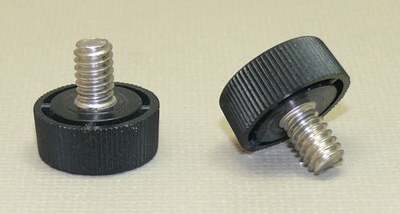 Mobile Bracket Thumb Screws.

Original replacement for securing the mounting bracket of
1960's - 1980's mobile CBs, Ham Radios, FM Converters,
Police Scanners, and other Mobile Electronics.

(1/4"-20) course pitch, 3/8" long thread.

Set of 2 pieces.

(Stock #: HARD85)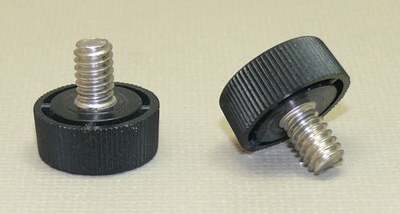 Mobile Bracket Thumb Screws.

Original replacement for securing the mounting bracket of
1960's - 1980's mobile CBs, Ham Radios, FM Converters,
Police Scanners, and other Mobile Electronics.

(1/4"-28) course pitch, 3/8" long thread.

Set of 2 pieces.

(Stock #: HARD86)




Knock Down Hardware.
Set of white-color 1" Bolt and End Cap.
For joining panels with a total approximate
thickness of 1 3/16" to 1 3/8". Slotted 5/8"
diameter Pan Head on each end. 6mm x 1mm
(1/4"-20) course pitch, 3/4" long thread.
Fits into a 5/16" diameter hole.

Overall length: 1 5/8".
Length fully threaded: 1 5/16".

(Stock #: HARD38)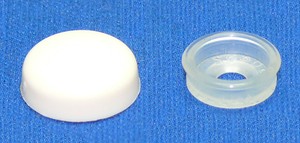 Hardware Dustcap.
2-piece Plastic Dustcap covers heads of screws
and bolts with diameters up to 5/16" (0.330").

Simply screw into the clear plastic collar then
snap the Dustcap over the collar.

Cap size: 0.525" diameter x 0.200".

Pack of 25 pieces.

Ivory color.

(Stock #: HARD39)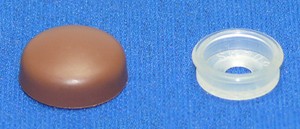 Hardware Dustcap.
2-piece Plastic Dustcap covers heads of screws
and bolts with diameters up to 5/16" (0.330").

Simply screw into the clear plastic collar then
snap the Dustcap over the collar.

Cap size: 0.525" diameter x 0.200".

Pack of 25 pieces.
Brown color.

(Stock #: HARD40)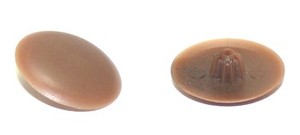 Hole Dustcap.
Plastic Dustcap snaps into a 1/8" (0.125") diameter hole.

Cap size: 0.460" diameter.

Pack of 25 pieces.
Brown color.

(Stock #: HARD41)





Tiny Screws Assortment.
Assorted sizes of really small machine and self-tapping screws.
One ounce package contains over 150 pieces.
Perfect for replacing missing screws in small electronic items
like PDAs, MP3 players, digital watches, and other items with
small and tiny screws.

If you are over 40 years old and you drop a small screw,
you already know that it "disappears" once it hits the floor.

(Stock #: HARD25)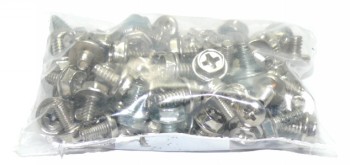 Computer Screw Assortment.
Assorted sizes and lengths of Phillips Pan Head
screws as used in computer cases, power supplies,
and for mounting computer drives and other accessories.
Pack of 100 pieces

(Stock #: HARD29)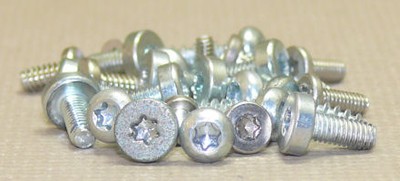 Computer Torx T8/T10 Screw Assortment.

Assorted sizes and lengths of Torx T8/T10 screws
as used in many HP Computers and Printers along
with many other pieces of electronic equipment.

Package of 25 pieces.

(Stock #: COMPTORX)




Computer Hardware Kit.
Handy Computer Hardware Kit contains nearly everything
needed to install computer drives and fans. Also includes
computer case thumb screws.
Includes storage case.

Kit includes:
12 case fan screws.
12 cd/dvd/hard drive screws.
12 chassis screws.
4 thumb screws.
12 anti-vibration drive screws.
4 anti-vibration fan screws.

This item is NEW.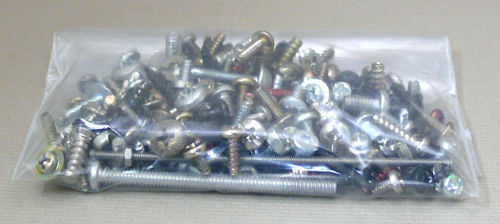 Electronic Equipment Screw Assortment.
Assorted sizes and lengths of Phillips Head screws
as used in Receivers, Tape Decks, VCRs, CD and DVD
Players and many other pieces of Audio/Video equipment.

Three ounce package contains over 125 pieces.

(Stock #: HARD30)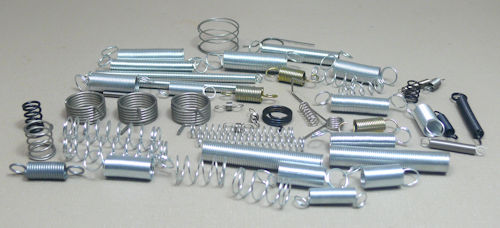 Spring Assortment.
25 piece metal spring assortment includes
compression, extension, and torsion types.

(Stock #: HARD08)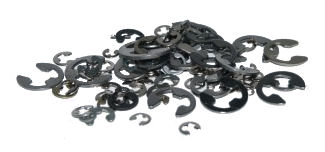 E-Clip Assortment.
Assorted sizes. Pack of 50 pieces

(Stock #: HARD15)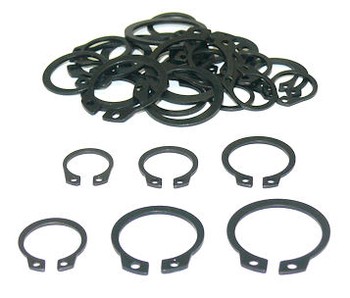 External C-Clip Assortment.
External C-Clip Assortment contains a total of
32 pieces of 6 different diameters.

Assortment includes:
6 pieces - 11mm (0.433").
6 pieces - 13mm (0.512").
5 pieces - 14mm (0.551").
5 pieces - 16mm (0.630").
5 pieces - 19mm (0.748").
5 pieces - 21mm (0.827").

(Stock #: CLIPS01)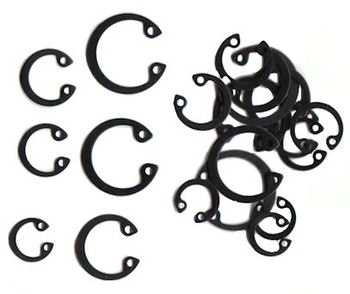 Internal C-Clip Assortment.
Internal C-Clip Assortment contains a total of
20 pieces of 6 different diameters.

Assortment includes:
4 pieces - 11mm (0.433").
4 pieces - 13mm (0.512").
3 pieces - 14mm (0.551").
3 pieces - 16mm (0.630").
3 pieces - 19mm (0.748").
3 pieces - 20mm (0.787").

(Stock #: HARD56)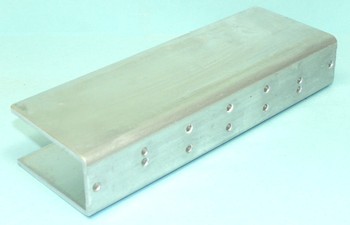 Transistor Heat Sink. (RFE)
Originally designed for an amplifier audio output.
Plenty of room for several output transistors or
All aluminum construction.

Contains ten pre-drilled holes and two mounting holes.

Size: 6 3/16" x 1 1/8" x 2 1/8".

(Stock #: HARD71)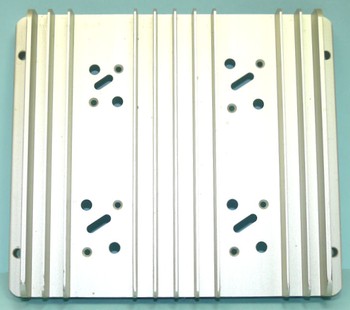 TO-3 Transistor Heat Sink. (RFE)
Massive heat sink weighs 22 Ounces.
Designed for mounting four TO-3 Transistors.

Contains eleven fins and four mounting holes.

Size: 7 3/4" x 6 3/4" x 1 1/4".

(Stock #: HARD72)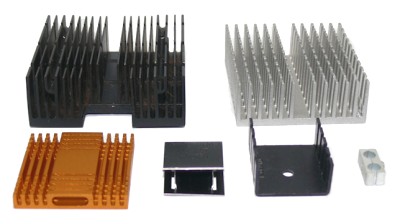 Heat Sink Assortment.
Assortment of general purpose aluminum heatsinks.
Includes single and multi-fin types. Perfect for
audio output or power control use.

Pack of 6 pieces

(Stock #: HARD31)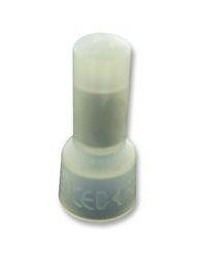 Crimp Closed End Connector.
For use with 18 AWG wire sizes. Rated at 300V 105° C.

Pack of 25 pieces.

(Stock #: HARD55)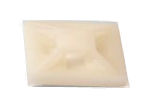 Cable Tie Mount.
3/4" square with adhesive backing.
4-way, for use with cable ties up to 1/8" width.

(Stock #: HARD03)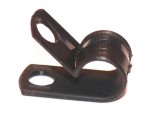 Cable Clamp.
High-temperature polypropylene construction.
Accepts wire bundles up to 3/16" diameter.

(Stock #: HARD24)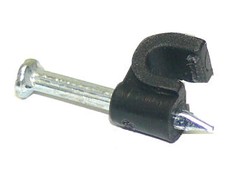 Wire Clamp.
Accepts wires or cables up to 1/8" in diameter. 3/4" long nail.

Package of 25 pieces.

(Stock #: HARD81)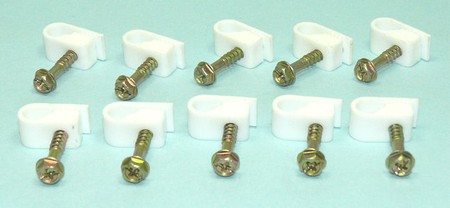 Flex Cable Clip.
Accepts wires or cables up to 1/4" in diameter. 1" long screw.

Package of 10 pieces.

(Stock #: HARD82)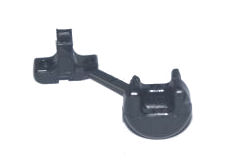 Strain Relief.
Mounts in to a 3/8" hole. Black color.
For use with 20/2 and 18/2 AWG flat cables.

Heyco part number: 2P-4.

(Stock #: WNHARD01)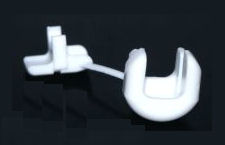 Strain Relief.
Mounts in to a 5/8" hole. White color.
For use with round cables up to 0.36" diameter.

Heyco part number: 6N3-4.

(Stock #: HARD04)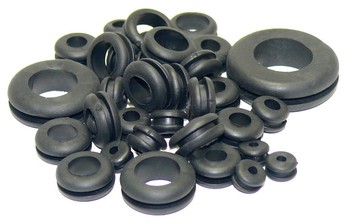 Rubber Grommet Assortment.
Grommet Assortment contains a total of
36 pieces of 8 different diameters.

Assortment includes:
8 pieces - 3/8".
8 pieces - 1/4".
8 pieces - 5/16".
5 pieces - 7/16".
4 pieces - 1/2".
1 piece - 5/8".
1 piece - 7/8".
1 piece - 1".

Pack of 36 pieces.

(Stock #: HARD45)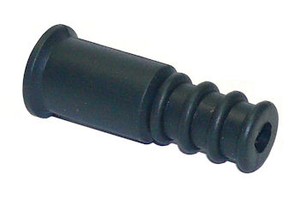 Connector Weather Boot.

Flexible black boot slides over cable and connector
for protection against outdoor elements.

UV resistant. 2" long. Accepts connectors up to 7/16" diameter.

Package of 10 pieces.

(Stock #: HARD83)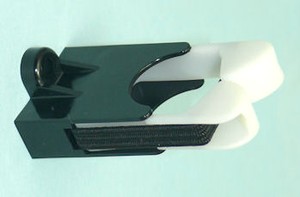 Harness Board Elastic Bundle Retainer.

Wire Management Mount (Bundle Retainer) supports cables
in vertical or horizontal configurations. Spring fingers with
Elastic Bundle Retainer facilitates insertion of cable bundle.
3/4" maximum bundle diameter, 2 3/16" overall height,
1" wire standoff height. Nylon construction.
Mounts with two #6 (M3) screws.

Panduit Part Number: RER.75-S6-X.

Package of 10 pieces.

(Stock #: HARD75)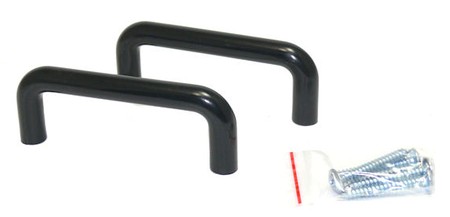 Plastic Instrumentation Handle.
Black plastic tubular handle is perfect for any project.

3 3/8" long x 1 1/4" high. Includes mounting screws.
Package of 2.

(Stock #: HARD61)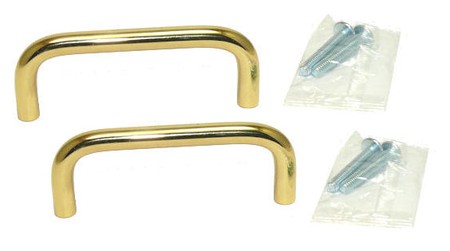 Gold Instrumentation Handle.
All metal tubular handle is perfect for any project.

3 1/4" long x 1 1/8" high. Includes mounting screws.
Package of 2.

(Stock #: HARD62)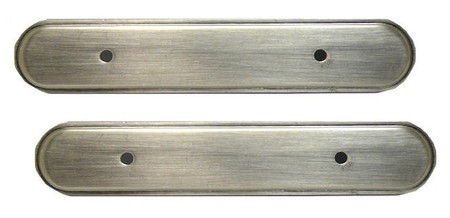 Instrumentation Handle Backing Plate.
All metal Backing Plate for installation reinforcement.
Use above or below mounting surface.

For use with Instrumentation Handles HARD61 and HARD62 above.

5 5/8" long x 1" wide x 1/16" thick.
Package of 2.

(Stock #: HARD65)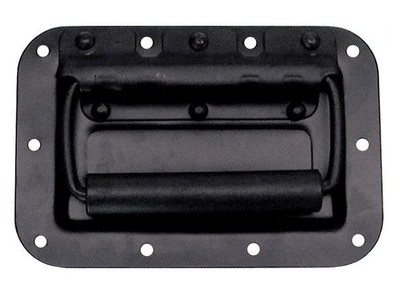 Recessed Cabinet Handle.
Heavy-Duty Recessed Cabinet Handle features a Spring-Loaded
Recessed 3/4" Rubber Coated Flip Handle.

All Steel construction with black powder coating.
With ten 3/16" diameter mounting holes.

Size: 6 5/16" x 4 3/16" x 3/8".
Mounts into a recessed 5" x 3" rectangular cutout.

Perfect for amplifier cabinets, speaker cabinets, and
portable rack cabinets.

(Stock #: FLIPHANDLE)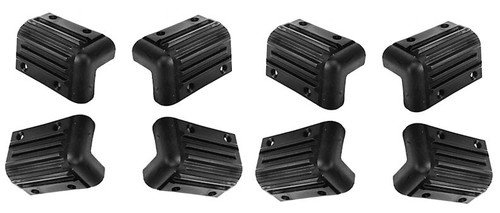 Ribbed Plastic Cabinet Corner Protectors.
High Quality Ribbed Cabinet Corner Protectors are made of
ABS plastic. Ribbed construction permits interlocking when
stacking more than 1 cabinet.

With four 5/32" diameter mounting holes.

Size: 3 1/4" x 1 3/4" x 1 3/4".

Perfect for amplifier cabinets, speaker cabinets, and
portable rack cabinets.

Set of 8 pieces.

(Stock #: CABCORNER)





Screw-In Antenna Standoff.
3 1/2" inch long Antenna Standoff holds
300Ω flat antenna cable, also will
hold round cable up to 0.3" diameter.
1 7/16" thread length.
A Hard-To-Find item.

(Stock #: HARD46)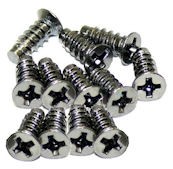 Fan Mounting Screws.
Fan Mounting Screws suitable for
mounting Mini Cooling Fans.

Set of 12 screws.

(Stock #: FN50)





Computer Slot Cover.
Computer Plug-In Card Slot Cover for PC-type computers.
Size: 4 3/4" x 3/4".

(Stock #: HARD50)






-Click Here To Return To Parts Index-

-Click Here To Return To Main Page-
Copyright ©1998-2017
Surplus Material Components
SMC ELECTRONICS
Surplus Electronic Hardware
All Rights Reserved